Experts Tackle Global Refugee Crisis at European Policy Dialogue Forum in Lisbon
21 October 2021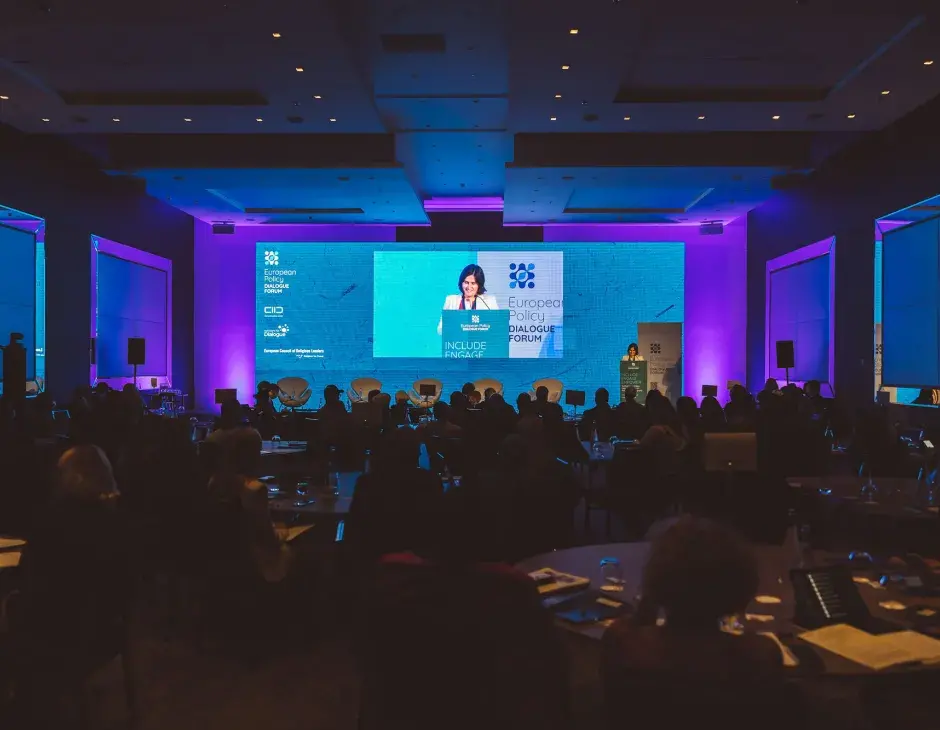 More than 130 high level policymakers, faith leaders, academics and representatives of prominent refugee relief organizations gathered in Lisbon, as well as virtually, this week to address the global refugee crisis and shape inclusive policies for integration in Europe.
Held from 19-21 October, the annual European Policy Dialogue Forum is convening participants under the theme "Fostering social inclusion and enhancing active participation of refugees and migrants in host societies." It is being hosted by KAICIID, the KAICIID-supported Network for Dialogue (N4D), and the European Council of Religious Leaders (ECRL).
Although European society is characterized by vibrant ethnic, national and religious diversity, hate speech and discrimination are on the rise. According to a Gallup poll, intolerance of immigration has increased globally with some of the least tolerant countries found in the European Union. Religious leaders are well positioned to support processes that strengthen solidarity and foster social cohesion; however, they often lack the platforms to reach policymakers or scale up their efforts.
Kicking off the Policy Dialogue Forum at the opening plenary, KAICIID Secretary General Faisal bin Muaammar expressed his delight at the eagerness of policymakers, faith leaders and academics to come together at the Forum to topple barriers to inclusive integration.
"We believe that it is only through inclusive dialogue that we come together to address the challenges and threats that face humanity – among which are conflict, climate change and COVID-19," bin Muaammar said.
These global perils, known as the "three C's," he added, have driven nearly 82.4 million people around the world from their homes. Unfortunately, many have found a less than warm welcome from host communities. "Common citizenship and social cohesion need to be strengthened in order for refugees and migrants to become fully fledged participants in their host communities."
Bin Muaammar praised Portugal as a fitting location to host this year's forum, pointing to UNHCR's recognition of the country as a champion on integration.
Cláudia Pereira, Secretary of State for Integration and Migration of Portugal, also acknowledged the unique diversity in her country. "In Portugal, we are a multireligious country. We are home to 189 different nationalities and seven per cent of our population are migrants," she said.
Pedro Calado, Deputy Director of the President's Office at Calouste Gulbenkian Foundations and former High Commissioner for Migration, said it is this diversity that provides countless opportunities for successful integration and contributes to mutual respect and understanding. "We know, or at least we can easily be reminded, that we are "the Others." In times of growing intolerance, polarisation, and fracture, that is a blessing, regardless of one´s religion or belief."
Chief Rabbi Michael Schudrich acknowledged that often religious leaders are hesitant to speak out on political issues and therefore are often absent on the discourse on migration, despite being on the front lines of integration issues in their own communities. This challenge has been keenly felt in Schudrich's home country of Poland where several refugees have died in recent weeks along the Belarussian border, prompting outcry from the international community.
"As a clergy, as a Rabbi, my responsibility is also to speak out on political issues," he said. "We clergy have no choice but to speak out on humanitarian issues, because this political problem has created a humanitarian crisis."
---
---
Mapping the field of participation
Following the opening day's plenary sessions, participants had the opportunity to attend a number of thematic sessions which provided context for day two's working group sessions and recommendations. Tracks included bolstering the participation of refugees and migrants in their local communities through volunteer opportunities, increasing participation in political life and democratic processes, and ensuring equitable access to formal education.
During the working group session on combating hate speech through interreligious and intercultural dialogue, Irena Gudikova, Head of division Inclusion and Anti-discrimination at the Council of Europe shared her experience of working with dialogue at the local level.
"When intercultural dialogue is embedded in the policies at the local level, it really becomes powerful and it really mobilizes a lot of different stakeholders," Gudikova said.
She pointed to numerous areas where local level authorities and religious leaders can have significant impact on inclusive integration, as well as combatting hate speech and discrimination in their communities. According to Gudikova, local leaders can ensure safe and equal access to meeting spaces where newcomers can organize worship or social activities, enable culturally and religiously mixed spaces, and appoint trained mediators to facilitate good relationships in communities before tensions escalate to violence. Faith leaders can work with their congregants on prejudice and discrimination and preach messages of tolerance.
During the Forum, Miguel Ángel Moratinos, UN Under-Secretary General and High Representative for the United Nations Alliance of Civilizations agreed that policies and action are key to ensuring a diverse, peaceful Europe. "We have to implement policies – policies that fight racism, populism, exclusion and, on the contrary, policies that establish diversity as an element of richness for all of us."
Moratinos added that UNAOC has established media literacy programmes and trainings for journalism "so that they understand the language, and the sensitivity of language used when covering refugee and migrant-related issues."
Day two's working group sessions returned to the four thematic tracks from day one, tasking participants with developing concrete recommendations for participation and the amplification of marginalised voices.
The results of these sessions were presented during the closing plenary. Policy recommendations included: ensuring sensitisation of host volunteers to meet the cultural and religious needs of refugees, support for capacity building for refugees and migrants in the field of political participation, mapping at the European Commission level of relevant migrant and refugee-led organizations across Europe to improve their political participation and visibility, ensuring that refugee children have access to education as their legal right without need for documentation, including intercultural education for school staff, and for religious educational institutions to train and equip leaders to combat hate speech.
The forum will conclude on day three with a high level dialogue that will look more closely at the issue of hate speech in Europe. 
Click here to download the conference programme.
Watch the Live Stream