Partnerships and External Relations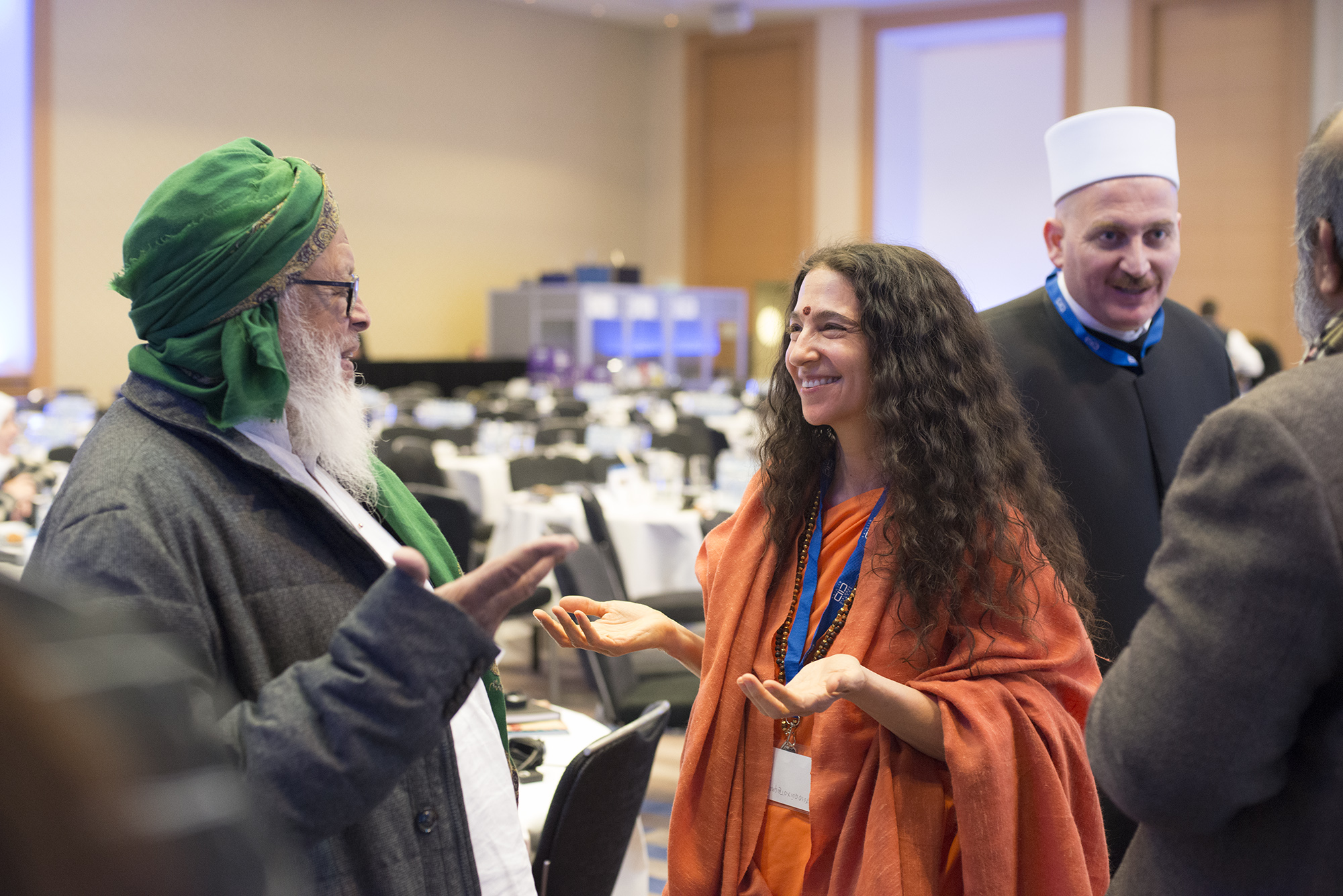 Together with our partners and stakeholders, KAICIID impacts some of the furthest and toughest corners of the world with the transformative power of interreligious and intercultural dialogue. But we know that we cannot do this alone.
Our partnerships range from religious institutions and faith-based organizations, governments and non-governmental organizations, universities, academic institutions and grassroots organizations.
Working with others deepens and multiplies the impact of our work, supports advocacy and awareness raising, increases training and capacity building, and helps us contribute to the United Nations' goal of "building forward better." Our partners understand that in order to put an end to conflict and crisis, and to build peaceful, cohesive communities, we need to recognize the importance of the common values which bind us together.
While KAICIID has longstanding cooperation with numerous organizations and institutions, we have also concluded formal partnerships with over a dozen organizations through Memoranda of Understanding (MoUs), and as part of our External Relations Strategic Framework.
KAICIID has also played an advisory role to intergovernmental and governmental institutions that require expertise in engaging faith-based organizations through dialogue processes. Conversely, the Centre has helped religious actors and faith-based organizations better understand the strategies and frameworks of intergovernmental and governmental institutions.
To that end, the Centre has provided capacity-building and resources to partners to better incorporate dialogue in peacebuilding and development work. Our support for partners is closely connected to global development agendas, including Agenda 2030 and the United Nations Sustainable Development Goals (SDGs).
The Centre upholds the UN Declaration on Human Rights, the UNESCO Culture Conventions and their operational activities. Similar to UNESCO's approach to the 2030 Agenda, KAICIID aims at contributing to peaceful societies and inclusion, by enhancing the exercise of fundamental freedoms, strengthening participatory systems of dialogue to foster respect for cultural and religious diversity and promoting gender equality.
KAICIID and International Consortia
KAICIID's participation in international consortia, networks and platforms has fostered multifaith and multilateral partnerships, and ensured that religious leaders, grassroots and international organizations learn from each other as they address shared challenges.
Through our networks, alliances and platforms, we work to advance the United Nations Sustainable Development Goals, build capacity, strengthen partnerships and share knowledge.
KAICIID has been involved as a partner or member with 13 networks, alliances and fellowships, of which a few examples are listed below.
International Partnership on Religion and Sustainable Development (PaRD)
Established in 2016, The International Partnership on Religion and Sustainable Development (PaRD) convenes governments, multilateral entities, civil society (with a focus on religious and faith-based actors) and academia in a safe space, providing continuity for dialogue, learning, and collaboration to better inform policy and practices in the achievement of the United Nations Sustainable Development Goals (SDGs) and Agenda 2030.
KAICIID began its collaboration with PaRD in September 2016 as a co-organizer and co-sponsor of a pre-meeting to the "Special Session on Religion" at the World Humanitarian Summit in Istanbul, which engaged religious actors and local faith communities on the development of more effective humanitarian response.
KAICIID also joined the PaRD Secretariat, as well as the United Nations Office on Genocide Prevention and the Responsibility to Protect, the World Council of Churches, and the Permanent Missions of Italy and Spain in support of "Bearing Witness: Combatting Human Trafficking and Forced Migration," held on the sidelines of the 71st Session of the UN General Assembly.
KAICIID was admitted as an official member to PaRD in October 2016, and has been an active member of its leadership body, engaging in several of its workstreams including Gender Equality and Empowerment (UN SDG #5) and Sustaining Peace (UN SDG #16). 
Additionally, KAICIID has directly collaborated with PaRD on projects such as the iDOVE programme in Africa and the United Nations Interagency Task Force-led Strategic Learning Exchange on "Engaging with Faith Organizations and Communities for Sustainable Development" in Amman, Jordan.
The Network for Religious and Traditional Peacemakers
Founded in 2013, the Network for Religious and Traditional Peacemakers fosters peaceful and inclusive societies by increasing active collaboration between religious and traditional actors and other key stakeholders on conflict transformation.
The Network's mission contributes to UN efforts on sustaining peace and the achievement of the Sustainable Development Goals (SDGs), particularly gender equality (SDG #5); peace, justice and strong institutions (SDG #16); and strong partnerships (SDG #17), as well as UN Security Council Resolution 1325 on Women, Peace, and Security.
Since 2015, KAICIID has been a core member of the Network, which is composed of intergovernmental organizations, policymakers, civil society and faith-based organizations which work together to support religious and traditional peacemakers at the local and national level. The Network supports these leaders by providing peacemaking expertise and training, building connections and networks among them and carrying out research into effective peacebuilding mechanisms.
KAICIID has cooperated with the Network Secretariat each year to undertake more than ten projects, including research and mediation training in the Centre's focus countries, and support for core functions such as advocacy and annual meetings.
Additionally, the Network has supported KAICIID's programming in the Central African Republic, facilitating its linkage with national policymakers, and cooperated on numerous projects in the Arab Region including Social Media as a Space for Dialogue.
UN Inter-Agency Task Force on Religion and Development (UN IATF-R) / Multi-Faith Advisory Council (MFAC)
The UN Interagency Task Force on Religion and Sustainable Development (UN IATF-R) was established in 2010, at the behest of eight UN principals, as a platform for knowledge exchange and management, capacity building, system-wide guidance and oversight regarding engagement with faith-based/-inspired civil society actors.
KAICIID has worked closely with the Task Force on the UN Strategic Learning Exchange – a series of workshops designed to increase cooperation between religious actors and the UN on development projects. The partnership has also raised awareness across the UN regarding the critical role religious actors and faith-based organizations play in humanitarian efforts.
The Centre has participated in a number of events with the Task Force, including the 2016 World Humanitarian Summit, and the 2016 UN General Assembly Session.
In 2018, UN IATF-R established the Multi-faith Advisory Council, an informal and voluntary entity that consists of more than 40 religious leaders and heads of faith-based organizations. The Council serves as a unique space for convening faith-based partners as advisors to the UN and is committed to upholding multilateralism and international human rights through multi-faith collaboration around Agenda 2030. KAICIID serves as the only intergovernmental organization that holds membership in the MFAC and co-chaired the Council from 2018-2019. The Centre has supported MFAC on key areas of the UN's mandate, such as gender justice, environmental protection, and peacebuilding. In July 2019, KACIID contributed to the Kofi Annan Faith Briefings at the annual UN General Assembly, which highlighted the importance of partnerships between the UN and religious actors on human rights, sustainable development and peace and security.