Newly Expanded Europe Region Programme Addresses Hate Speech, Violence and Integration Challenges
02 June 2021
In 2015, more than one million migrants and refugees, the majority of whom were fleeing violent conflict in Iraq, Syria and Afghanistan, crossed into Europe.
By the end of 2016, 5.2 million refugees had reached European shores, igniting fierce debates on integration policies and sparking fears of a changing European identity, defined by new cultures, languages and religions.
Today, the legacy of the 2015 crisis remains starkly present within European borders, manifesting itself in rising hate speech against minorities and attacks against houses of worship. As the warning signs of violence mount, the International Dialogue Centre (KAICIID) has expanded its programming within the continent in a bid to heal the societal divides.   
"With our new Europe Region Programme we are addressing the challenge of an increased discourse of fear against refugees and migrants. There is great potential for interreligious and intercultural dialogue to step into the midst of the hatred that we've seen," said Faisal bin Muaammar, KAICIID Secretary General.
Johannes Langer, Programme Manager for Europe, explains the programme has been structured across three pillars, designed to unite religious leaders and policymakers in joint efforts which address the most pressing problems on the continent.
Inclusive Education and Policies
The programme's first pillar builds on previous efforts to provide inclusive education for newcomers and invites civil society and policymakers to work together on the establishment of more effective social cohesion policies. 
In 2017, the team launched a pilot project in Vienna, Austria which focused on filling the gaps in integration education through resources and classroom materials. The resulting Toolkit includes 13 modules designed to integrate newcomers into all aspects of their host country – including language-learning, opportunities for training and education and understanding community and cultural expectations. These resources have been implemented already by KAICIID and partners in Vienna and Madrid with plans to expand it into new languages and contexts in the years to come.
Meanwhile, the KAICIID-supported Network for Dialogue, which includes 25 members representing organizations such as the Adventist Development and Relief Agency (ADRA), the International Federation of Red Cross and Red Crescent Societies (IFRC) and the Jesuit Refugee Service, aims to address current challenges within migration issues.
The Network gathers annually at the European Policy Dialogue Forum, convening grassroots faith-based and civil society actors from across Europe to share expertise and engage in dialogue with policymakers.
Image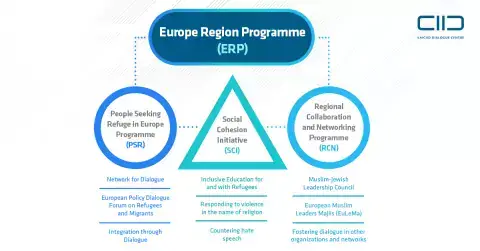 As a result of these consultations, the Network has developed a series of policy briefs targeted at improving integration services. The briefs offer recommendations for the development of inclusive curricula and sensitisation for teachers on the needs of refugees and migrants. They also offer guidance for improved engagement between host communities and newcomers, as well as address concerns that integration falsely means losing important cultural and religious identity markers.
Convening Religious Leaders, Civil Society Organizations and Policymakers
While pillar one's emphasis on policy and education aims to address some of the root causes of Europe's integration challenges, pillar two aims to further increase cooperation between European religious actors and governments.
According to Langer, strategic engagement of religious leaders is key to fostering unified communities since they engage weekly with worshipers and are often directly plugged into the challenges in the community. Many are also keen to help navigate some of the religious and cultural issues that Europe currently faces.
"It's important to have the voices of these leaders represented, keeping in mind that Europe has an ever-growing diversity of people coming from across the globe with often very different traditions. In other cases, some are coming with similar traditions but perhaps a stronger link to religion and so we need an improved understanding within this secular continent."
Partnerships with religious actors allow communities to better address the increasing diversity in their midst, he adds. "And if this is done through dialogue and unified collaboration with local governments, policymakers can gain better insight about how to engage those communities that are often on the margins."
Equally important for the Europe programme is to ensure diverse religious communities are in dialogue and partnership with one another as well, which helps them better address shared concerns at the local, national and EU level.
This is the intention behind the KAICIID-supported Muslim-Jewish Leadership Council (MJLC), which was established as an Austrian NGO in 2018, at the request of Muslim and Jewish leaders and through the Centre's help. The MJLC brings together equal representation from Europe's Muslim and Jewish communities to address rising Islamophobia and anti-Semitism, as well as advise on policy related to freedom of religion and belief.
Since their formation, the group's members have made bold statements of solidarity, such as support for a Muslim-hosted Holocaust remembrance event and an interfaith march in the wake of a terrorist attack last year in Austria.
The MJLC also plans to look at safeguarding religious sites in Europe following a spate of attacks in recent years on European synagogues, mosques, cemeteries and other sacred sites.
Combatting Hate Speech and Responding Effectively to Violence
These efforts support the work of the programme's third pillar, which includes combatting hate speech and violence in the name of religion – challenges which KAICIID has sought to address in one form or another since the Centre's inception.
Last year, as hate speech targeted at minority communities increased during COVID-19 and Europe experienced further terror attacks in France and Austria, coordinated efforts in these areas became more important than ever. 
Despite a decrease of physical attacks on religious minority communities due to COVID-19 lockdowns, research from Tel Aviv University found that desecrations of Jewish religious sites, including cemeteries rose by nearly 25 per cent in 2020, with incidents reported in countries including Hungary, Moldova and France.
KAICIID's Europe programme plans to convene participatory dialogues with experts, academics and religious leaders, through the support of the MJLC and the European Muslim Leaders Majilis (EuLeMa), to prevent hate speech and incitement which are often precursors to more serious destruction and violence.
Besides attacks on religious communities, European cohesion was further tested last year amid several bouts of violence in the name of religion. The need for improved coordination proved particularly true as religious leaders hurried to organize community outreach, plan vigils and offer pastoral counselling in the wake of tragedy.
"In addition to trying to address problems at their roots through the first two pillars, we're looking at strengthening ways European religious leaders can act quickly and effectively in the immediate aftermath of hate crimes and violence," Langer explained. "Eventually we hope to put together resources for religious leaders on crisis response."
Through the expansion of the Europe programme, KAICIID aims to provide a myriad of options for civil society leaders to more easily coordinate existing efforts and for policymakers to better represent the concerns of diverse communities.
"Despite the fact that Europe is a secular continent, there is a recognition of the need to engage with religious actors through formal and informal means," KAICIID Secretary General Muaammar said. This is exactly where KAICIID can be the important link and the convener to finding joint solutions to the challenges that face our communities."