With New Leadership and Host Country, KAICIID Enters a New Phase
30 October 2021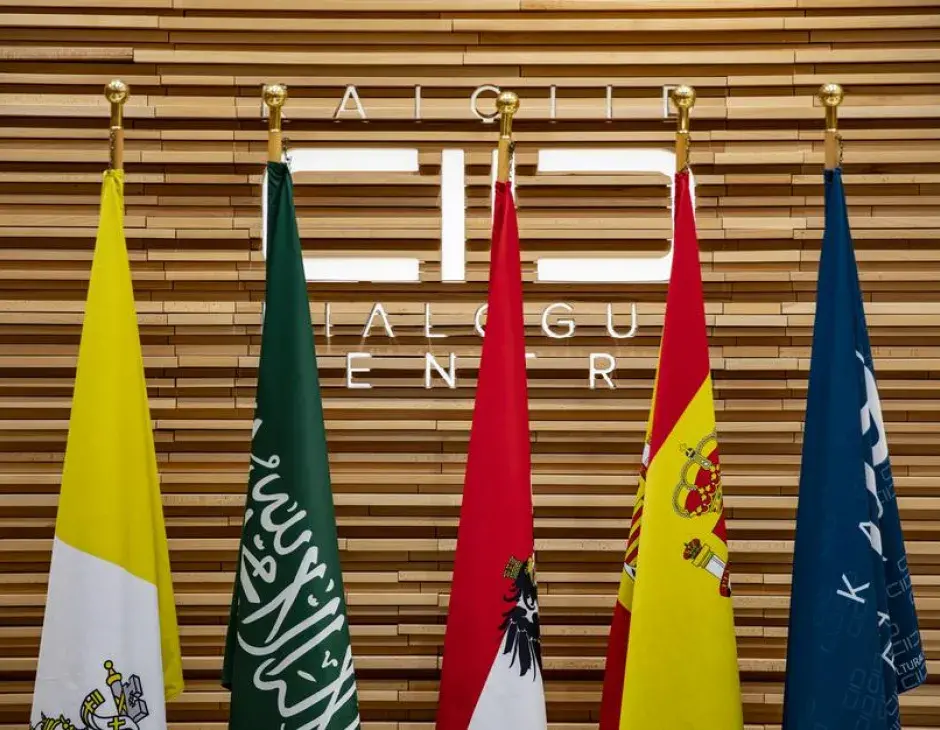 Faisal bin Muaammar completed his second and final term as Secretary General of the International Dialogue Centre (KAICIID) this month, after nine years of leadership at the helm of the organization. In his final days of service, he signed the Centre's new seat agreement in Portugal, thereby ensuring KAICIID's work will continue for years to come.
Delivering his final speech at the European Dialogue Policy Forum in Lisbon, which was hosted by KAICIID, bin Muaammar expressed the bittersweet feelings toward his impending departure.
"It has been my honour to serve this Centre as it has impacted the world with interreligious dialogue. It is too emotional sometimes to leave part of your heart, but it's something we have to do."
Bin Muaammar was instrumental in creating and sustaining a unique global institution steadfast to its service. Under his leadership, he cultivated KAICIID from the founding vision of King Abdullah bin Abdulaziz, Custodian of the Two Holy Mosques, and Pope Benedict XVI.
Earlier this week, KAICIID's multi-religious Board of Directors warmly thanked bin Muaammar for his service: "The Board recognizes the value of bin Muaammar's unshakable dedication, manifest sincerity, and strategic sensitivity in service to the noble goals of KAICIID. We commend his efforts to the Council of Parties, under whose guidance and oversight the Centre's objectives in building bridges of dialogue and understanding among followers of religions and cultures, within an expanding global programmatic imprint, have been realised."
The term of KAICIID's Deputy Secretary General, Ambassador Alvaro Albacete, also ended this month after eight years of service at the Centre.
"This posting was a fitting culmination of my deep affinity to Diplomacy, Religion and International Relations as the Centre is the realization of a historic and symbolic vision. KAICIID is not yet just another initiative on the spectrum of rapprochement between religions and cultures. It is an initiative that acquired 'inter-state' form, with a status that allows the Centre to participate in the 'governmental' dynamic through collaborations with sister organizations," he said.
Achievements Highlights
Beginning with a humble dialogue Centre and a small staff, the outgoing leadership exponentially increased the Centre's reach, impacting thousands worldwide. Though their accomplishments are far too extensive to list in full, highlights include:
Presiding over the inauguration of KAICIID in 2012, which welcomed UN Secretary General Ban Ki-Moon and diverse high level religious leaders in an overwhelming demonstration of support for the Centre's goals.
The subsequent establishment of numerous interreligious dialogue platforms across Africa, the Arab Region, Asia and Europe, which have united high level and grassroots religious leaders from the world's major religions.
A wide-ranging portfolio of programmes aimed at tackling hate speech, fostering social cohesion and promoting common citizenship around the world.
The hosting of prominent international conferences such as United Against Violence in the Name of Religion, The Power of Words: The Role of Religion, Media and Policy in Countering Hate Speech, the G20 Interfaith Forum, and the European Policy Dialogue Forum which have gathered hundreds of policymakers, religious leaders and civil society to address pressing global challenges and further inclusive policies.
The signing of 15+ MoUs with United Nations agencies, regional organizations, religious and academic institutions
The establishment of a global Fellows programme, which has equipped hundreds of young, dynamic leaders with skills in interreligious dialogue, conflict resolution and peacebuilding. Through the programme, Fellows are tasked with implementing dialogue programmes in their own communities which have impacted thousands worldwide.
---
---
Prior to his leadership at KAICIID, bin Muaammar promoted interreligious tolerance and built intercultural understanding through the founding of the King Abdulaziz Center for National Dialogue (KACND) and his stewardship of the King Abdulaziz Public Library (KAPL) in Riyadh. Three years after overseeing the establishment of KAPL, he spearheaded the creation of the library's Arabic Union Catalogue (AUC), a one-of-a-kind digital platform in the Arab world.  Today, the AUC has over 1.2 million bibliographic records.
Before joining KAICIID, Ambassador Albacete, on the other hand, had been Ambassador at Large dealing with interreligious and intercultural dialogue for the Spanish Ministry of Foreign Affairs. He had worked for the European Commission in Bosnia-Herzegovina and for the Inter-American Development Bank in Argentina, Bolivia, Panama and Paraguay. Trained in Driving Government Performance by the Kennedy School of Government at Harvard University, he had also been a guest professor of the École Nationale d'Administration of France. Ambassador Albacete has also served in diverse positions in the Ministry of Foreign Affairs of Spain, including the Division for the United Nations, Director of Parliamentary Affairs, Deputy Director of the Minister's Cabinet and Ambassador.
As of November 1st, Elham Alshejni will be leading the organization as interim Deputy Secretary General. Alshejni, the Centre's Director of Executive Management, has been with the Centre since 2016, bringing with her over 24 years of experience with the League of Arab States handling a range of portfolios, last of which was heading its Human Rights department.