Alessandra Coppola: "Short-Term Policies To Fight Hate Speech Do Not Work"
06 October 2021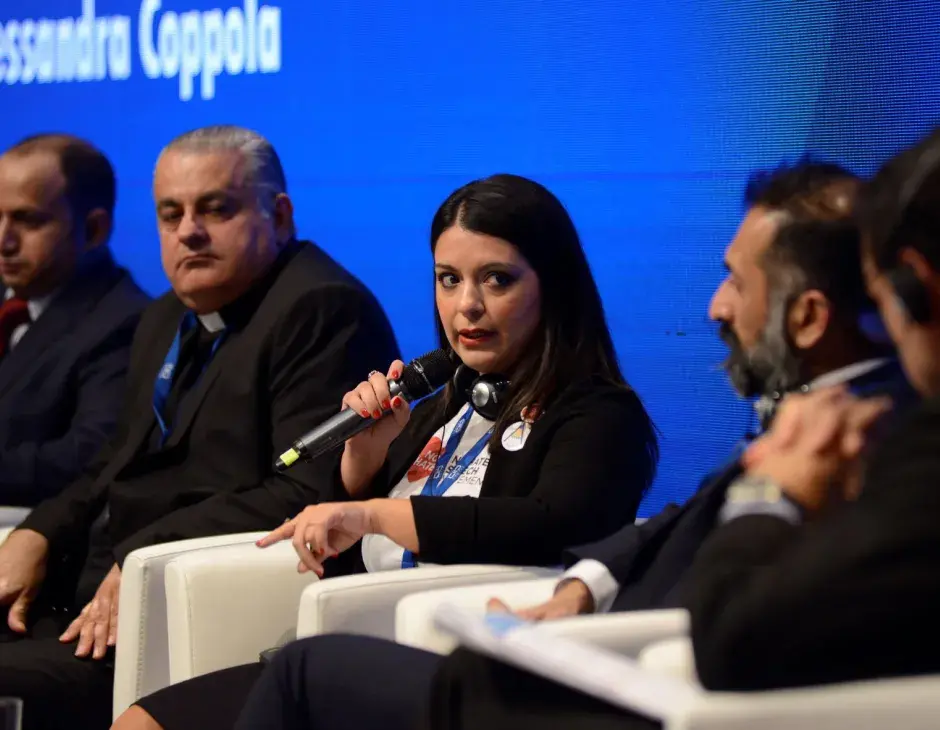 Alessandra Coppola is a political scientist, board member of the No Hate Speech Network and the vice-coordinator of the national "No Hate Speech Movement" in Italy, a youth campaign established by the Council of Europe which seeks to mobilise young people to combat hate speech and promote human rights online. Coppola is also the President of APICE, an Italian youth NGO which works to promote a common European culture though awareness initiatives and by disseminating and promoting fundamental values of the EU and the principles of the Council of Europe. 
How did you become involved with hate speech prevention?
In 2014, I was selected to attend a seminar at the European Youth Centre in Strasbourg titled "Inclusive Online Engagement for Young People in Europe", hosted by the Council of Europe (COE). The organizers presented the COE´s "No Hate Speech Movement". Initially, the campaign was launched in response to the Utøya massacre [in Norway] which targeted young people [at a summer camp]. National campaign committees – by governmental bodies, civil society organizations and young volunteers - were established in different member states, and I got in touch with the coordinator for Italy, my home country, to join as an activist.
What is the purpose of the campaign?
The campaign combats hate speech by educating and mobilizing young people across the continent, in an effort to have hate speech recognized as a violation of human rights. In order to respond to hate speech, you must stop its replication. By 2017, we had formed 47 national campaign committees in different countries of Europe, and even in Mexico and Tunisia.
When the campaign was launched, reporting hate speech on the internet was more difficult and happened much less than today. We developed what we called a "hate speech watch system", so that activists could report hate speech anywhere it occurred online. We were manually checking social media posts, literally one by one, and assessing the posts in their cultural and linguistic context. However hate speech exploded and it wasn´t possible for us to continue working this way.
Later, we developed the counter and alternative narratives approach, which helps young people and educators confront, dismantle and replace hateful narratives online.
In 2017, the campaign ended under the direct umbrella of the COE and was "handed over" to the member states,. National campaigns, online activists and partner organisations have since continued the movement themselves, but the COE provides us with support.
In Italy, I gathered with other activists and with the support of APICE (Agenzia di Promozione Integrata per i Cittadini in Europa), we translated all online content into Italian and took the campaign to a more local level. We went "grassroots".
How do you reach young people with your work?
In two different ways. First of all, through social media. In 2013 we focused on Facebook. Over the years, we became active on Instagram and Twitter. TikTok is already on our "to do" list. We have also been focusing on the "e-sports" world, where hate speech and bullying is particularly present. We also have our official campaign website to raise awareness and we use memes, videos, and infographics to drive engagement and attract our audience.
Second of all, we host "action days" with tailor-made content that attracts a young crowd.
It is important to realise that short-term policies to fight hate speech do not work. If you want to build a new generation of young people who are sensitized to hate speech, who use inclusive language, who understand how exactly manipulative language works, then you create a civil society that is ultimately able defeat hate speech.

 

Image
Which form of hate speech is most prevalent and who is the main target group?
From our research, the groups most affected by hate speech vary by region and are often connected to the cultural and political situation of a country.
At the moment, hate speech strongly targets LGBTQI people as well as women. There was a period – in particular during the refugee crisis in 2015– where anti-Muslim hate speech was proliferating quickly. Lately, we are also seeing that anti-Semitic sentiments are increasing again on the internet.
How did COVID-19 affect hate speech?
Since the pandemic, we have observed a strong polarization in society - one that fuels hate speech on the internet. At the start, hate speech often targeted anyone who looked even remotely Asian or Chinese. Later, refugees and migrants became the new target and were accused of occupying hospital beds or bringing the virus into Europe. People suddenly feared an "unknown" and invisible enemy. Through our campaign, we have been dismantling some of the stereotypes against specific ethnic groups.
There is also the perceived division of those who "believe in science", and those who believe in "hidden powers". We're also seeing [rhetoric] against and in favour of vaccines. We also worked a lot against the spread of misinformation. We help people verify what is actually news backed up by sources and what´s not.
In your view, what have been the greatest achievements of the campaign?
Internationally, the creation of our community which produced so many skilled, young activists who have become important multipliers. Then, the establishment of the "No Hate Speech Network", which is totally led and administered by the activists themselves. This is very precious because you can change the way people think through a community approach.
 
To some extent, our success is also the result of the support that we continue to receive from the COE, not just financially, but also by them providing us with a platform at a higher level, and helping us liaise with policymakers. For example, it was through their support that I was able to attend KAICIID´s "The power of words" conference in Vienna in 2019.
What will be the most crucial factor in fighting hate speech in the future?
A big problem is that our hands are often tied, as we are missing specific hate-speech related legislation, which makes it hard to tackle the problem. In many countries, hate speech offenses do not fall under penal law. The current legal framework is outdated and it no longer meets the needs of contemporary society. It needs to reflect the new challenges we are seeing and the new types of hate speech that have been evolving.
Secondly, it is incredibly important to foster media literacy among adults, including parents, teachers and educators, and those who are not "digital natives".
Older people sometimes don´t understand how their behaviour online may have legal consequences. We must also provide human rights education for youth in both a formal and a non-formal learning context.
Thirdly, the topic of internet governance can no longer be ignored. It impacts public discourse and has the potential to fuel hatred and fear. This rapidly becomes a breeding ground for extremism and radicalisation.