KAICIID Hosts 2nd European Policy Dialogue Forum on Refugees and Migrants
02 November 2020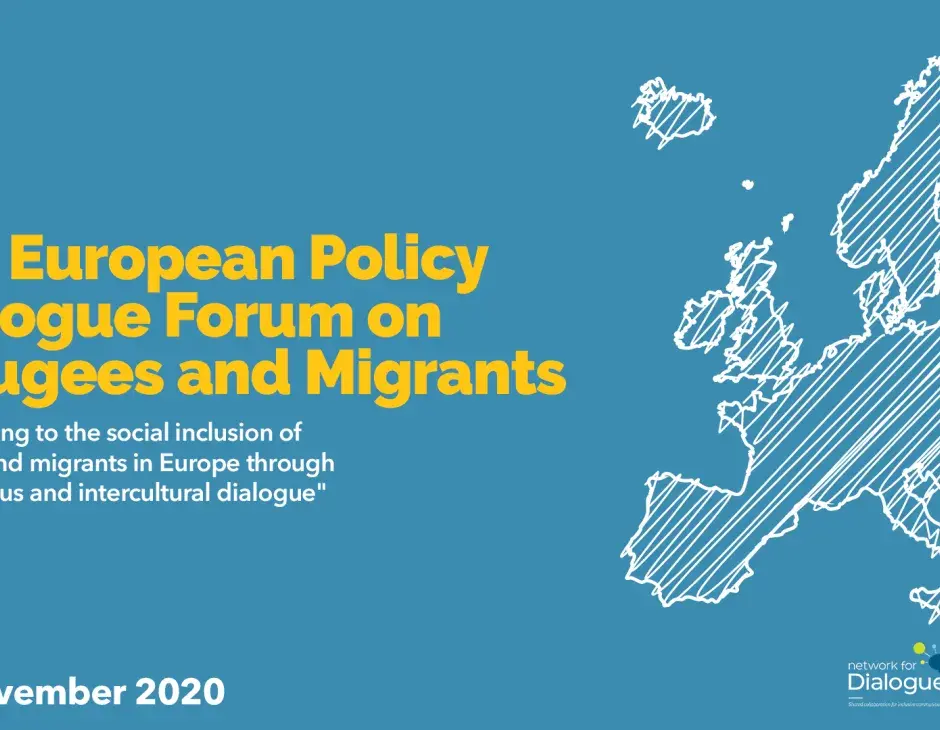 On 3-4 November policymakers, religious leaders, academics and representatives of secular and faith-based organizations working on refugee and migrant inclusion in Europe will convene to discuss different perspectives, experiences and areas of cooperation
Vienna, 2 November 2020 – Under the theme "Contributing to the social inclusion of refugees and migrants in Europe through interreligious and intercultural dialogue", the second European Policy Dialogue Forum on Refugees and Migrants will bring together more than 100 participants from over 20 different countries. The forum, originally scheduled to take place in Bonn, Germany, will be held virtually on 3-4 November due to the COVID-19 pandemic.
Serving as a unique platform, the Policy Dialogue Forum unites a diverse set of stakeholders once a year to discuss the growing complexity of migration flows and dynamics in Europe. Applying a dialogical approach, the event facilitates discussions and engagement between secular and non-secular actors who work in the field of refugee integration and inclusion in different parts of Europe. Grassroots activists from the KAICIID-supported "Network for Dialogue", religious leaders, policymakers and academics will participate in the event.
Among speakers this year are Ambassador Jörg Wojahn, Head of the European Commission's Representation in Germany, Jean-Louis De Brouwer, Director of the European Affairs Programme at the Egmont Institute, Imam Yahya Pallavacini, President of the Islamic Religious Community of Italy, Sophia Burton, Managing Director and co-founder at Migration Matters, Stephan Mayer, Parliamentary State Secretary of the German Federal Ministry of the Interior, as well as Drahoslav Štefánek, Special Representative on Migration and Refugees at the Council of Europe.
Based on the six main recommendations that emerged from last year's event in Greece, the European Policy Dialogue Forum 2020 will address how interreligious and intercultural dialogue can act help bring about social inclusion of refugees and migrants on the continent.
The gathering will focus on three different topics, explored through a series of working groups. The Forum will aim to arrive at a set of policy recommendations in the following areas:
Strengthening the social inclusion of migrants and refugees in education
What are the challenges that teachers face when addressing cultural and religious diversity in their classrooms? What are the difficulties faced by many refugees when learning a new language and being confronted by an often entirely different culture in their host country?
Building trust in local communities
How can interactions between refugees and members of the host community be fostered to help both learn from and about each other? How can mutual understanding be strengthened in an effort to reduce prejudice and fear on both sides?
Reshaping the narratives on migration
How can new ways of fostering tolerance and understanding be explored in a joint effort, in order to tackle derogatory language and hate speech that targets refugees and migrants? What are best practice examples coming from the media, academia and policymakers in this regard?
Media are invited to join the event for the livestreamed opening and closing plenaries. To register for the event or to submit an interview request, please contact press@kaciiid.org.