Workshop Addresses Urban Challenges to Integration Ahead of European Policy Dialogue Forum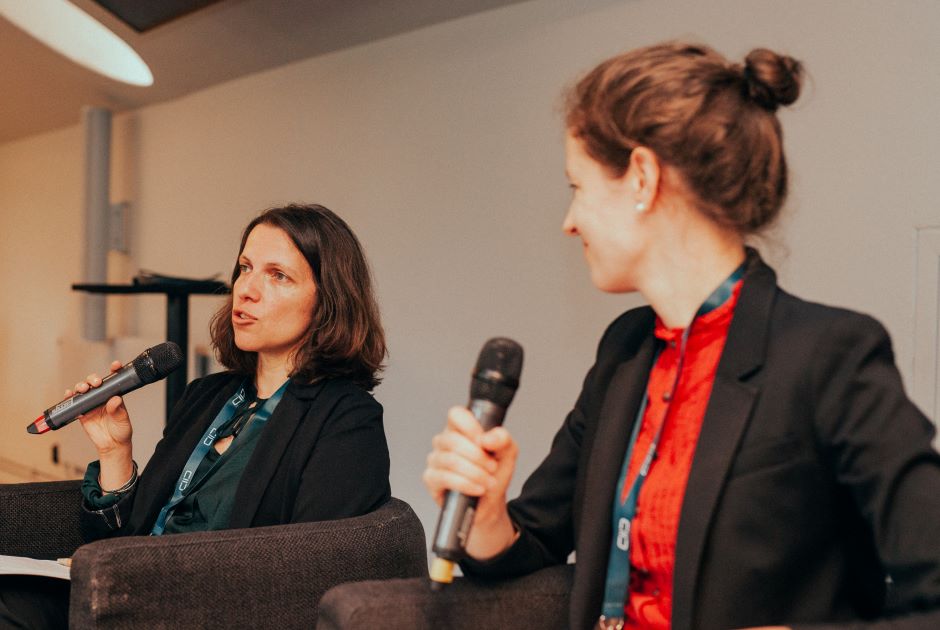 Portuguese High Commissioner for Migration, Sonia Pereira, speaks during a panel discussion at the pre-EPDF workshop in Nacka/Sweden
More than 40 religious leaders, representatives of refugee aid organizations and policymakers gathered this week at a workshop in Stockholm to discuss challenges and opportunities for the social inclusion of refugees and migrants in Europe's cities.
The gathering, which was jointly organized by the International Dialogue Centre (KAICIID), the Network for Dialogue, and the European Council of Religious Leaders (ECRL), with the support of the OSCE Office for Democratic Institutions and Human Rights (ODIHR), is part of the preparatory process for the fourth annual European Policy Dialogue Forum slated for November. Preceding the workshop, the Network for Dialogue held its 7th regular meeting, co-organized and hosted by God's House – a collaborative interfaith meeting space in Sweden.
Cities Provide Refugees with a Myriad of Opportunities
Kicking off the event, more than 140 participants from diverse religions joined an interfaith prayer for peace – the largest interfaith peace prayer in the history of God's House. According to Vicar Carl Dahlbäck, the gathering reflected his organization's mission to "create spaces where people can come together and discover how much we have in common."
During the following two-day workshop, participants addressed challenges for refugees and migrants who are emerging across European cities – including a rise in hate speech and discrimination as well as the need for improved partnerships to ensure smooth integration.
Image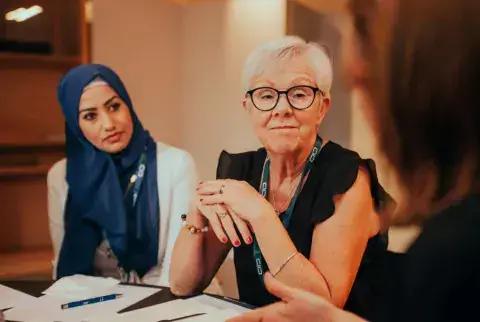 According to UNHCR, more than 60 per cent of the world's refugees live in towns and cities, where they often have improved chances to earn a living, get an education and become self-sufficient. On the flip side, they may face limited access to housing, health care and higher-paying jobs – inequalities which can exacerbate intercommunal tensions and lead to isolation.
"European cities from Paris to Stockholm, London to Berlin are hubs for diverse international communities," said Elham Alshejni, KAICIID's Interim Deputy Secretary General, during the workshop. "Yet, despite offering a myriad of opportunities, our cities also face the challenge of social polarisation and discrimination."
According to Dr. Kishan Manocha, Head of Tolerance and Non-Discrimination at the OSCE Office of Democratic Institutions and Human Rights (ODIHR), creating cohesive cities starts with neighbourhoods. "These are often the settings in which meaningful and effective partnerships are naturally built, including among and with religious actors. We need to learn how to create communities that can tap into the capacities and talents of diverse inhabitants and work together towards the betterment of their environments."
Promoting Interfaith Diversity in Malmö
Over the course of the workshop, participants cited numerous such case studies from the community level which have improved refugee experiences.
For example, panellists Rabbi Moshe David Hacohen and Imam Salahuddin Barakat shared their interfaith initiative which they launched in Malmö, Sweden – a city known for its less than favourable attitude towards Jews and Muslims.
Image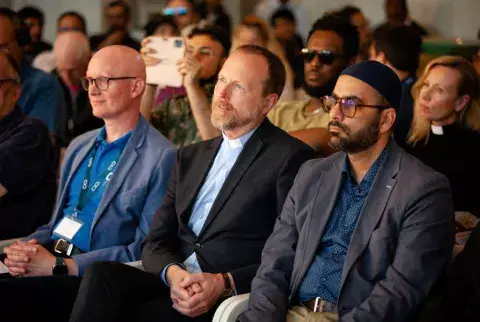 As fears have grown over the city's swelling immigrant population – approximately a third of the city's 300,000 residents are Muslims – mosques and synagogues have been vandalized and worshippers have been verbally harassed on the streets.
Together, Rabbi Hacohen and Imam Barakat have headed to Malmö's schools, teaching respect for diverse identities and sparking dialogue about inclusion.  In December 2019, the city presented them with a Human Rights Award for their efforts. And while they say there is still a long way to go, they have witnessed numerous improvements in attitudes towards Malmö's religious and ethnic minorities.
Understanding Multifaith Dynamics in Cities
The ECRL launched their own city initiative in partnership with the Berlin Senate earlier this year. Under the Metropolitan Regions Project, interfaith delegations will visit European cities to better understand their respective intercultural and multifaith dynamics, said Rev. Dr. Thomas Wipf, President of ECRL/Religions for Peace Europe.
"We want to understand which challenges they are facing and which best practices they have established to support the building of a cohesive, inclusive urban society," he added.
Stemming the 'Tsunami' of Hate Speech
Throughout the event, participants also reflected on ways to end divisive rhetoric and discrimination which provide some of the biggest barriers to community cohesion.
The COVID-19 pandemic instigated "a tsunami of hate and xenophobia, scapegoating and scare-mongering" in countries around the world, according to the United Nations. Verbal harassment and death threats also spiked, particularly targeting refugees and religious minorities.
Image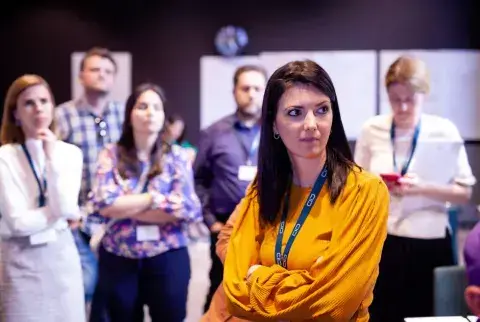 Today, many of the refugees in Europe are from predominately Muslim backgrounds – nearly 1.3 million people arrived on the continent in 2015 following violent conflict in countries including Syria, Iraq and Afghanistan.
In an effort to combat hate speech and positively change the narrative, Irish Muslims have intentionally built strong relationships with local journalists, said Shaykh Umar Al-Qadri, Chairperson of Irish Muslim Peace & Integration Council & Chief Imam Islamic Centre of Ireland. This has improved news coverage and supported more positive perceptions of Muslim refugees.
Al-Qadri called on individuals from Muslim backgrounds, including refugees, to further address hate speech by forming partnerships with other affected communities – Jews, the LGBTQI community, etc. – to encourage respect for different beliefs and opinions.
Learning from One Another
Case studies like those shared during the workshop are vital to improving integration policies and approaches in cities across Europe, said Sónia Pereira, High Commissioner for Migration in Portugal.
"We don't often have the chance to share our approach with other countries and learn from other experiences," she added. "KAICIID has provided an interesting space for that to happen, enabling us to share different perspectives by bringing together faith-based and civil society organizations, government entities, municipalities, etc."
Additional recommendations for improving integration were shared during the Network for Dialogue's two-day meeting which was hosted on the sidelines of the workshop. Representatives from 22 member organizations discussed opportunities for policy engagement and increasing community trust through dialogue.
The recommendations from the workshop and the Network for Dialogue meeting will form the basis of discussions at November's European Policy Dialogue Forum in Barcelona.