As COVID-19 Fuels Hate Speech Against Religious and Ethnic Communities, the International Community Appeals to Faith Leaders for Support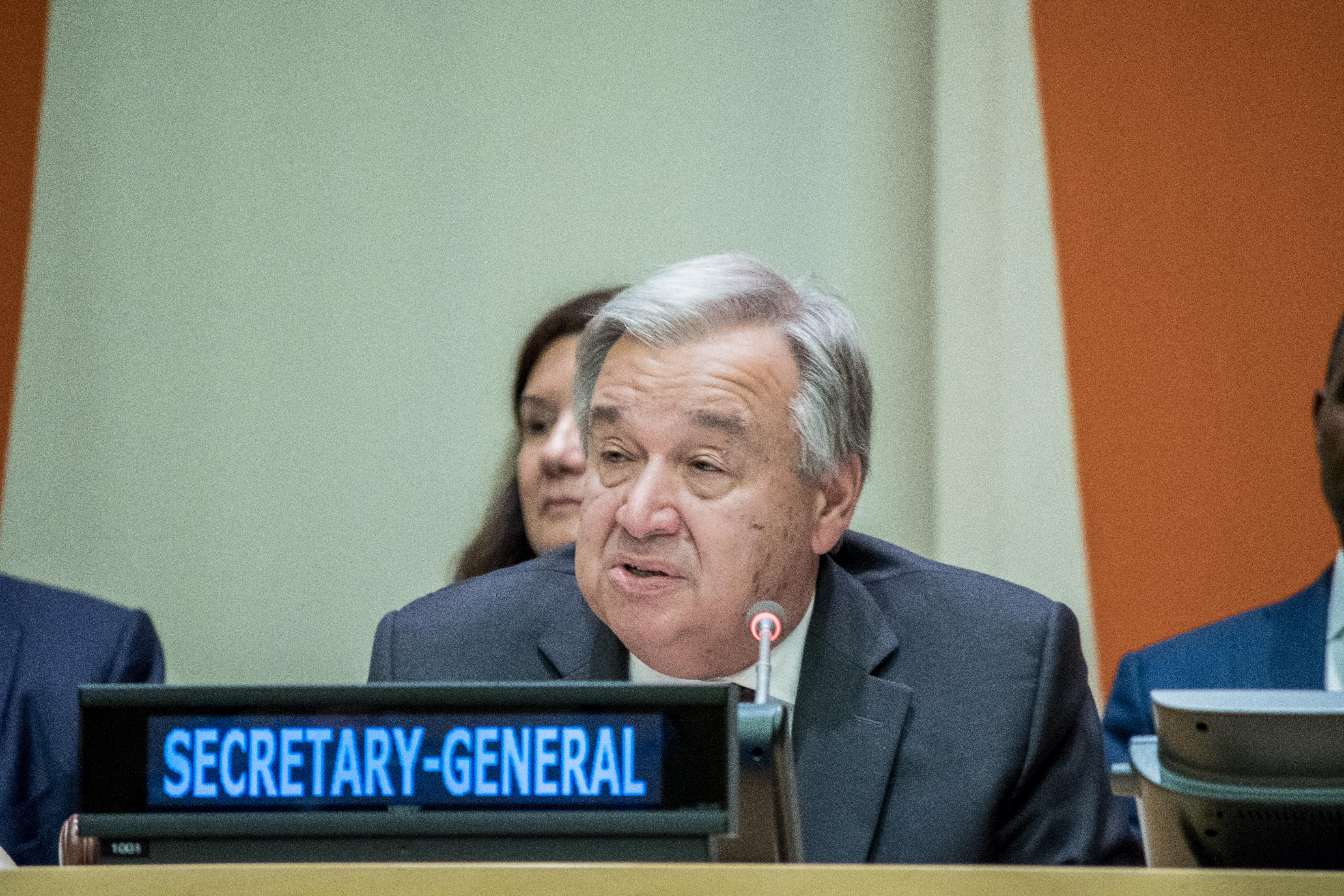 Secretary General Guterres launches the KAICIID-supported "Plan of Action: For Religious Leaders and Actors to Prevent Incitement to Violence that Could Lead to Atrocity Crimes" at United Nations Headquarters in 2017.
Faced with a global pandemic and rising calls for violence against minority communities, United Nations Secretary General Antonio Guterres issued a global appeal in May of last year to stop COVID-19 related hate speech.
Back then, the first wave of the pandemic had already instigated what Guterres called "a tsunami of hate and xenophobia, scapegoating and scare-mongering" in countries around the world.
In the Central African Republic, threats of violence against foreigners over fears of COVID-19 infection, forced the United Nations to suspend internal travel for Peacekeepers and institute additional security measures to protect international staff.
In Tel Aviv, researchers warned of an increase in anti-Semitic sentiment prompted by COVID-19 conspiracy theories. In the United Kingdom, India and Sri Lanka, online vitriol targeted Muslim communities, and across the globe, the United Nations documented numerous false allegations that migrants and refugees were sources of the virus.
Hate speech against religious and ethnic groups is on the rise
Nine months later, COVID-19 related hate speech against religious and ethnic groups is still on the rise, as the world faces new surges in coronavirus cases.
"Ethnic or religious minorities will keep being the target of hate speech as long as this pandemic continues and the level of hatred is not getting lower," said Simona Cruciani, Political Affairs Officer at the United Nations Office on Genocide Prevention and the Responsibility to Protect (OSAPG).
Image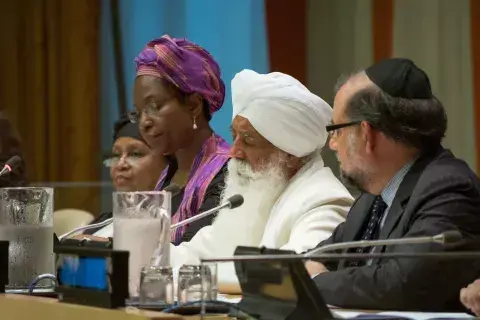 "Based on the monitoring and analysis that we carry out, we are very concerned with the trends. We have had political leaders refer to the virus as the 'Chinese virus' and we are seeing increasing trends of anti-Semitism and anti-Muslim hatred, with people from these religious groups being accused of spreading the virus."
In May 2020, OSAPG issued a guidance note on addressing and countering COVID-19 related hate speech. The document lists religious leaders and faith actors as influential figures in actively speaking out "against COVID-19-related hate speech, misinformation, disinformation and conspiracy theories."
"We really believe that these actors play an essential role in the three pillars of the United Nations, which are peace and security, human rights and development," Cruciani said.
Following the issuance of the guidance note, OSAPG, along with the United Nations Alliance of Civilizations (UNAOC) and the Office of the High Commissioner for Human Rights (OHCHR), held a virtual consultation with religious leaders and faith-based organizations, which resulted in a global pledge of action to address the COVID-19 pandemic.
Signatories of the document committed to stand up "against hate speech and hate crimes, xenophobia, racism and all other forms of discrimination."
"For us this is very much a priority," Cruciani said.
Faith leaders are crucial to preventing atrocity crimes
The pledge followed two landmark documents issued by the United Nations, which called for increased engagement from faith communities to stop hate speech and incitement to violence. The first, launched in 2017 by Secretary General Guterres, was a Plan of Action developed with the support of KAICIID to help religious leaders prevent atrocity crimes. The second, issued in June 2019, was a Strategy and Plan of Action on Hate Speech acknowledging the growing trends of xenophobia, racism and intolerance, particularly against faith communities.
Image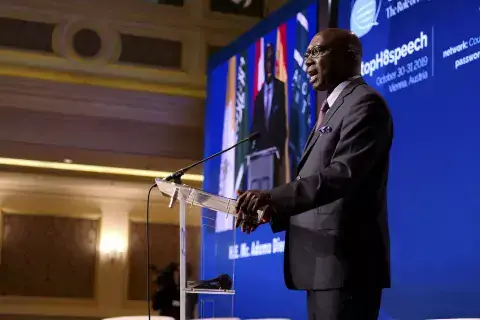 Both documents recognise that hate speech is often a precursor to atrocity crimes, including genocide, as history has shown from Rwanda, to the mass graves in Srebrenica, to the killing fields of Cambodia.
Cruciani believes plans of action are important because hate speech is often a grey area within international law. Rather than prohibiting hate speech directly, international law prohibits "incitement to discrimination, hostility and violence." The decision on whether to prosecute hate speech which falls below the legal threshold of incitement is left up to States, and many governments have struggled to balance accountability with freedom of expression.
"This is already a sad reality in many contexts," Cruciani explained. "Policies and practices to combat hate speech have to be in line with human rights law, but we see that in cases where States implement laws on hate speech which doesn't fall under the threshold of incitement, these same laws can be used to limit freedom of expression and opinion. This is why hate speech should be fought with more speech, by spreading counter narratives and upholding international human rights standards."
New legislation seeks to balance hate speech with free speech
Last month, the European Commission introduced their own legislation, designed to tackle illegal content and disinformation online, while respecting freedom of expression. If adopted, the Digital Services Act would follow other measures taken at the EU level, such as the Code of Conduct on Countering Illegal Hate Speech Online.
The European Union Agency for Fundamental Rights (FRA) also hopes to introduce a set of guiding principles to encourage reporting of hate incidents.
"This is a central element in the fight against hatred: such incidents need to be reported, if they are to be investigated and prosecuted," said Michael O'Flaherty, Director of FRA.
Since the beginning of the pandemic, FRA has published regular bulletins analysing the impact of COVID-19 hate speech. According to O'Flaherty, faith-based organizations have a crucial role to play when it comes to raising awareness about hate speech, as well as supporting victims.
"Often, people are reluctant to report incidents to authorities for a number of different reasons and are more willing to rely on trusted community organizations," he said.
Image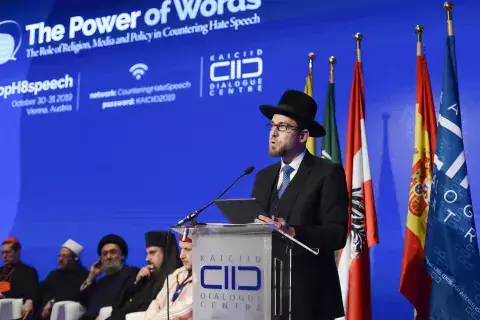 Based on the evidence collected by FRA, O'Flaherty believes that social media can be just as useful in combatting hate speech, as it is in promoting it.
"Social media has the potential to spread hate, but also to tell positive stories. Our COVID bulletins show how civil society organizations and people of Asian origin are using social media to respond to hate speech by collecting information about xenophobic incidents and raising awareness."
Awareness campaigns on social media can prevent outbreaks of violence 
KAICIID Fellow Stephen Ojapah has found this to be true in his native country of Nigeria, where the pandemic has deepened vast socio-economic gaps and fuelled tensions in communities divided by sectarian violence.
Ojapah is a Catholic priest at a Diocese located in the predominantly Muslim Sokoto State and a member of the KAICIID-supported Interfaith Dialogue Forum for Peace (IDFP). He has worked with Christian and Muslim leaders over the past few years to use social media to counter hate, especially during tense political elections which often trigger disinformation campaigns and outbreaks in religious and ethnic violence.
"Before the 2019 elections, social media was filled with hate speech targeting Christians or Muslims," he said.
These tensions only intensified in 2020 with the arrival of the pandemic. Hoping to use his influence in the community as a platform for peace, Ojapah joined a COVID-19 awareness campaign organized by the Kukah Center, a Nigerian based policy institute.
"We have seen a misuse of social media in the COVID-19 context, but people also used social media to counter the effects of hate speech. A positive balance can definitely be found if we work on it," Ojapah said.
While at the beginning of the pandemic, several political and religious leaders blamed their rivals for spread of the virus, Ojapah believes that awareness campaigns on social media helped curb the dissemination of misinformation and hate speech.
"During the initial stages there was a problem," Ojapah says. "There was a lot of false information being spread but we used social media as a tool to correct those anomalies and, at some point, religious leaders began to fall in line. This has helped tremendously."