Muslim Jewish Leadership Council Europe Launches Young Ambassador Programme
16 December 2022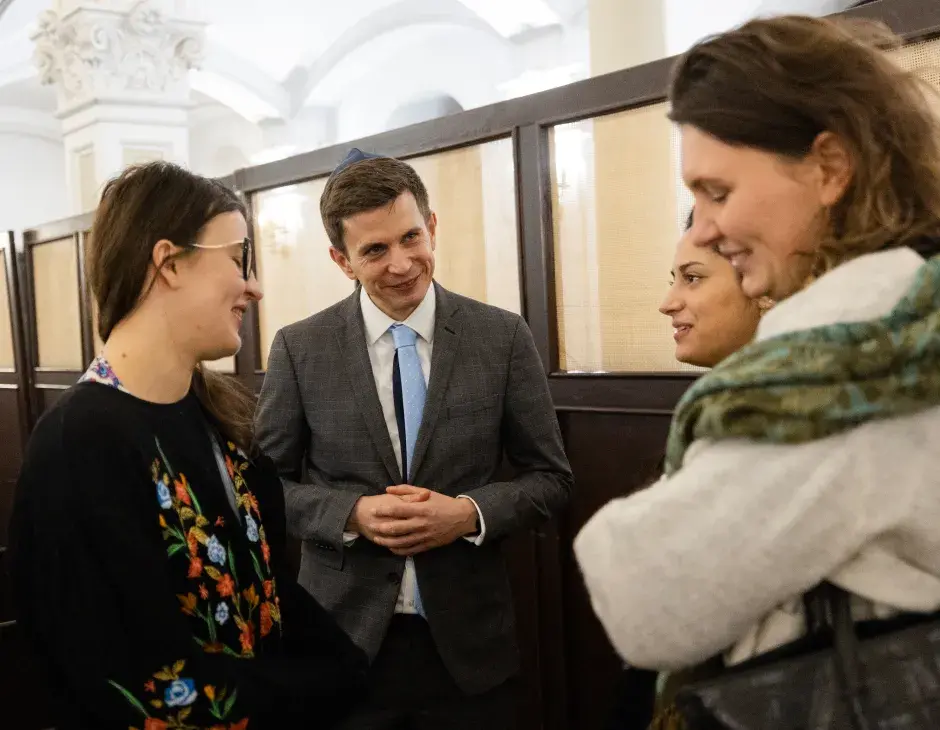 The KAICIID-supported Muslim Jewish Leadership Council (MJLC) Europe this week celebrated the launch of its Ambassador Programme, which aims at building a network of young Jewish and Muslim leaders working together to promote their communities' shared rights and interests in Europe.
Starting with a round of interfaith training held between December 13 and 15 in Warsaw, Poland, the new 12-month programme will equip participants with the dialogical skills necessary to address Europe's rising tide of intolerance and bigotry, as well as provide resources and funding to implement joint initiatives that support stronger cross-community relations.  
Underscoring the significance of the new Ambassador Project, Poland's Secretary of State Wojciech Kolarski met with members of the MJLC board during the programme's launch. Noting his country's multicultural and multi-religious history, Kolarski observed that Warsaw is a good location to practice interfaith dialogue, and expressed his interest in following the progress of the Ambassador Project. 
Image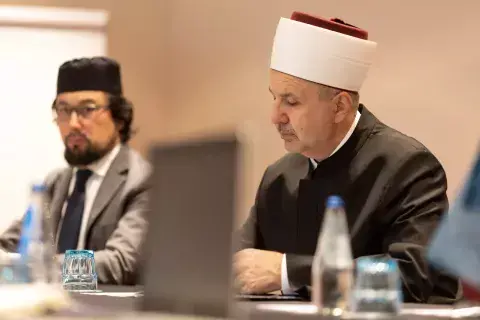 Facilitating interfaith cooperation
Hate speech, racism, and xenophobia, including anti-Semitism and Islamophobia, have intensified in Europe since the onset of the COVID-19 pandemic. Within this, despite extensive Muslim-Jewish collaboration across the continent, there is a growing perception that Judaism and Islam are at odds with one another, driving a wedge between members of the respective religious communities.     
Established in 2015 with KAICIID's support, the MJLC is committed to facilitating interreligious cooperation that strengthens the ties between Muslim and Jewish people. It does so by raising awareness of mutual areas of interest — such as the right to worship and freedom of religious belief — and by fostering connections with other faiths, civil society groups, policymakers, and other stakeholders.  
"The main challenge to Jewish-Muslim relations is] finding and deepening our many common concerns and goals," said Rabbi Michael Schudrich, Chief Rabbi of Poland, Co-Vice Chair of the MJLC, and one of the new programme's mentors. "These common concerns and goals include minority rights, especially in guaranteeing our freedom of religious belief as well as religious practice."
Tackling division with knowledge
The organization's Ambassador Programme is a new component of MJLC's interreligious mission, bringing together young representatives of the Jewish and Muslim faiths in Germany, Spain, Poland and the UK under the banner of interreligious understanding and cooperation.
Having completed the first round of training in Warsaw, the project's eight participants will have the opportunity to continue their learning with their mentors and also with their fellow ambassadors online. These classes will include interreligious dialogue coaching provided by KAICIID, expert project management and advocacy tuition, and a specialist-led course on countering hate speech online.
The Ambassador Programme is also designed to aid the development of a Europe-wide network of young Jewish and Muslim leaders. Equipped with their new-found interfaith knowledge, the programme's participants consult and coordinate interreligious activities through city chapters, disseminating accurate information about their faiths and traditions, and in doing so, helping Jews and Muslims better understand their shared interests and joint challenges on the community level. 
Promoting interreligious unity
A key part of this process will be the planning and implementation of joint initiatives that promote interfaith unity and social cohesion across a number of European cities. These initiatives — devised with the skills cultivated during the programme's training courses — will be funded by a MJLC grant of €5,000 provided upon approval of a joint application from two Ambassador Programme participants, one Jewish and one Muslim.
Image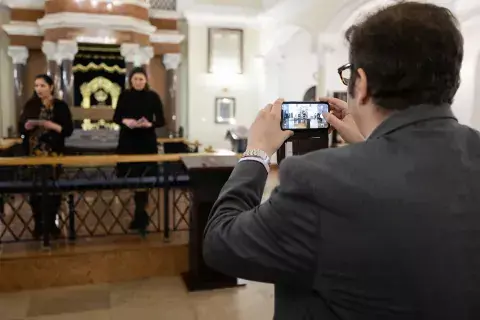 "In addition to learning about each other and creating a sustainable methodology for how we can build and sustain Jewish-Muslim relations in Europe, we also cannot neglect our differences while having a positive approach and showing solidarity between both communities," said Imam Tarafa Baghajati, Secretary of the MJLC. "Muslim and Jewish communities are both minorities in Europe, especially within the EU. While we have very different historical backgrounds both communities are essential parts of Europe."
Demonstrating Jewish-Muslim unity
In response to the alarming rise of anti-Semitic and anti-Muslim hatred across Europe in recent years, the MJLC — with KAICIID's support — has redoubled its efforts to nurture unity and publicly demonstrate allyship between the continent's Jewish and Islamic communities.
Marking International Holocaust Remembrance Day on January 27 2022,  Rabbi Michael Schudrich and Imam Adham Abd El Aal, a representative of the Grand Mufti of Poland, stood shoulder-to-shoulder at Auschwitz-Birkenau, the Nazi death camp where more than a million people, mostly Jews, were murdered.
Six months later, senior Jewish and Muslim faith leaders from the MJLC gathered in Bosnia-Herzegovina to commemorate the 27th anniversary of the Srebrenica massacre, a tragedy that saw over 8,000 Bosnian Muslim men and boys killed.