Muslim Jewish Leadership Council Calls on European Policymakers to Protect the Practice of Religious Rights During Mission to Slovenia
05 November 2021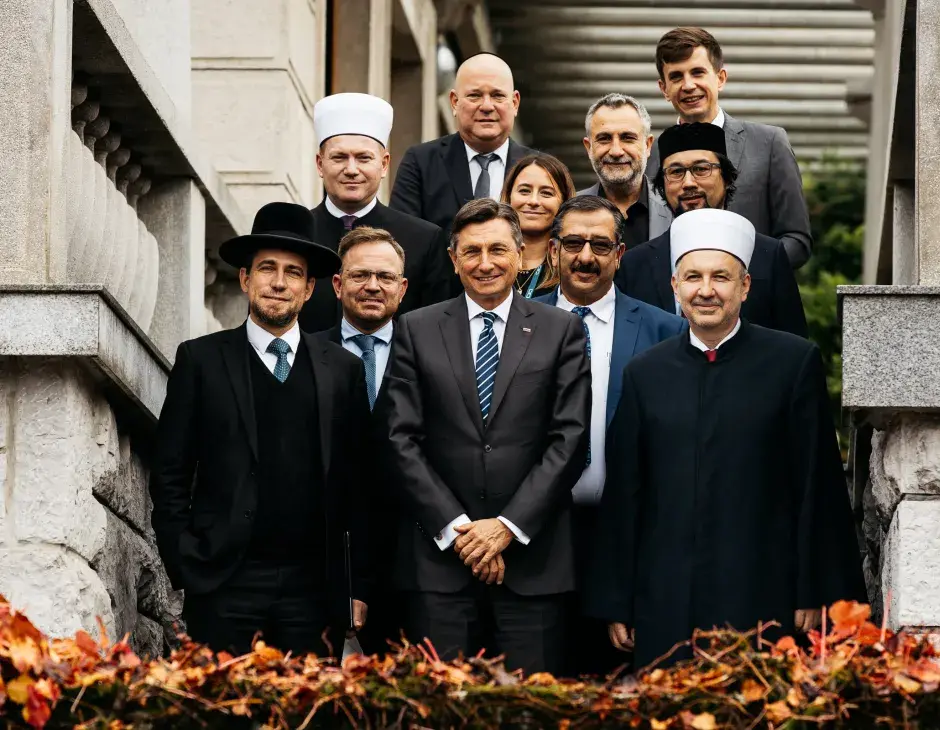 At a time of rising anti-Semitism and Islamophobia in Europe, the work of the Muslim Jewish Leadership Council (MJLC) has been praised by a leading European policymaker.
President Borut Pahor of Slovenia commended the "important work" of the KAICIID-supported MJLC, as faith leaders met in Ljubljana for discussions on the practice of religious freedoms. 
During the three-day outreach mission to Slovenia, a delegation of Muslim and Jewish religious leaders held talks with senior politicians — including President Pahor, Prime Minister Janez Janša, and Mayor of Ljubljana Zoran Janković — raising issues of minority rights, hate speech, and interfaith cooperation. 
MJLC's mission praised by leading European policymaker
More than thirty religious leaders from twenty countries gathered to discuss the emergence  of controversial laws that restrict Muslim and Jewish religious freedoms. This includes new legislation-backed bans on certain types of clothing in several European countries. 
The MJLC leaders also raised the wider issue of minority rights, noting Slovenia's current presidency of the Council of the European Union and its commitment to promote dialogue with citizens as an important means of improving policy implementation.
Image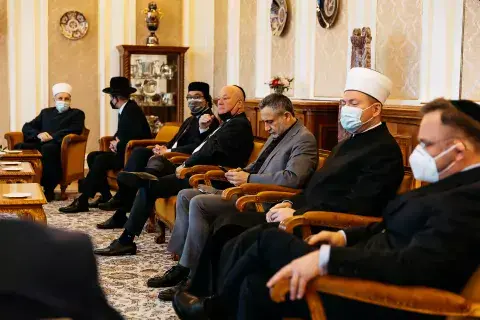 Endorsing the work of the MJLC, President Pahor made reference to deepening societal fissures and the importance of projects that bring citizens closer together. 
"We live in a world of large, ever deeper divisions," he said. "Tensions in society are growing. That is why the work of the Muslim Jewish Leadership Council is so important, because it is one of those initiatives that brings people together."
Religious rights discussed during high-level talks with Slovenia prime minister
Hate speech, racism, and xenophobia — including anti-Semitism and Islamophobia — have intensified during the COVID-19 pandemic. Meanwhile, policies have been pursued that clash with religious liberties and freedom of worship. 
Discussing these critical issues, the delegation of MLJC leaders called upon European policymakers to promote religious pluralism, advance the cause of interfaith dialogue, tackle hate speech and discrimination head on, and to introduce laws that increase, not undermine, protections around minority rights.  
These recommendations were put forward during a meeting with Prime Minister Janez Janša, during which the key priorities of the Slovenian Presidency of the Council of the European Union were discussed. 
At the meeting, Prime Minister Janša emphasized the importance of religious freedoms and the dialogue between followers of different faiths in order to promote greater tolerance, respect, and mutual understanding.
A new era of religious pluralism in Slovenia
A fundamental goal of interreligious dialogue is to protect and promote the freedoms and dignity of all people of faith. In Slovenia, major progress is being made on this front. Though public suspicion of migration continues to be high, the central European country has recently taken significant steps towards greater religious pluralism. Last year, the nation's first mosque was opened, with plans for capital city Ljubljana's first synagogue to open its doors in the coming days.  
MJLC Co-Chair Dr. Nedžad Grabus, Grand Mufti of Sarajevo and the former Grand Mufti of the Islamic Community in Slovenia, praised these efforts, urging policymakers across the continent to "embrace the benefits of interfaith dialogue and work towards a truly diverse and equitable Europe, by promoting a culture of appreciation for religious and cultural differences and respect for the rights of European minorities of every kind." 
MJLC delegates visit Slovenia's new synagogue and mosque
During the three day gathering, members of the MJLC delegation were given the opportunity to visit Ljubljana's as-yet-unopened synagogue. Under the stewardship of Elie Rosen, President of the Jewish Community of Graz and President of the synagogue of the Federation of Jewish communities Graz and Ljubljana, the interfaith group delivered a copy of the Torah to the synagogue's sanctuary. 
For Rosen, the opening marks a joyous moment for Jews living in Ljubljana, who have had to rely on services and supplies coming in from abroad. 
"With the opening of the synagogue in Ljubljana, the Slovenian Jews for the first time receive their own spiritual home," President Rosen said. "They can live their Judaism independently and can be perceived separately from cultural centres, which must not be confused with Jewish practice and Jewish community life." 
"This makes Judaism in Slovenia something alive and Jewish culture not only a folkloric experience of a culture that no longer exists here anymore."
The delegation of Jewish and Muslim leaders also visited Slovenia's first mosque. The Islamic Religious and Cultural Centre, which opened in its doors in February 2020, provides Slovenia's Muslim community with a space to worship and is also open to visitors.
Image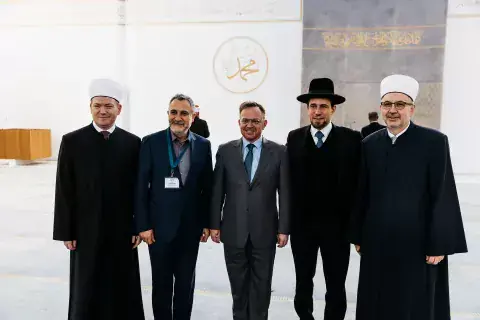 MJLC General Assembly resolves to tackle hate speech
Due to the COVID-19 pandemic, this week's mission to Slovenia marked the first gathering of the MJLC General Assembly in two years. Coming together to share ideas, members of the General Assembly discussed the importance of promoting religious freedom through educational initiatives — particularly those that target young people  — and the need to equip Muslim and Jewish religious leaders with skills to counter hate speech. 
The delegates also addressed the rising incidents of anti-Semitism and Islamophobia associated with the COVID-19 pandemic, including online abuse and the efforts by some governments to drive a wedge between the two religious communities. The MJLC approved a number of important changes to its statutes, allowing it to act more effectively, and re-elected its board.