Learning to Respect Religious Sites: A Key Lesson for Africa and Beyond
24 November 2021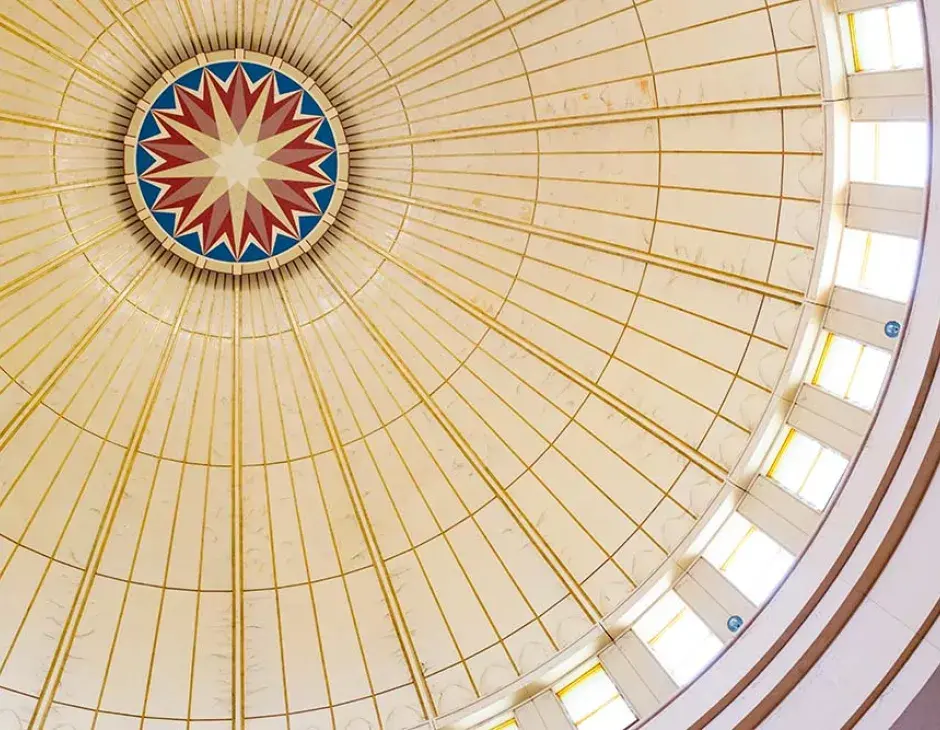 The importance of preserving religious and cultural sites throughout Africa while countering hate speech and fostering peacebuilding emerged as a top priority during a virtual meeting between the
African Union
Economic Social and Cultural Council, KAICIID, Citizens and Diaspora Directorate of the African Union Commission and United Religions Initiative Africa yesterday.
Religious and cultural sites in Africa have come under sustained attack from destruction, desecration and vandalism over the past decade. Sites in countries including Algeria, Egypt and Libya, among others, have been destroyed during internal and cross-border conflicts.
Delegates attending the virtual "Protection of Sacred Sites and Cultural Heritage" consultation spoke of the urgent need to teach the importance of respecting sacred religious and cultural sites and engaging in dialogue with faith and traditional leaders. 
"It is important to respect each other, to respect each other's sacred sites because it is an important element of peaceful coexistence," said Muhsin Kaduyu, Africa Union Interfaith Dialogue Forum Representative and the founder of Allied Muslim Youth Uganda. "When we teach respect for the sacred, we guarantee respect for the sacred. In all this we must also not forget the crucial role for young people. We must engage them as partners in recognising all these important endeavors."
Attacks on sacred religious and cultural sites in Africa have seen an alarming uptick in the past decade. In 2013, Islamist insurgents retreating from Timbuktu in Mali set fire to a library containing thousands of priceless historic manuscripts. The town's mayor, Hallé Ousmani Cissé, described the incident as a "devastating blow" to world heritage.
The al-Qaida-allied fighters had set fire to two buildings that held the manuscripts, some of which dated back to the 13th century. While most of the texts were written in Arabic, a number were in African languages, such as Songhai, Tamashek and Bambara and one text was in Hebrew. The manuscripts covered a wide range of topics including astronomy, poetry, music, medicine and women's rights.
KAICIID has played an important role in providing support to projects to protect places of worship from Africa to Asia, Europe to the Middle East. These include supporting a dozen NGOs across Africa and bringing together peace education and the protection of sacred sites via the development of a mobile app in Algeria, and youth training in Tunisia.
In 2019, KAICIID convened the 2019 "Jakarta Conference" in Indonesia with the Organisation for Islamic Cooperation, bringing together religious leaders and policymakers from across Southeast Asia to discuss challenges and opportunities for protecting holy sites. 
"This issue is one of particular concern to us because attacks on religious sites and sacred spaces have become more and more widespread around the world. No country is immune," said KAICIID's Director of Programmes, Robert Templer.
He continued: "These sorts of attacks can be absolutely devastating to communities of all kinds and I think that we underestimate the very profound emotions and spiritual impact of violent attacks against religious and cultural sites. These really cut to the very heart of our cultures, our civilisations, the way we transmit knowledge, faith and ideas about community."
Some contemporary examples of the destruction, desecration and vandalism of cultural sites in Africa can be seen in Ethiopia where a year-old conflict between government forces and The Tigray People's Liberation Front (TPLF) in the north of the country has taken a toll on ancient cultural heritage sites, as well as inflicting enormous human casualties.
Some sites, including mosques and churches, have been damaged by shelling and numerous artefacts stolen. Countless other locations are inaccessible to worshippers and pilgrims because of the violence. Religious leaders also say scores of priests have been killed in the conflict.
"Our treasures are in danger at this moment because of this conflict," said Birhan Yeshiwas, Historical Treasures Curator at the National Museum, in an interview with Reuters. "The treasures in our country are very ancient - we cannot find them elsewhere or replace them."
During yesterday's virtual meeting, delegates emphasized the importance of dialogue. "It is important to recognize the role of peacebuilding and conflict resolution in Africa as the fundamental issue in the protection of cultural and traditional heritage," said Prof. Dr. Vicensia Shule of the African Union Commission's Division of Culture. "We have witnessed that in the times of war and conflict, the cultural heritage sites, including sacred sites, are prime targets of destruction and looting."
She added: "This meeting will enhance the ongoing efforts to protect cultural heritage and property in Africa."