2nd AU Interfaith Forum Elects Steering Committee, Unveils Plan of Action
12 December 2016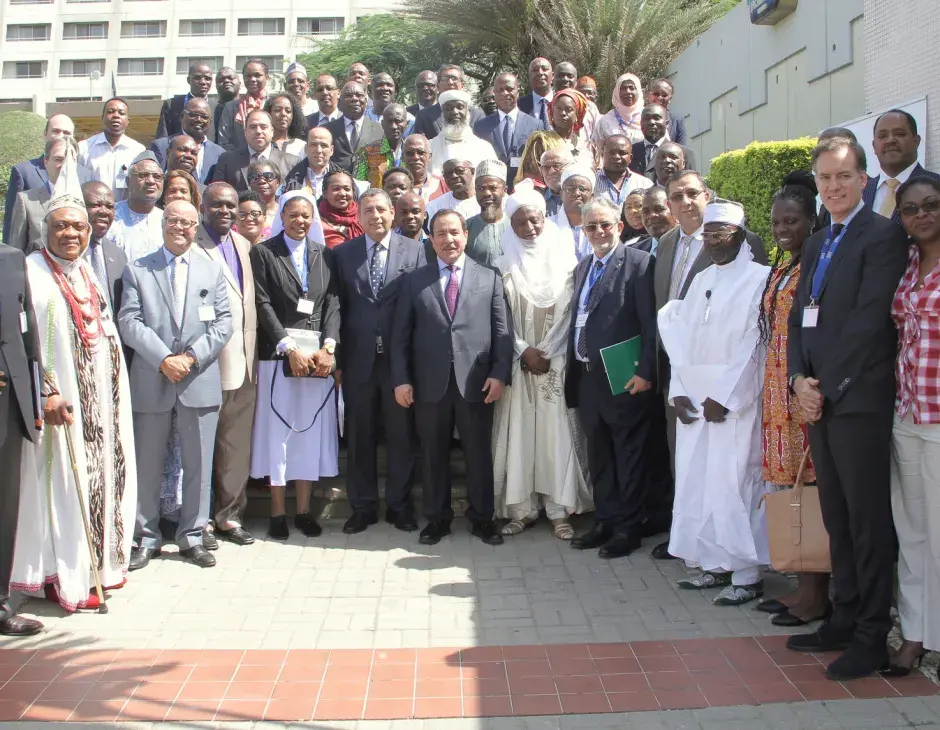 The 2nd African Union Interfaith Dialogue Forum that took place in Abuja, Nigeria, from November 10-11, 2016, recently elected a 12-member Steering Committee, representing the different regions, religions, including African Traditional Religions, that is committed to a plan of action anchored on building partnerships among Africa's interfaith and faith-based organisations to prevent religious extremism and promote harmony in the continent. The Interfaith Forum was organised by the Citizens and Diaspora Directorate (CIDO) of the African Union Commission and the International Dialogue Centre (KAICIID) that is based in Vienna, Austria.
The 12-member committee, which is expected to partner with the African Union, the Regional Economic Communities (RECs) and other peace-building organizations,  is expected to develop a 10-year interfaith development agenda for all African Union member states based on Agenda 2063 and Agenda 2030 and a five year strategic plan; create an evaluation strategy for the Steering Committee; and strengthen community resilience through advocacy and awareness based on the Sustainable Development Goals as agreed by the AU.
The delegates elected to serve on the AU Interfaith Steering Committee include:
Dr. Kamal Boraiqa, Al-Azhar University, Egypt
Rev. (Prof) Eale Bosela, AACC, Kenya
Rev. Sr. Agatha Chikelue, African Women of Faith Network, Nigeria
Mr. Yassine Mohammed Da Costa Ali, Civil Society, Mozambique
Pastor Zerihun Degu, Inter-religious Council, Ethiopia
Deolinda Dorcas Teca, Council of Churches, Angola
Ms. Saydoon Sayed, African Women of Faith Network, South Africa
Imam Kone Ibrahima, National Religious Forum, Cote d'Ivoire
Imam Kobine Layama, President of Islamic Community, Central African Republic
Mr. Belall Maudarbux, Inter-religious Council of Mauritius
Pastor James Wuye, Interfaith Mediation Centre, Nigeria
Amb. Ezzedine Zayani, Tunisia
Identifying the important role of the media in the promotion of peace among adherents of various faiths in the continent, the Forum emphasizes the need to enhance media's awareness of religious issues through training for journalists reporting on religions affairs and encouraging different media in Africa to promote and highlight interreligious and intercultural dialogue and good practices in our respective countries, among other strategies.
Apart from creating engagement directed specifically to family, children, youth and women and taking concrete steps to address hate speech and to counter hate, bullying and discrimination through positive speech, tolerance and constructive dialogue in Africa,  the forum calls for a stronger partnership among interfaith and faith-based organisations, as well as to call upon religious and traditional leaders in Africa to work together  with the African Union, its member countries, and Regional Economic Communities (RECs) in order  to promote a culture of peace and inter-religious and inter-cultural constructive dialogue.
The Forum also declared its commitment to the promotion of peace and reconciliation through the teachings of the different holy books in churches, mosques, synagogues, temples and all Worship places; introduction of peace education as part of the school curriculum, university programmes and theological institutions to promote understanding, tolerance and friendship among human beings in all their diversity of religion, belief, culture and language, among others.
The Forum advocated for the creation of a platform that encourages the soft power of religion in preventing violent extremism, the instrumentalisation of religion and religiously motivated violence; encouraging religious leaders to provide a practical example in their common rejection of violence and to stand for the defense of values of diversity and respect for life and the dignity of human rights.
Apart from encouraging the equal and active participation of women in the Steering Committee and interfaith organization as implementers, the Forum acknowledged the role women and youths can play in the processes of peace building by supporting leadership development for women and youth religious leaders to eliminate gender based violence.
The Declaration can be read here.