2023 Applications Open for Dialogue 360 — KAICIID's Interfaith Initiative Support Scheme
15 September 2022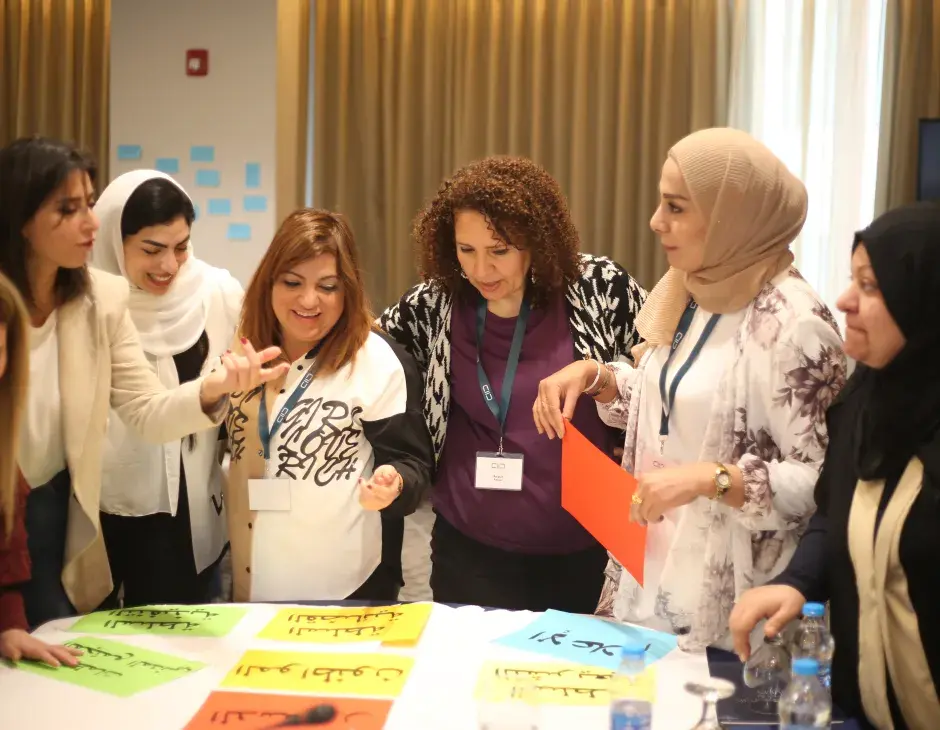 With the goal of promoting interreligious dialogue and cross-community collaboration in the Arab region, KAICIID's Dialogue 360 project is now welcoming proposals for 2023.  
Since 2020, Dialogue 360 has sponsored one hundred initiatives bridging religious, ethnic, political, and regional divides across the Arab region. To continue this mission in the year ahead, the Centre is making grants worth up to €5,000 available to organisations and individuals on the frontlines of interfaith cooperation.
What does a Dialogue 360-sponsored project do?
In 2023, Dialogue 360 funding will be accessible to groups working across the following four core thematic areas:
Countering and preventing hate speech at a regional or national level.
Amplifying the role of interreligious dialogue in crisis-response scenarios. (Interfaith initiatives that focus on community engagement and safeguarding vulnerable people — the elderly, individuals with special health requirements, women, children, and refugees).    
Incorporating the principles of interreligious education and common citizenship to promote social cohesion and peaceful coexistence.
Promoting the protection of cultural heritage and sacred and holy sites.
In order to address these thematic areas, Dialogue 360 beneficiaries can pursue a wide variety of project methods, approaches, and formats, including: advocacy campaigns for policy change, capacity-building workshops, media campaigns, knowledge exchange, and awareness raising.
All initiatives and activities should include a policy dimension, involving policymakers at a local, national, or regional level, with different levels of engagement.
The Dialogue 360 scheme is open to a range of applicants, including, but not limited to:  interfaith dialogue groups and networks, religious leaders and faith-based organisations, other civil society organisations, bloggers, social media influencers, women and youth. A preference will be given to joint proposals submitted by two or more applicants.
Examples of past Dialogue 360 initiatives
In recent years, KAICIID's Dialogue 360 scheme has supported interfaith initiatives across fifteen Arab countries, including Iraq, Lebanon, Morocco, Palestine, Somalia, Saudi Arabia, and Tunisia.
Established with Dialogue 360 support, the Morocco-based Glimmer of Hope Association endeavours to tackle hate speech and discrimination, particularly among young people. It does so by training school students to be ambassadors for tolerance, giving them the skills to show their peers the importance of mutual respect, acceptance, and kindness. 
The Horn of Africa Aid and Rehabilitation Action Network (HAARAN) — another Dialogue 360-funded initiative — strives to foster positive change in Somalia and Kenya. With a focus on marginalised communities affected by poverty and conflict, HAARAN provides training on the value of education, peace, and non-violent solutions to intercommunal issues. 
Implemented in close cooperation with Jordan's Ministry of Education, the Tangram initiative created a game which has been used by school teachers, NGO representatives, religious leaders and children. It also provides social cohesion-focused training for thousands of Jordanians of diverse backgrounds.
Launched by four friends from Egypt, Algeria, Lebanon, and Morocco, the Through Dialogue project produced a series of six online dialogue sessions and six motion graphics which were shared on YouTube to spread a message of interreligious unity. 
Dialogue 360 application process
To be considered for 2023 Dialogue 360 funding, candidates must submit a completed application form, a project work and monitoring plan, a detailed budget and a CV if an individual applicant, or a registration certificate if an organisation. The deadline for applications is 15 October 2022, and all initiatives should be fully implemented within six months from January to June 2023, including the submission of final reports.
Information about the requirements, application process and required documents can be found here.