Young Ambassadors Combat Hate Speech and Discrimination in Morocco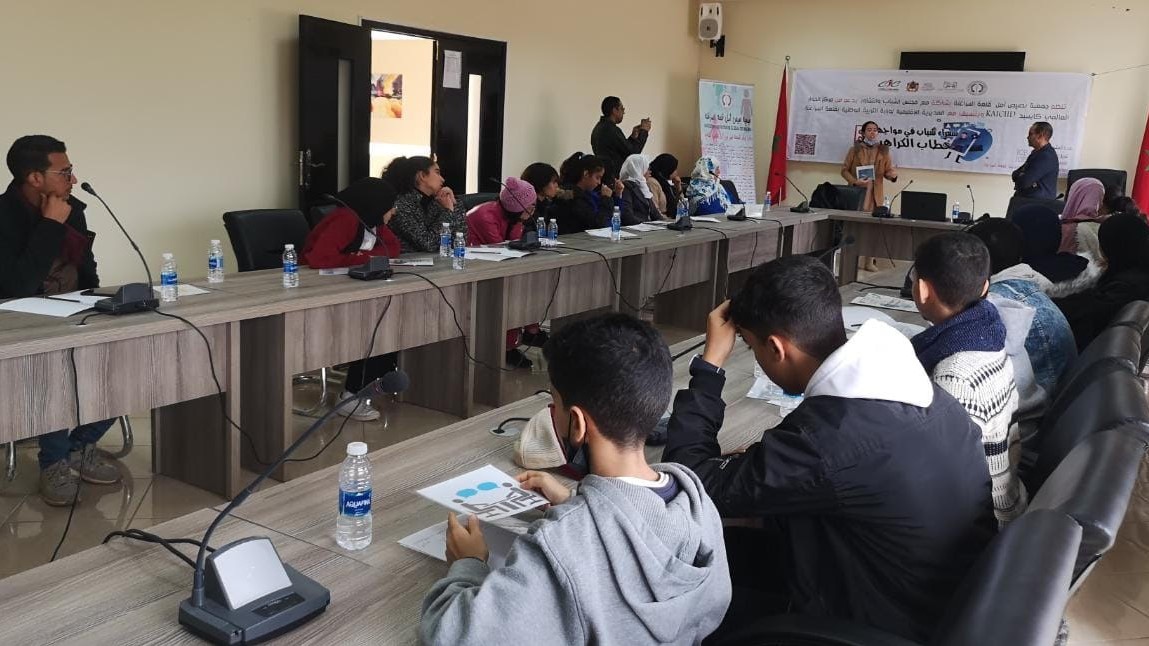 Public speaking training workshop organized by Youth Ambassadors against Hate Speech 2.0 in Kalaat Sraghna, Morocco. (Photo:Jawad Ayet Lemkadam)
Imane Rabeh was only 15 when she first witnessed a friend being verbally abused at school for having a slightly darker skin tone.
The teenager from the small Moroccan town of Kalaat Sraghna immediately stepped up to defend her and reason with the other kids at school to end such behaviour. In that moment, Imane knew she wanted to help end discriminatory hate speech in her school and town.
Morocco is a diverse country and minorities can be subjected to hate and discriminatory speech – this is particularly true for young people.
Local initiatives to combat hate speech
The Glimmer of Hope Association is a local civil society organization that has launched programmes to train students as "youth ambassadors" – to work in schools to spread a culture of tolerance.
These initiatives are designed to combat hate speech offline as well as online and are supported by KAICIID as part of its Dialogue360 project, which has, since 2020, supported 100 initiatives to promote interreligious and intercultural dialogue across the Arab world.
The Glimmer of Hope Association was founded by a group of Moroccan youths to assist the local community and conduct multiple awareness campaigns in a town that lacks civic activities. All implemented activities were executed in close cooperation with the Youth and Consultation Council, another local initiative, and facilitated by the Regional Directorate of the Ministry of National Education that vowed to assist the organization in delivering its programmes.
---
Read more: What is Hate Speech?
---
Ambassadors in preparation
In its first year, the "Youth Ambassadors Programme for Tolerance" trained a group of 20 male and female students between the ages of 14 and 18 on the concepts of tolerance and acceptance, allowing them to be able to identify the characteristics of hate speech. The programme also integrated a larger group of students into tolerance and education clubs so they could be active units in the schools' activities.
These tolerance and education clubs have played a major role in opening up a space for the students in this remote town to engage in civic activities and create a sense of community, while broadening their horizons. 
During the programme's second year, "Youth Ambassadors against Hate Speech 2.0" trained a group of 18 students to produce online multimedia content, such as videos, stories, articles, photos and animations to combat hate speech. The objective was to share the content widely online and within the tolerance and educational clubs.
Mohammed Aissa Lamzouwaq, Director of Programmes at the Glimmer of Hope Association, said that the second year complemented the first by helping young ambassadors deliver training sessions on the psychological and social effects of hate speech.
He said the training workshops helped ambassadors learn how to write articles, edit videos, take high-quality and relevant photographs and create valuable and meaningful content that could be distributed on social media platforms.
Cultural specificity and hate speech
Lamzouwaq said that as with any town or country, hate speech or discrimination in his hometown of Kalaat Sraghna has cultural specificities. Hate speech comes from stereotypes associated with different components of a society, he explained, and "discrimination in this town is usually based on gender, thus the programme worked on empowering girls to take leadership roles".
He added that other types of discrimination were based on colour, disability, race or social class.
Image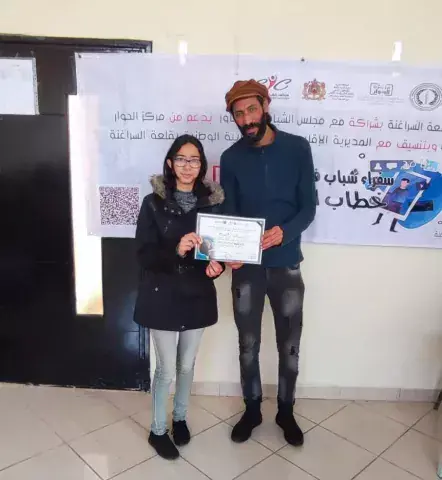 Imane Rabeh, one of the programme's ambassadors, said the training had built her capabilities and knowledge, especially in the field of public speaking, so she can play an active role in combating hate and discriminatory speech in her school.
She said the last workshop she attended was delivered by the Moroccan artist and actor Saleh Ben Salah, and that she was trained on different types of storytelling to help her defy hate narratives.
Khadija El Arche, 16, is currently working on filming a short video that tells the stories of the students who are most vulnerable to hate and discriminatory speech at school, setting out the difference between discrimination or hate speech and freedom of expression.
El Arche talked about her experience as an ambassador saying that she had always wanted to be part of such an initiative because she witnessed several incidents in which students had to endure discrimination.
She said that had it not been for the training she received, she would not have been able to become an ambassador. The programme has also helped to promote the value of gender equality at school, and given an effective role to the girls.
El Arche said that the more recent programme was expected to have a greater impact as it tackled hate speech on social media platforms through multimedia content.
Image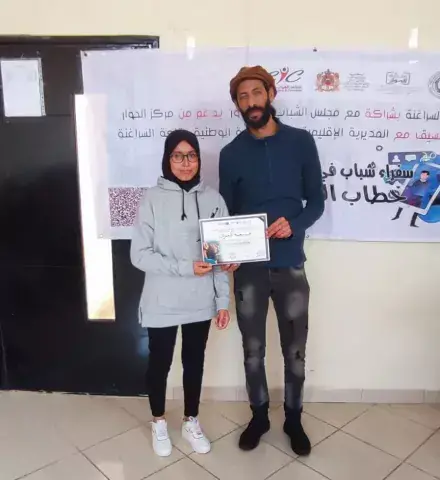 For Lamzouwaq, there is no magic formula to end hate speech, but the effort to end it should be coordinated and target multiple levels, such as social media platforms, conventional media and decision makers.
He said that "hope is alive" because of the many initiatives supported by KAICIID.
But despite its wide success, the programme faces a global challenge in the form of the coronavirus pandemic, which affects how people gather. It means that at a local level, the challenge of sharing the produced content to ensure it reaches audiences becomes most important.
While it is true that bringing about change to end discrimination and hate speech in the world may be a difficult mission, the young participants do not regard it as impossible, and are willing to overcome daily challenges such as having to travel 20km to be part of it.