KAICIID Fellow Rabbi Goldberg Wins Diversity and Inclusion Award for Interreligious Dialogue in the UK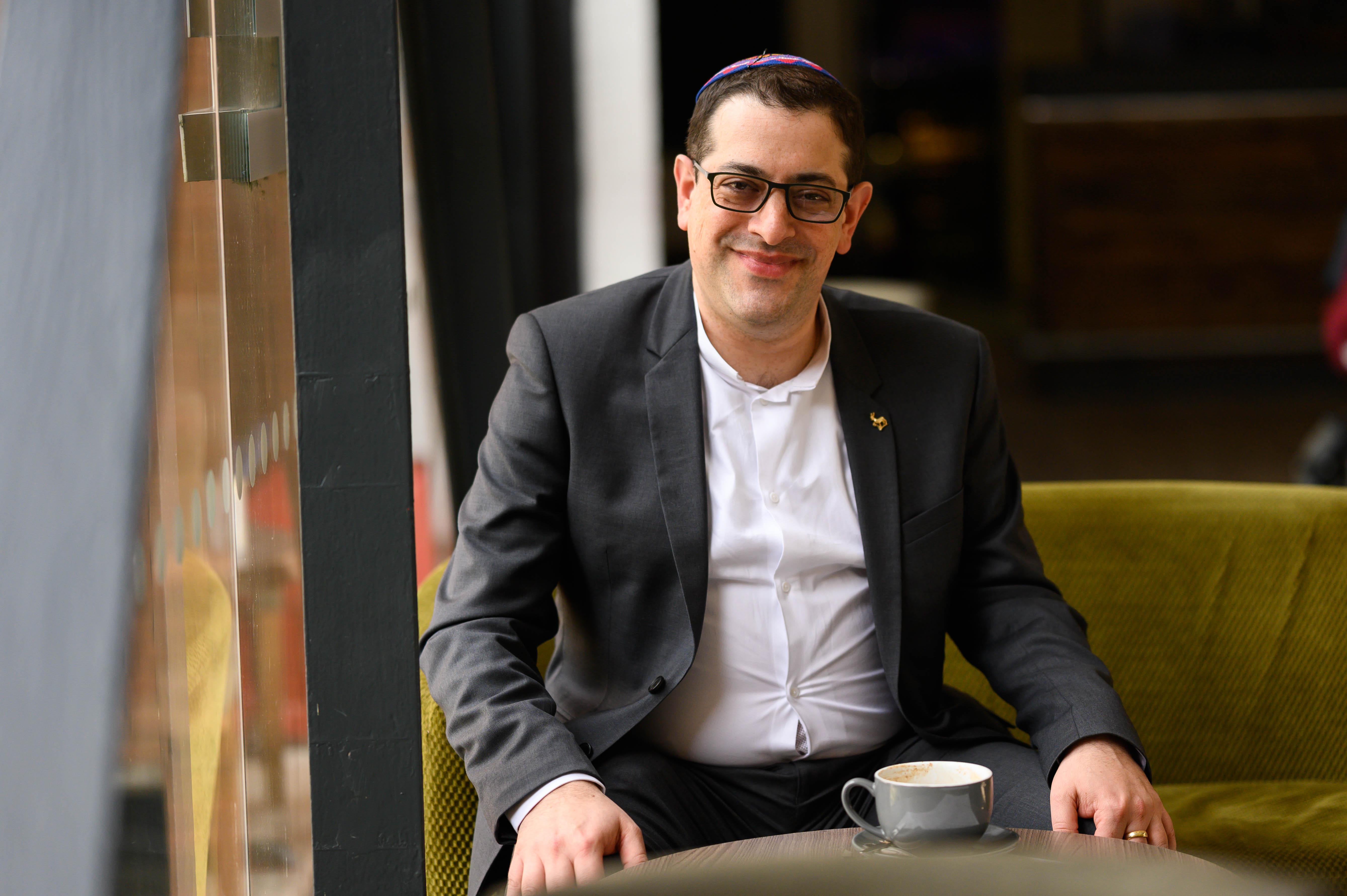 In his own words, Rabbi Alex Goldberg has "reverse-engineered" his career. Boasting a CV with an extraordinary list of projects, including BBC radio presenter, human rights activist, CEO and barrister, he pursued a rabbinic education only after becoming a chaplain at the University of Surrey.
Today, he is the first and only rabbi in the UK to become a coordinating chaplain at a major university – a role that was traditionally the preserve of the Church of England.
Drawing on his experiences with the KAICIID Fellows programme, Goldberg has formed an inclusive and diverse chaplaincy model, which reflects the changing face of Britain. Gone is the monocultural Surrey of his youth. In its place is a 21st century community with rich religious, ethnic and ideological perspectives.
"We're probably the most diverse team at any leading university. We're trying to engage with each other among approximately 17,000 students, and 2,000 staff­, and we're trying to produce programmes that matter," he said.
Goldberg's team has doubled since he became the Coordinating Senior Chaplain and Dean of Religious Life and Belief two years ago. It now includes 24 members including 15 Chaplains from 8 world faiths and the humanist tradition.
In 2019, he launched an intercultural and interfaith community hub at the University of Surrey, called The Roundhouse Centre for Faith and Reflection to support an increasing number of students from Bahá'í, Christian, Hindu, Jewish, Muslim and Sikh faiths.
Online pastoral care for students during COVID-19
During COVID-19, this dedication to interreligious inclusion was tested as Goldberg and his team scrambled to find creative means to provide pastoral care and help students observe important sacraments and holidays.
Recognising that the chaplaincy would change dramatically, Goldberg drafted a 12 month crisis plan to support staff and students during the pandemic.
Image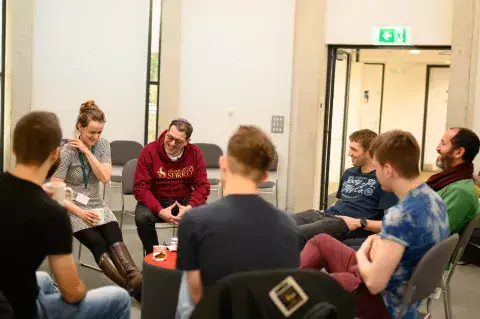 Working with students from the university TV studio, Goldberg set up a physically distanced area where chaplains could broadcast digitally across campus. Since then, his chaplaincy team has aired non-stop, sometimes running 18 shows a week, particularly during important religious holidays: Passover, Easter, Vaisakhi, Vesak Day, Ramadan and non-religious humanist observances.
"Over 10,000 students a week tune in. For my first Shabbat Reflections, 3000 watched. It is moving to watch our team working together: producing each other's shows," Goldberg said.
Even with the success of their digital outreach, he quickly realised there was no substitute for person-to-person contact. Many of the students were struggling with isolation, loneliness and fear. Goldberg and his colleagues spent hours each day phoning staff and students offering words of comfort and care, in an effort to keep their deep sense of community.    
They also worked with the university catering department to provide international foods which would make students feel more at home. During iftar, for example, they offered "grab and go" dinners for 1500 Muslim students. "Students would line up 2 metres apart and take their food back to their room to share with a permanent prayer buddy," Goldberg said.
In December this year, Goldberg became the first Chaplain in the university's history to win the Equality, Diversity and Inclusion Award at the University of Surrey's Vice-Chancellors Awards – a testament to the impact of the chaplaincy team's efforts, particularly in the face of a global pandemic.
"I see this as a recognition of our entire chaplaincy team: their tireless efforts in creating a sense of community throughout the COVID-19 pandemic, their willingness to embrace new ideas, new technologies, reach out further to embrace our diverse student population and serve our staff and students fully," Goldberg said.
Contributing to interreligious dialogue and conflict resolution on a global scale 
However, the barriers Goldberg has broken have far exceeded his chaplaincy role. In 2019, he was the first rabbi to enter Lebanon's second largest city, Tripoli, in over 40 years as part of the European Union's Programme of Religion and Society. The city, which was once home to a thriving Jewish population, has no Jewish presence left after years of war and conflict.
Goldberg was "trying to make friends and not history," he said, when he met the Grand Mufti, the Orthodox and Catholic archbishops of the city in an effort to learn more about the Middle East and its "rich, complex tapestry of religious and political identities."
Image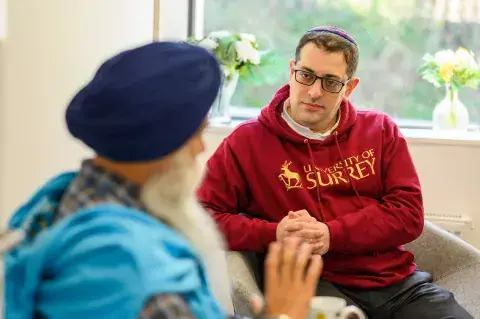 "I believe that only by understanding each other's view of the past can you hope to weave them together to create a common future," he continued.
His trip to Lebanon and his involvement with the Fellows alumni network further inspired Goldberg to contribute to global interreligious and intercultural dialogue and conflict resolution. To that end, he has served as Chair of the Faith Network for England's Football Association, bringing Arabs and Jews in Israel and Palestine together through football.
"Through KAICIID, I've met people who've been working in war zones all around the world and it's opened my eyes to the fact that I probably have a role in international conflict resolution," he said.
Goldberg also recently spearheaded the Transatlantic Dialogue Programme, which brought together KAICIID Fellows alumni to examine the dynamics of urban conflicts in multi-ethnic, multireligious areas across major European and US cities.
"The programme looked at very di­fferent models of how interreligious dialogue can influence society and how it can help to bring people together in large urban metropolises that results in action and changes on the ground," Goldberg said.
Goldberg sees this type of social engagement, both through his work with the chaplaincy and with the Fellows network, as a chance to learn from diverse perspectives – lessons which he hopes to pass on to his staff and students so that they too can view the world through the eyes of "the Other."
For him, it is these encounters that are most meaningful. "I love being the Dean of the College of Chaplains and the Coordinating Chaplain at the Religious Life and Belief Centre," he said. "It has been the most rewarding two years of my life".
Are you interested in launching your own interreligious dialogue initiative to combat the challenges of the coronavirus? Download KAICIID's free Interfaith Guide to COVID-19.