The Central African Republic's faith leaders are the country's best hope for peace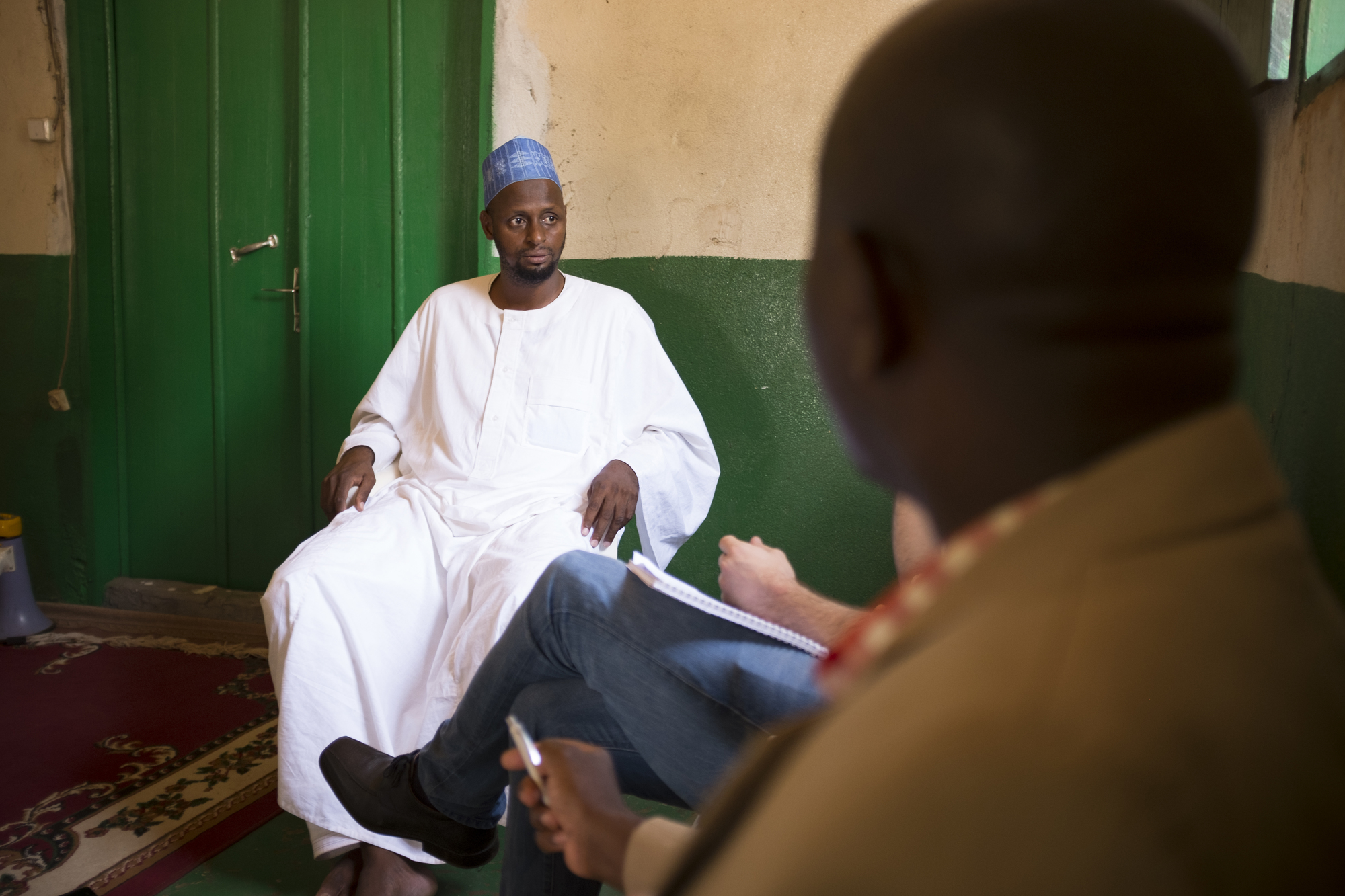 The KAICIID CAR team meets with Imam Tidjani from the Bangui Central Mosque in Bangui. Photo: Kaleb Warnock/KAICIID
For years, the Central African Republic has been caught in an on-again, off-again civil war that has caused mass displacement and a dire humanitarian crisis. At the end of last year, the violence resumed, as armed groups, angered by the outcome of the December elections, seized nearly two-thirds of the country.  
More than 200,000 refugees have fled to the bush or escaped to neighboring countries. Meanwhile, rebel groups have blockaded the road to Cameroon, cutting off humanitarian organizations' ability to deliver lifesaving supplies, food and medical necessities. 
In a country of 4.5 million people who receive 70% of their health services from these outside groups, a dangerous situation threatens to become a full-blown catastrophe.
Image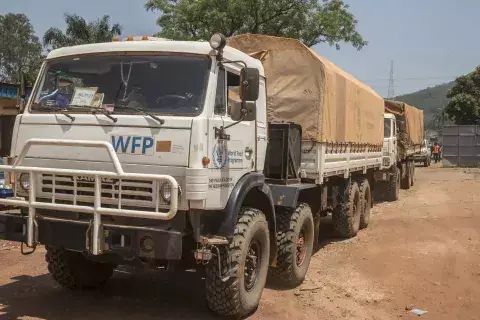 Now the religious leaders of the mostly Christian nation have headed to the front lines in a daring effort to reopen a dialogue between armed groups and elected officials, hoping that their influence can keep the country's current peace agreement from failing.
Central Africa's Interfaith Platform
The interfaith group, called the Platform of Religious Confessions of Central Africa, or PCRC in its French acronym, is led by the Rev. Nicolas Guerekoyame-Gbangou, president of the country's evangelical Christian alliance; the Catholic primate, Cardinal Dieudonné Nzapalainga; and Imam Abdoulaye Ouasselegue, head of the Petevo Mosque in Bangui and coordinator of Islamic Relief in the country. The three hope their guidance can provide a new roadmap to peace.
Image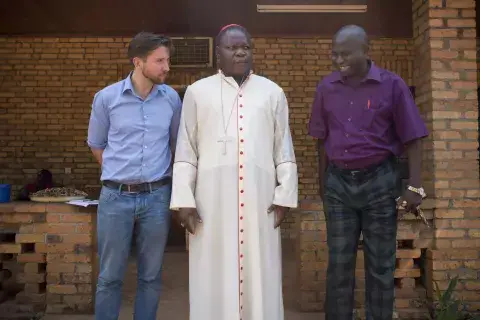 Religious leaders in CAR enjoy a level of legitimacy that government security forces and foreign peacekeepers do not, because they are seen as fair brokers. "Our neutrality remains a very important factor," said Ouasselegue. "As long as the world exists, dialogue will always be an effective tool for conflict resolution, provided selfish interests are not privileged."
Not that faith has not been a flashpoint in CAR. The country's history of instability is primarily rooted in ethnic divisions, violent political transitions, corruption and economic failure, but it took on a religious dimension in 2013.
That year, angered by political marginalization and broken promises over former peace deals, rebel fighters known as "Sekela" — a coalition of largely Muslim local armed groups and foreign mercenaries — launched an offensive against the government, taking control of the capital, Bangui. In response, groups of Christian and animist fighters called "anti-Balaka" carried out reprisals.
As the violence intensified, Catholic, evangelical and Muslim leaders joined forces to de-escalate the crisis, giving birth to PCRC. Over the past few years, the group has successfully defused tensions by deploying clergy to take part in mediation efforts.
Brokering Peace
Nearly half of all peace accords fail within five years of being signed, a statistic for which Central African Republic serves as a case study. In 2019, the government and 14 rebel groups signed the Khartoum Agreement, the country's eighth peace accord in seven years.
The negotiations, brokered by the African Union and supported by members of the international community, have been lauded as the most serious attempt so far to establish sustainable peace.
Following a year-long consultation process that built on lessons from past failed accords, CAR's government officials and the rebel militias agreed to form an inclusive, transparent government, dissolve armed groups and bring justice to victims of conflict. This is the deal that is now threatening to break down.
Despite research that shows that the participation of civil society groups reduces the risk of failed peace agreements by 64%, traditional diplomacy has often neglected to take full advantage of the power of religious leaders.
But religion can mitigate many of the reasons that peace agreements fail: the lack of transparent government structures, the feeling that grievances are unmet, the continuation of human rights violations and the lack of sustainable livelihoods and psychological support. Religious leaders can leverage their authority on the ground as trusted interlocutors to ensure both sides uphold their end of the deal. They can also support peace by advocating good governance and working to advance fair, inclusive policies. 
---
More on Religious Leaders in CAR: A Bold Push for Peace in the Central African Republic
---
As moral authorities, religious leaders can call on armed groups to lay down their arms and allow the free movement of CAR's citizens and the transport of supplies. Furthermore, they can provide psychological care for victims of conflict and implement restorative justice programs to ensure proper reintegration for ex-fighters.
"Religion for Central Africans is the only framework that brings together all people of different political, intellectual and social opinions. It provides unity, comfort and cohesion," said  Guerekoyame-Gbangou.
Cardinal Nzapalainga said that the trust Central Africans have for religion is illustrated by the number of displaced people who have sought refuge in CAR's houses of worship. In Bangassou, 500 Muslims are reported to be sheltering with Christians in the Catholic churches. In Grimari, churches have provided shelter to 1,500 Muslims and Christians.
"They could have gone to the town hall or the prefecture. But they go to holy sites because for them, God remains a rampart and a rock, a reference when everything has been lost," he said. 
Image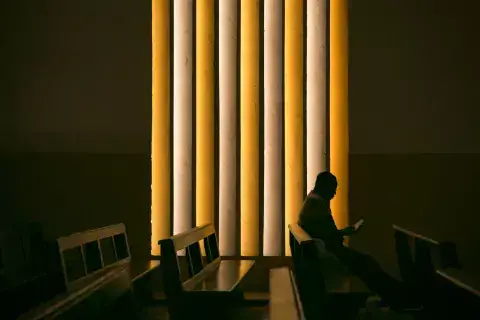 But if the faith leaders are the right advocates for the peace process, it remains to be seen whether peace in CAR can be salvaged at all.
The leaders of the PCRC remain hopeful. "The Khartoum Agreement is a framework that brings together a lot of people," said Cardinal Nzapalainga. "Yes, there have been failures, but I think that despite the violence, we need to get together and discuss. For me, the peace deal is still relevant today."
The piece was originally published in Religious News Service.