Uzair Ben Ebrahim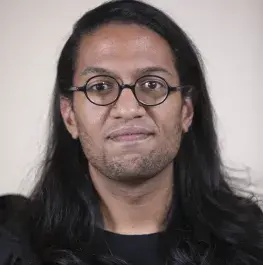 Country: South Africa
Languages: English, Hebrew, Arabic, Afrikaans
Expertise: Mediation, Linguistics
Religious affiliation: Islam
Educator, Futures Academy
Uzair Ben Ebrahim is an educator, linguist, facilitator, social justice advocate, decolonialist, performance poet and writer.
He holds a B.A. (2014) in linguistics, arabic language and literature, and Hebrew language and literature; a post-graduate certificate (2016) in education; and a B.A. honours (2017) in Hebrew language and literature with his thesis focusing on the development of modern Hebrew through analysing Aramaic texts in the Old Testament, all from the University of Cape Town.
Uzair was an assistant lecturer at the global citizenship programme at the University of Cape Town, a programme designed to develop critical thinking and active citizenry in young graduates. He currently teaches English literature, Arabic language and literature and religion studies at high schools in Cape Town. Uzair also consults both locally and internationally on topics of education, curriculum development, social justice advocacy and interreligious dialogue.
Uzair is a member of the United Religions Initiative Southern African Cooperation Circle, GOAL (Giving Opportunities to Aspiring Leaders) as well as a board member of the Cape Town Interfaith Initiative, through which he facilitates interfaith programmes for high schoolers; creating spaces of trust, dialogue and learning across religious and cultural divides. Uzair has also worked for the  Muslim Jewish Interfaith Coalition, an international organization creating spaces for understanding between Muslims and Jews, and is a Common Word among the Youth Fellow, a youth-led global interfaith movement. He has also facilitated interreligious dialogues for the Taize community, an ecumenical Christian monastic fraternity, and for Habonim Dror Southern Africa, a Jewish labour Zionist youth movement.
Uzair has always been interested in minority identity (re-)construction, the idea of 'the other,' the complexities of trans-language in social and academic spaces, and how we come into being/existence. He holds that it is important for the voices of marginalised peoples to be represented in processes of civic engagement and that there needs to be alternative brave spaces not only as a refuge, but also for critical issues to be debated, and dismantled (and potentially reconstructed).