Youth Leaders from Across Africa Embrace Dialogue at WOSM-KAICIID Dialogue for Peace Training
28 August 2018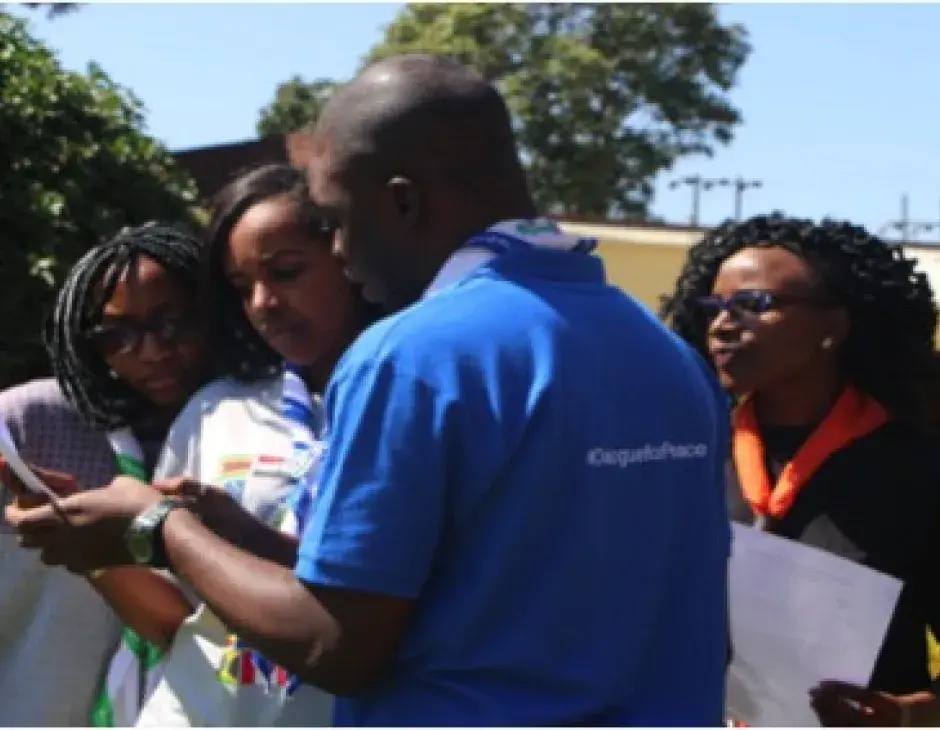 The World Organization of the Scout Movement (WOSM) and the International Dialogue Centre (KAICIID) delivered a successful Dialogue for Peace (DfP) Training in Harare, Zimbabwe, August 28-31, 2018. The training was part of a series of the events implemented prior to and during the 8th Africa Scout Youth Forum.
Over 25 participants from all five zones of Sub-Saharan Africa were trained by KAICIID & WOSM team on the principles and skills of dialogue and peacebuilding. One of the training facilitators, Professor Patrice Brodeur, a Senior Advisor at KAICIID, encouraged the participants to share their dialogue knowledge. "Tap into the knowledge we have helped expose you to and light the same candle with hundreds more." Through various hands-on exercises and lessons, the participants were equipped with the skills to facilitate dialogues in diverse situations; preparing them to promote peaceful coexistence and find solutions to real-life challenges.
The training programme included playing the DialoGo game, which is now available on KAICIID's website for free download. The game received positive feedback from the group. One participant said of the experience, "[The game] made us speak up, share our thoughts and connect with each other, we started thinking about our challenges and how we can help to resolve them."
At a networking session supported by KAICIID during the 17th Africa Scout Conference, Ambassador Mussie Hailu, Global Envoy of the African Region of the United Religions Initiative (URI) stressed the importance of the partnership between KAICIID & WOSM to promote dialogue and peace among young people.
About the Dialogue for Peace Programme
The Dialogue for Peace programme is a capacity building programme designed for and with the help of young people. The Dialogue for Peace programme was developed by KAICIID in cooperation with WOSM and aims to promote dialogue as a main tool to overcome misunderstanding and dispel stereotypes in order to increase mutual understanding.
Thus far, over 800 Scouts from all around the world have participated in various activities of the Dialogue for Peace programme in 2015-2018.
If you are interested in learning more about dialogue or how to become a dialogue ambassador, click here.