Spanish Foreign Minister Visits KAICIID
11 May 2015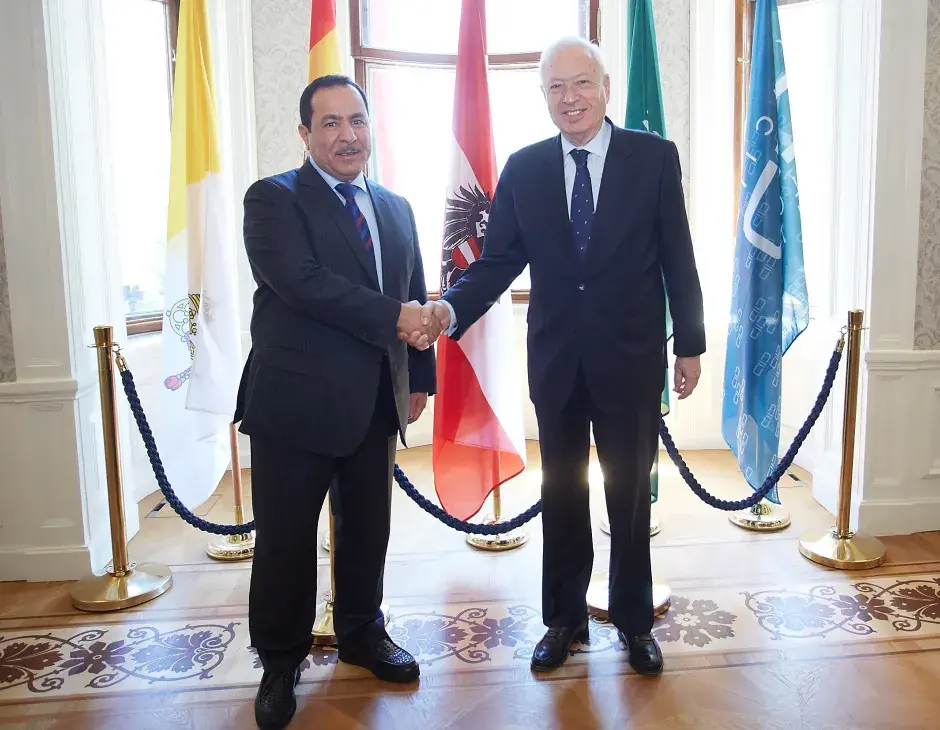 VIENNA: Spain's Minister of Foreign Affairs and Cooperation, Jose Manuel Garcia-Margallo, visited the International Dialogue Centre based in Vienna (KAICIID) on 11 May 2015, to express his support for KAICIID's mandate and its work. He was welcomed by KAICIID Secretary General, Faisal Bin Muaammar. 
Foreign Minister Garcia-Margallo, who frequently underscores interreligious dialogue's relevance as a tool to prevent radicalization and terrorism, said: "One of the main challenges of today's globalization process is the peaceful coexistence of different cultures and religions. If we want to avoid conflict and achieve sustainable peace, the international community should urgently address this challenge by building dialogue between people."
During his visit, the Spanish Foreign Minister reiterated Spain's longstanding commitment and unwavering support for the Centre. He had hosted the Secretary General in Madrid in January 2014, when they discussed collaboration projects with leading Spanish institutions working in dialogue, education and culture. 
"We are grateful for our Member States' continued support for KAICIID," the KAICIID Secretary General said. "Our mission to unite all religious leaders and communities to prevent violence in the name of their religions is urgently needed because conflict is spreading. KAICIID's peacebuilding and training activities in the Central African Republic, Iraq, Myanmar, and Nigeria bring together religious leaders, dialogue practitioners, policy makers and civil society in an inclusive and multilateral coalition to promote sustainable peace through interreligious dialogue."
Spain's Engagement in Interreligious Dialogue
Spain has advocated for interreligious and intercultural education based on universal values, respect for diversity and human rights as answers to terrorism and radicalization processes. In this context, the country's representatives have pointed out the importance of KAICIID unfolding its full potential. In international forums such as the UN Security Council, in January and April 2015, and the UN Congress on Crime Prevention and Criminal Justice in April 2015, Spain's diplomats have cited KAICIID as a key tool in maintaining international peace. One of the key steps towards KAICIID's creation was taken in Spain in 2008, with the Madrid Declaration at the World Conference on Dialogue.