A New Chapter Begins: Vienna's Diplomatic and Religious Community Bids Farewell to KAICIID
23 June 2022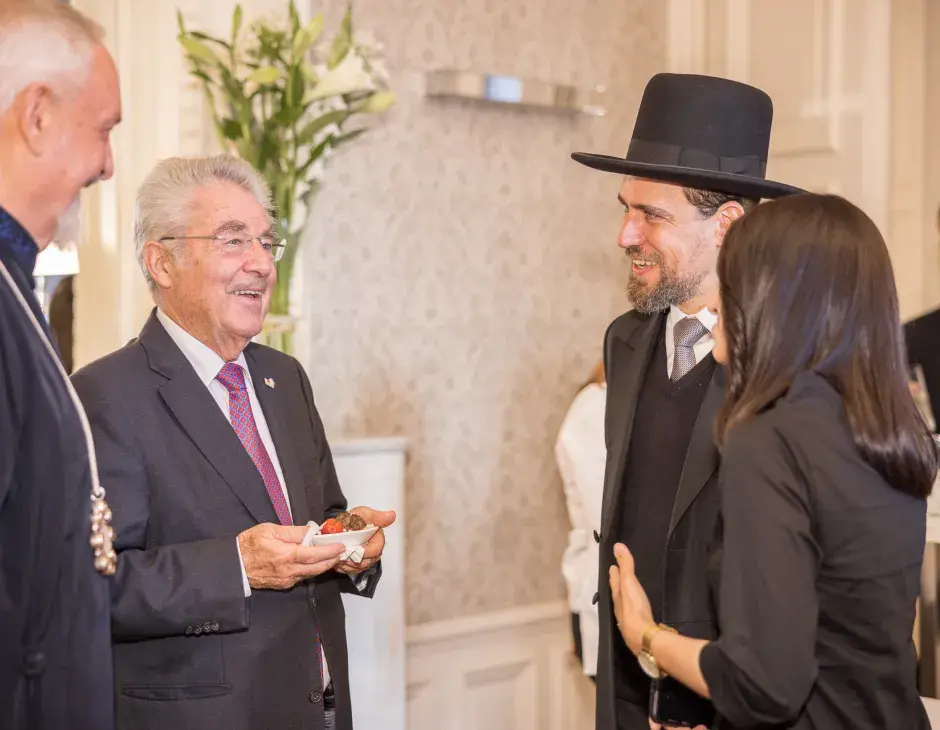 Members of the diplomatic community, religious leaders, civil society representatives and former Austrian President Heinz Fischer joined farewell celebrations at KAICIID's headquarters in Vienna
One week ahead of the official inauguration of the International Dialogue Centre's new offices in Lisbon, long-standing supporters and partners in Vienna came together at KAICIID's headquarters one last time to bid farewell. Representatives of the diplomatic community, religious leaders, members of the Centre's multi-religious Board of Directors and friends– among them the former Austrian President Heinz Fischer – conveyed their best wishes for the Centre's new chapter.
Image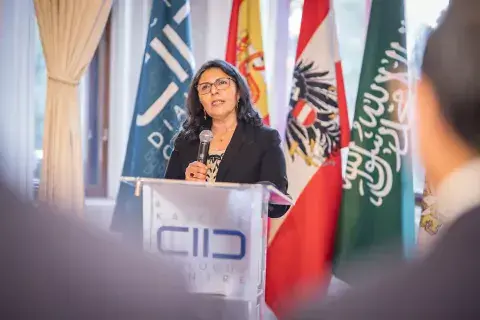 "Tonight, we are celebrating KAICIID's successes achieved around the world while working from this location, as we continue our mission and begin a new era. With heads held high and sights set on the future, we are honouring together the end of our journey in beautiful Vienna and the beginning of a new promising phase in warm Lisbon. With the relocation to Portugal, KAICIID is entering a new era. The host country of the Centre may change, but our important mission of fostering interreligious and intercultural dialogue around the world remains the same," said Elham Alshejni, KAICIID's Interim Deputy Secretary General.
"Looking at the future, the Board looks forward to witness the Centre flourish and mature in its new host country, the Portuguese Republic. I renew the Board's commitment to support the Centre, its noble mission, and its ever important work to the peoples of the world. Irrespective of where the Centre might be located, its mission and reach are global," said Dr. Kezevino Aram, Chairperson of KAICIID's Board of Directors.
Ever since the Centre was established, its mission has been to transform communities through the power of dialogue. KAICIID's programmes around the world have brought together representatives of religious communities and policymakers aiming to find inclusive solutions to conflicts in many cases stemming from the manipulation of religion. The Centre's work is based on the principle that all religions, faiths and cultures, as different as they may be, are united by shared human values that all of them support.
Image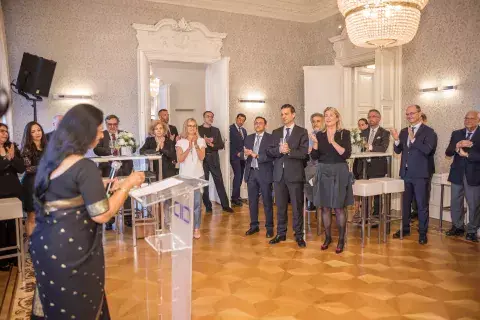 Relocating this unique intergovernmental organization to Portugal also underlines the Centre's increased programmatic efforts in Europe, a region that needs the great potential of interreligious and intercultural dialogue to foster peace and cohesion perhaps more than ever.
During the farewell reception at the Palais Sturany, the Centre's representatives expressed their gratitude to the Republic of Austria for hosting it since it started operations in 2012 as well as to all those who have contributed to KAICIID's mission and work in this country – members of the Austrian religious communities, representatives of civil society organizations, academia and all others. They also indicated that the Centre looks forward to the next chapter in Lisbon and appreciated the warm and heartily welcome that is has been given by the Republic of Portugal.