In Nepal, Fellows Form Bonds and Learn Dialogue "On Site"
12 May 2022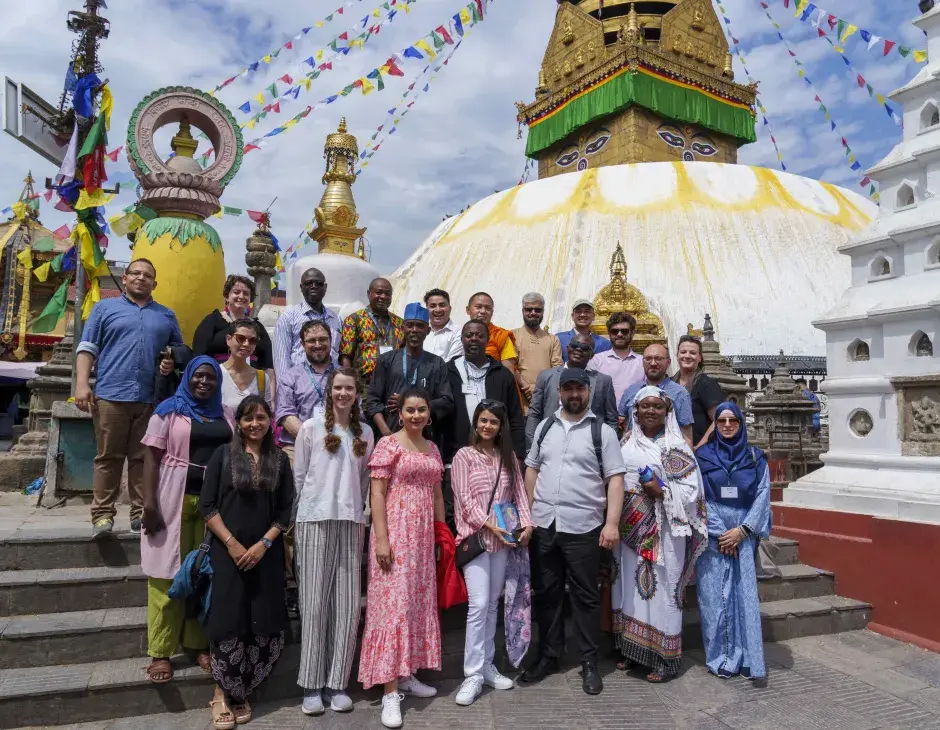 Wind whipping through the multi-hued prayer flags atop the Swayambhunath stupa in Kathmandu, Nepal, a large group sat in a circle below, listening to a local monk describe one of the most ancient and enigmatic of holy shrines in Asia.
Coming from Africa and Asia, the Americas and Europe, the group consisted of 25 KAICIID Fellows from 21 different countries. The visit was part of the second of three in-person, week-long trainings for the 2022 KAICIID International Fellows Programme and the first ever KAICIID event in Nepal.
There, nestled amidst a complex of temples and shrines, Fellows not only learned about the stupa's significance, but Nepal's long association with Buddhist traditions, its rich and varied cultural diversity, and religious actors' roles in making peace after the Nepalese Civil War (1996-2006).
Justine Immaculate Auma, an interfaith practitioner teaching interreligious studies in Uganda said it was moments like these that helped her realize that while there are numerous cultures and beliefs in Nepal, people are still able to work together toward harmony.
"In a special way, Nepal is rich in religious and cultural practices," she said. The opportunity to interact with local communities like that at Swayambhunath not only reflected the country's religious miscellany but taught her more about how to live "in relative peace despite the vast diversity," said Auma.
Auma is part of the 2022 International Cohort of KAICIID Fellows, taking part in a one-year training programme that aims to equip, inspire, and empower emerging leaders and educators, including faith community members and interreligious dialogue experts. Since 2015, KAICIID has trained over 400 Fellows from a total of 74 different countries.
Image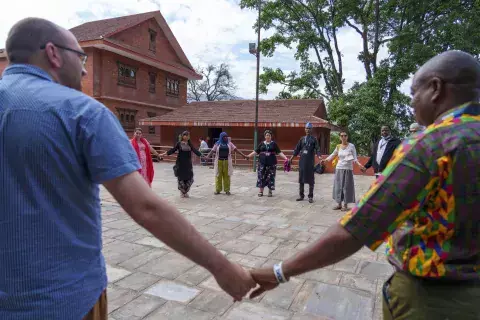 Having heard of the Fellows Programme already, Auma applied to improve her practical knowledge and skills in interreligious dialogue.
"I wanted to become a better facilitator of dialogue and broaden my interfaith network," she said, "the Fellows Programme presented a great opportunity to do so."
Auma said shared experiences with other Fellows like the one at the Swayambhunath stupa were a "big boost" to her personal development and her capacity as an interreligious practitioner.
"The training so far has improved my understanding of dialogue and how important it is to create equal spaces for dialogue in different situations," she said.
On site and in person makes a world of difference
That is one reason site visits were key for this round of training, said Kyfork Aghobjian, Senior Programme Manager of the Fellows Programme.
During their time in Kathmandu, the Fellows not only visited the stupa, but a Jain temple, a local mosque, and other sacred sites dotting the Nepalese landscape.
"Nepal is quite famous in terms of its interreligious and intercultural diversity," said Aghobjian, "with lots of world heritage sites in a relatively compact area."
In particular, Aghobjian said, the visits served as an "excellent opportunity for international fellows to learn more about non-Abrahamic religions and get exposed to religions that may not be as widely practiced in their home contexts."
As well as learning about gender inclusiveness and the increased role of women in interreligious dialogue, the right to the freedom of religion and belief, identity and inter-world views, the site visits underscored some of the core principles included in the overall one-year training programme: dialogue facilitation, conflict prevention, intercultural communication, and the promotion of social cohesion.
"The site visits provide an excellent opportunity for Fellows to learn from the culture, traditions, and the people who honor them and how they all play a role in addressing society's challenges," said Aghobjian, "then they, in turn, can see how they as leaders can design and implement their own programmes to do the same at home."
The visits also help deepen the growing bonds between Fellows.
Highlighting what a joy it was to be back together in-person after two years of online trainings due to COVID-19, Aghobjian said in-person trainings are irreplaceable when it comes to building relationships between the Fellows.
"The second training week is the main opportunity for Fellows to bond," said Aghobjian, "it helps them show more trust, empathy, and vulnerability than in the first training in Lisbon. "This creates fertile ground for collaboration," he said. 
"Our responsibility to try and give back as much as we can."
At the beginning of their training, the Fellows were received by former Prime Minister of Nepal, Madhav Kumar Nepal. In his address to the Fellows, Nepal underscored his country's religious diversity, evidenced by the innumerable sacred sites across its landscape, and the critical need for education and interreligious dialogue.
Image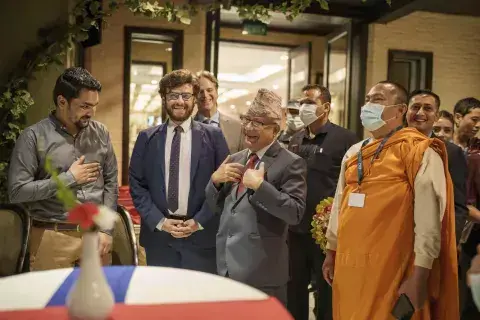 "Nepal is home to several pilgrimage sites from different religions, and I hope the sacredness and cultural meanings inspire," he said, "we may not live in a perfect society, but it nurtures us in so many ways; and it is our responsibility to try and give back as much as we can.
"Therefore, the roles of people like you become important to bring love and affection to the people you work with," he said, "through education we should transform mindsets, perceptions and behaviors to bring love, affection."
It is lessons like these that Auma hopes to take home and apply in Uganda. 
Returning from the Fellows training in Nepal, Auma said she plans to use the knowledge and skills gained, "to teach local communities about dialogue and provide numerous initiatives that will bring people together to discuss issues that affect them as a community," she said.
"I would like to thank KAICIID for the great opportunity it has given me and all the other Fellows to learn and share these experiences," said Auma, "this training and support continues to build my capacity, making me a better facilitator of dialogue in my community."