27 Journalists from 11 Arab Countries Graduate from KAICIID's Dialogue Journalism Fellowship
23 December 2022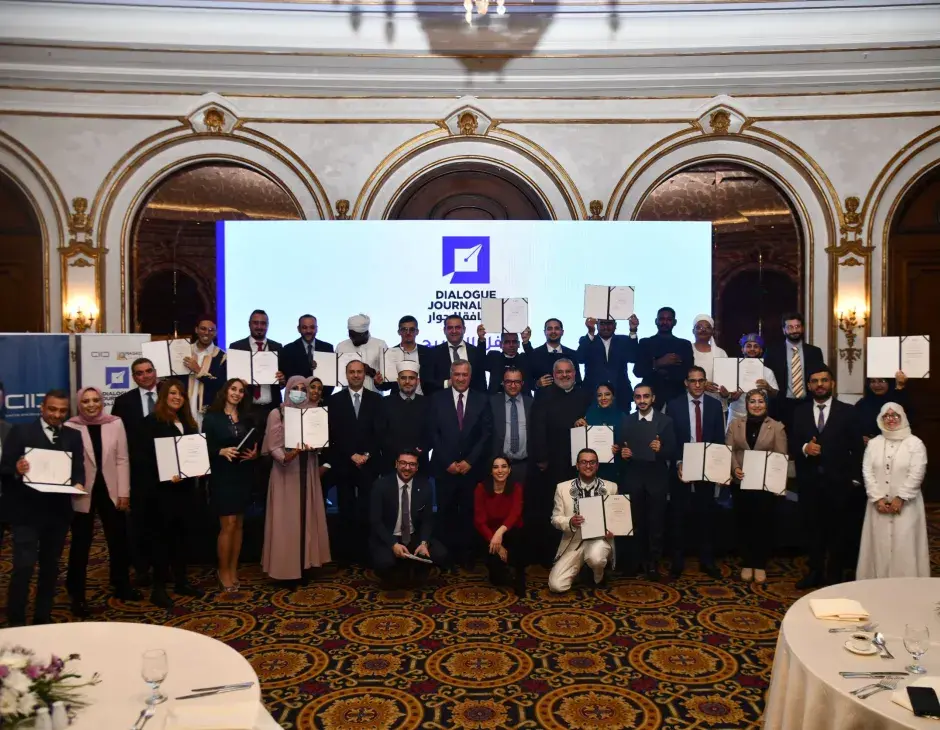 Around 27 journalists from 11 Arab countries came together in Amman, Jordan between 14 - 18 December 2022 to participate in the final Dialogue Journalism Fellowship training workshop and graduate from the programme.
The workshop was the third one for this year and was organised by KAICIID's Arab Region Programme. The graduates were all mid-career journalists with over five years of experience working across print, broadcast, radio, and/or digital media. Besides the three training workshops that were held, the journalists had access to online one-on-one mentorship sessions.  
From the outset, the aim of the programme was to emphasise the principles of journalism, revolving around accuracy, non-bias and objectivity. More importantly, the programme also aimed to train journalists on intercultural dialogue, conflict sensitive journalism, and encourage the participants to promote diversity, pluralism, coexistence, and counter hate speech from their respective media outlets.
Journalists changing rhetoric around conflicts
Egyptian journalist Michael Fares, from the Seventh Day newspaper said that "the significance of this programme is that it focuses on journalists who are considered key players in their communities, especially in forming public opinion or shaping the social and political understanding of the masses." He added that journalists are the first "nucleus" that should be trained to change the rhetoric and narrative around religious or ethnically-charged conflicts.
The three training sessions he attended this year, he said, led him to change the way he reports on current low-level conflicts in Egypt. For example, the training helped him "analyse motives behind violent incidents in a community, especially when they are driven by ethnic or religious divisions; understand the origins of conflicts in the Arab Region, and avoid generalisation when it comes to inter-communal tension," he explained.
Fares stressed that, in his career, he will continue to follow the conflict-sensitive journalistic methods that he acquired this year and will work with other journalists towards reporting conflicts professionally without fanning existing flames.
"Journalists in Egypt and elsewhere in the Arab Region have the option to contribute to peacebuilding rather than inducing violence and divisions," He concludes.
Nawal Al-Jaber, a writer and journalist from Saudi Arabia who works for The Riyadh newspaper, said that "eliminating hate speech in any publication is the responsibility of journalists, editors and writers, as we are the ones in charge of these outlets". In her opinion, all journalists should be trained in interreligious and intercultural dialogue. Since she joined the fellowship, she explains, the pillars of dialogue journalism have become embedded in her editorial guidelines.
Detecting untapped areas
Senior Programme Manager Waseem Haddad explained that conflict-sensitive journalism empowers journalists to report on conflicts professionally. It also encourages them to look for positive stories that repair the social fabric of a society and allow the audience to appreciate the tapestry of a community, he said. "this programme was designed and delivered stemming from KAICIID's profound belief in the role of media in ending conflicts.
On the sidelines of the graduation ceremony, Secretary General Zuhair Alharthi also stressed this point: "KAICIID will continue to build a strategic partnership with the media and media professionals as key partners in the process of promoting peaceful coexistence, common citizenship and countering hate speech through  interreligious and intercultural dialogue."
KAICIID's work in the Arab Region started in 2014, with training and workshops to promote peaceful coexistence and interreligious and intercultural dialogue.. " Haddad explains that media in the Arab Region, whether intentionally or unintentionally, participate in spreading hate speech. "There are a plethora of positive stories that show people's ability to coexist and conduct an interreligious and intercultural dialogue that are overlooked in the media". It is KAICIID's role and journalists' role to bring these stories to the front and centre. In his view, the aim of the programme is not to sweep conflicts and ethnic and religious tension under the carpet, but rather highlight the existing positive stories.
The journalists who graduated in Amman will be invited to become members of the Media Policy Forum, a platform that aims to bring together influential journalists, media professionals, policy makers and religious leaders from across the Arab Region to lobby for interfaith dialogue, peace journalism and coexistence.
Following their graduation ceremony, Dialogue Journalism's fellows visited the Jordan Media Institute (JMI), where they learned about the institute's experience in training dozens of Arab journalists every year. They also participated in a closed discussion at the Jordanian Senate in the presence of Faisal Al-Fayez, President of the Jordanian Senate, and members of the Senate's media committee. They discussed the role of policymakers in supporting and creating regional media strategies that can foster dialogue and counter hate speech.