Songs of War Become Songs of Peace in Sudan
Earlier this year, an international human rights organization working to prevent mass atrocity crimes in some of the world's most fragile states conducted a unique two day training workshop in South Darfur, Sudan – using traditional song as one pathway to peace and reconciliation.
Those attending the January training session supported by KAICIID through its Dialogue 60 project and organised by Rights for Peace, a UK charity, included 22 Hakamat women from 18 locations around Sudan. Hakamat are traditional female singers whose songs use martial themes and lyrics and are considered by some to encourage community violence among tribes based in South Darfur and the North-West Kordofan regions. Hakamat songs usually revolve around warrior chants, dwell on themes such as honour, bravery and cowardice and are often considered to encourage conflict.
In a country where women have significant influence within their communities, the workshop aimed to encourage the Hakamat to moderate the songs with messages of peace rather than incitement - at the same time seeking to develop a culture of tolerance and dialogue. On day two of the workshop, participants produced two songs calling for peace and co-existence, underlining their agreement that the Hakamat and local leaders could mobilise their communities to contribute to peacebuilding and hate speech prevention.
Image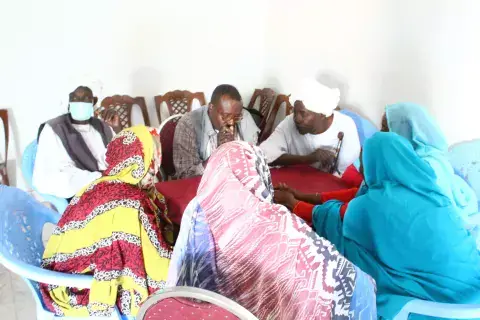 Nahla Yousif, the Executive Director of Almustagbal, a Sudanese partner organization of Rights for Peace, was a key figure in planning the workshop. She described the influence of the warrior songs sung by the Hakamat. "Such singing may create hate between communities or individuals or even within the same family members. Again, it may drive people into a wild frenzy, leading up to conflicts."
Yousif said that the singers were encouraged to reflect on the role their songs have played in conflicts in the region. "An important question was put into discussion in a more transparent manner: who they are, what they want and whether what they provide is good for society or whether there are songs that fuel conflict."
Image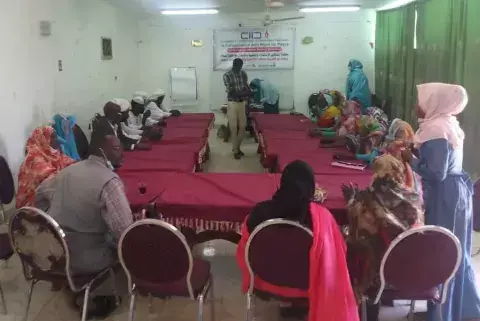 Hate speech, an important cause of inter-ethnic violence
Sudan has experienced some of the worst inter-ethnic violence of any East African country in the last 20 years. Earlier this year, Sudan's transitional government and the main rebel group, the Sudan Popular Liberation Movement-North (SPLM-N), began a new round of peace talks aimed at ending the decades-long conflict.
The conflict in Sudan first erupted in 2003 when majority non-Arab rebels – who had long accused the Arab-dominated central government in the capital Khartoum of political and economic marginalisation - took up arms. Subsequent reprisals by the then government-backed "Janjaweed" intensified the conflict. Between 2003 and 2008, fighting claimed more than 300,000 lives and displaced millions.
While the fighting has lessened over recent years, periodic clashes do break out. Last May the government declared a state of emergency after at least 130 people were killed in the coastal Red Sea state. In response, the United Nations suspended all humanitarian activities in El Geneina, affecting more than 700,000 people. According to the UN, some 237,000 people were displaced between January and April – almost five times as many as were displaced in the entire previous year.
A recent report by Rights for Peace outlines some of the challenges facing the Sudanese transitional government, formed after the ousting of Omar al-Bashir in a coup in 2019.
The report finds that instances of hate speech and incitement to violence are often directly responsible for the clashes between ethnic groups. The authors assume that civil society groups often create an atmosphere of silence around hate speech, while a lack of government intervention has resulted in chronic insecurity and escalating violence. Rights for Peace also make a number of recommendations, including the need for a nationwide law to counter hate speech as well as the passing of a comprehensive anti-discrimination law.
Hate speech in Sudan can take many forms, including "Clean the state of any black plastic bags", which refers to ethnic "black African" people from the Nuba Mountains, Darfur and South Sudan. Another common example of hate speech describes the Beni Amer, a mostly Muslim population as "a cancer that needed to be cut off."
Image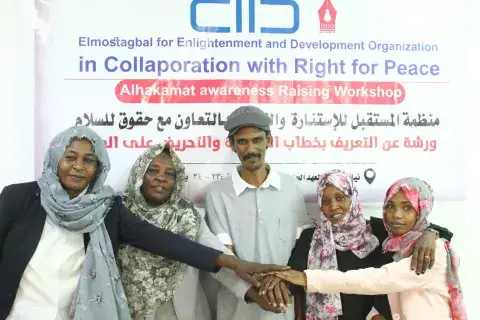 Women, ambassadors for peace
Mariana Goetz, a Director at Rights for Peace, which was established in 2018, said the anti-hate speech training touched on some significant issues. "We started off by doing training on hate speech and incitement to violence and incitement to genocide," she said. "At the same time, we used that as an opportunity also to have a session where these activists could provide us with the examples of the kinds of hate speech they were encountering in their communities. We did this as an online training over a number of days and people joined from lots of different parts of Sudan."
"Women in Darfur are involved in the fighting," said Najlaa El Khalifa, a London based legal advisor for Rights for Peace who works on issues related to hate speech. "They are also very influential because Hakamat is much respected among their communities. Every word they say, people will follow blindly. This is why we chose to focus and start from there because these women should be ambassadors for peace."
Nahla Yousif, the Executive Director of Almustagbal, said the workshop highlighted the role women can play in peacebuilding in countries like Sudan. "At the end of the workshop, the trainees emphasised that art is an important life activity and has a substantial impact in society," said Yousif. "They have also acknowledged that some of them sometimes use art to promote protection and discourage songs that fuel conflict and hate, conforming their willingness to give up such songs that incite violence and be messengers of peace readily and willingly to build community-driven peace."
In addition to supporting the trainings for Hakamat women, KAICIID, in collaboration with the Interreligious Platform for Dialogue and Cooperation in the Arab World, has developed the She for Dialogue project to train women from five Arab countries on dialogue and peacebuilding.
Image