Interfaith Mediators Endeavour to End Increasing Violence in Nigeria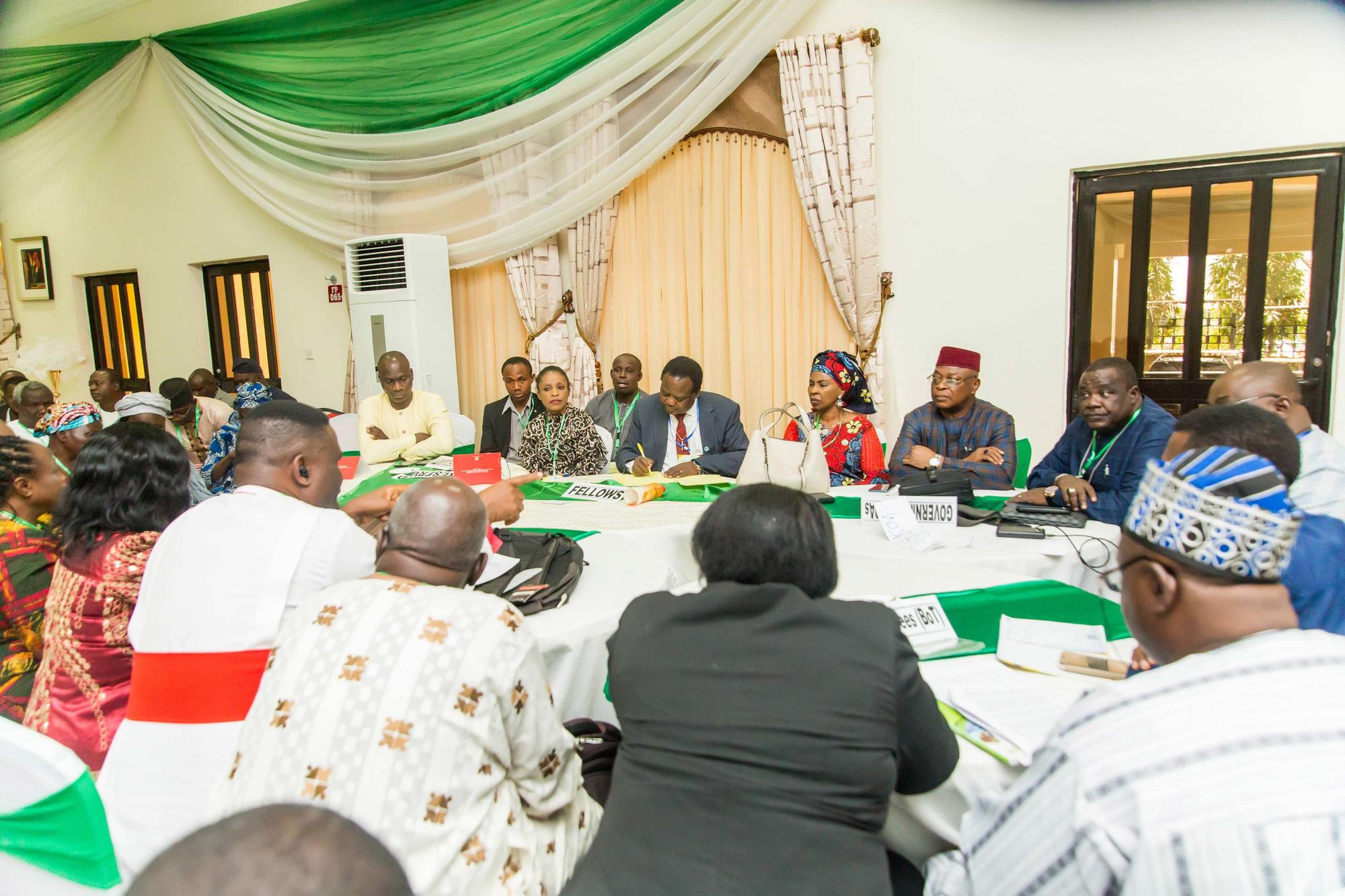 Religious and traditional leaders gather at the General Assembly of the Interfaith Dialogue Forum for Peace. Engaging local leaders is essential in conflict prevention, especially in rural communities. Photo: Godwin Oisi
Despite calls for a global ceasefire during the COVID-19 pandemic, brutal conflict in Nigeria has steadily continued over the past year. High profile kidnappings by Boko Haram and other extremist groups have dominated international headlines. Food insecurity and high unemployment, exacerbated by a constricting global economy, have ignited further unrest. 
Yet amidst the violence erupting across Nigeria, local interfaith mediation units supported by KAICIID have targeted the country's lesser known, yet disproportionately deadly, farmers-herders conflict. The units' members believe that grassroots peacebuilders are uniquely positioned to stop the bloodshed, especially since they understand the challenges in their immediate communities.
"The security situation is bad," said Abigail Gire, a member of the Benue State mediation group. "Everything has been obstructed by the farmers-herders crisis."
Nomadic Fulani herders, traveling south each year across Africa's vast Sahel region in search of water, have clashed with local Nigerian farmers over diminishing resources. Because herders are predominately Muslim, and farmers are mainly Christian, the conflict has taken on religious undertones. 
Despite rarely making headlines, Nigeria's farmers-herders conflict is six times deadlier than the Boko Haram insurgency, and has claimed thousands of lives. It has also instigated a refugee crisis of mass proportions. 
According to Gire, government controlled IDP (internally displaced person) camps in Benue State are overflowing. "We have eight camps with more than 2000 individuals in each, the majority of whom are children," she said. "Many young people are struggling to survive." 
Social cohesion in action
The members of the interfaith mediation units use early warning and early response (EWER) techniques to identify signs of conflict or calm rising intercommunal tensions. Ten of these units exist in Nigeria's northern and southern states, established with the support of KAICIID and the Interfaith Dialogue Forum for Peace (IDFP). 
Due to the importance of religion, particularly as an identity marker in Nigeria, the units' mix of diverse leaders from Christian and Muslim communities has set a visual example of interreligious social cohesion in action.
---
What are early warning and early response (EWER) systems?
---
Gire says this united front has helped them to support local governments with stopping violence before it starts. "Recently we had a security challenge in one of our local governments where they talked about having the army settle certain issues. The government called on religious leaders to calm the situation down." 
Additionally, she adds, during a recent situation in Guma, where farmers and herders are routinely at "loggerheads," the local mediation units brought together two disputing individuals and helped them solve their differences, even encouraging them to share a meal together. 
"There is the saying that prevention is better than the cure," Gire said. "Anytime we have a voice in these gatherings, people sit and they listen and they adhere to the things that are being said to them. So it's really important to have religious leaders trained on EWER systems." 
"Early response is proactive"
Muhammad Chindo Bose, Co-Chairman of the Taraba State mediation unit says that training in EWER techniques gives religious leaders the tools to take a proactive approach to conflict mediation – a strategy that is particularly vital in countries like Nigeria where government security forces are stretched thin and rural communities are often left to their own means.
"We've taken it upon ourselves, whenever this is crisis anywhere, to liaise with the community religious leaders and find ways to tackle the issues ourselves," Bose said. "Security is reactive, while early response is proactive." 
In addition to the farmers-herders crisis, Bose has been active within interreligious tensions in Taraba – including a recent crisis between a Muslim man and a woman who had recently converted from Christianity to Islam. After she defied her parents and moved in with the man, her parents escalated the matter to court, claiming she had been abducted, Bose said. 
"We called them together and our mediation centres made up of Christians and Muslim leaders resolved the matter immediately," Bose said. "Nobody wants a crisis." 
WaheedAbdul Lawal, Co-Chair of Oyo State's Interfaith Mediation Unit, says that tensions between farmers and herders in his state have intensified in recent months, as Fulani have unlawfully occupied farmland in at least 10 government areas. 
"There are daily reports that the herders are marching their cattle to Yoruba farms and eating their crops," Lawal said. "The farmers complain of incessant destruction of farmland by the Fulani, and this often leads to conflict." 
Giving peace a chance
Lawal says in these instances, closeness with the community allows religious leaders to successfully mediate conflicts in ways that government officials sometimes cannot. 
Regular prayer times and meetings at houses of worship, he adds, put religious leaders in regular contact with their congregants. "It is easy for them to be informed of early warning signs and to quickly respond. Because of bureaucracy, there would be delay on the government in responding to some of these. We strengthen, support and continue to sensitize religious leaders to respond appropriately." 
Gire explains that despite the willingness to offer further trainings to religious leaders, poverty and technology continue to be pressing issues within the country. "We wanted to call religious leaders and local government officials, so that we reach the nooks and crannies of the state. But the challenge is most of the religious leaders are refugees and they don't have a phone."
In his own state, Lawal also hopes to increase funding to organize further programmes and extend outreach, particularly since initial efforts have proved so successful.
"We're urging people to give peace a chance," Lawal said, "and fortunately people are responding.