Platform of Religions and KAICIID to Counter Hate Speech in the Central African Republic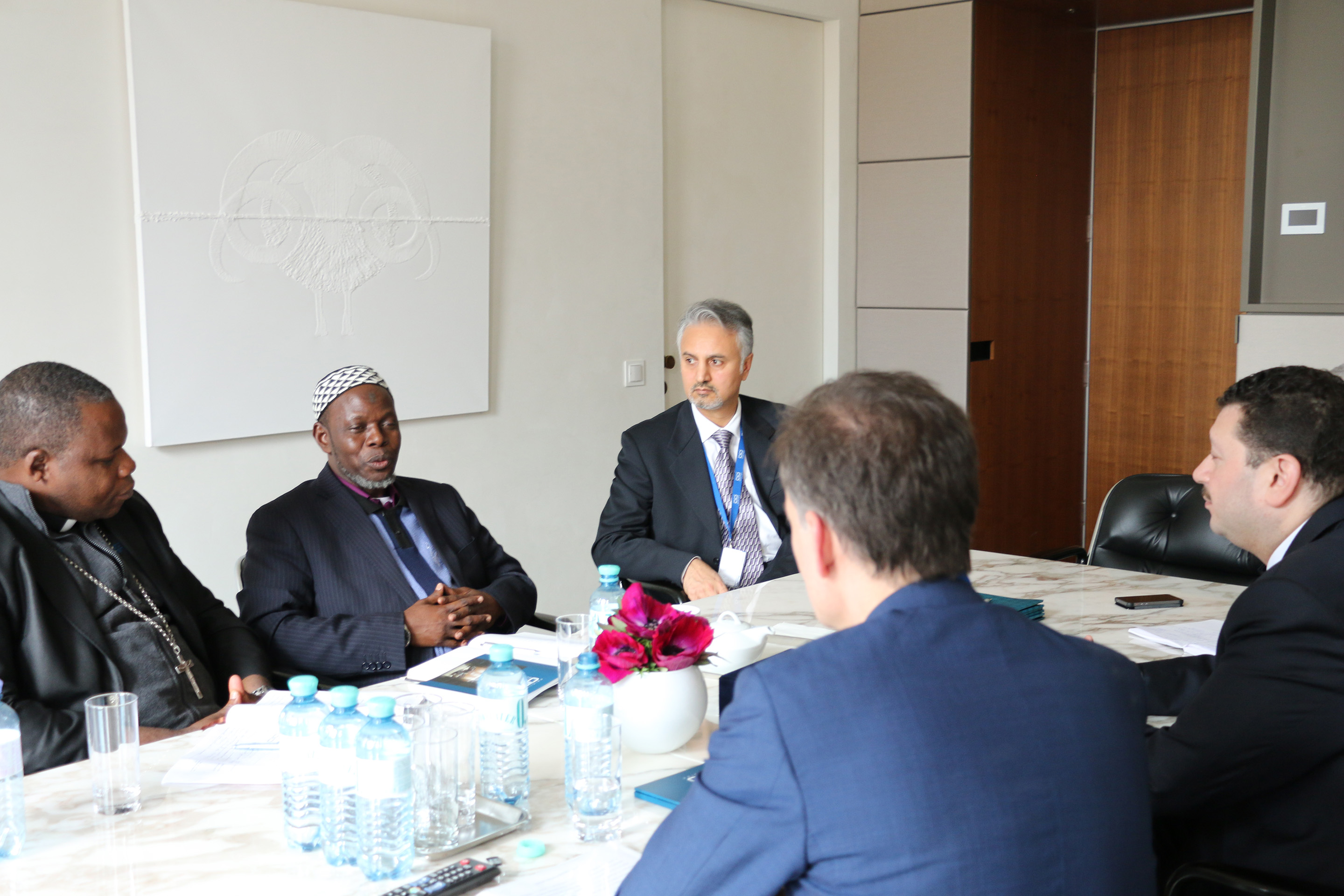 Le 5 Mars 2015, Monseigneur Dieudonné Nzapalainga, l'Archevêque de Bangui, et l'Imam Oumar Kobine Layama, le Président de la Communauté Islamique de la République Centrafricaine, ont rencontré des experts au sein de KAICIID, afin de poursuivre la discussion que les chefs religieux avaient commencée avec KAICIID plus tôt dans la semaine à Bangui, en République Centrafricaine.
L'Archevêque Nzapalainga a décrit leur plan, de contribuer à une résolution pacifique du conflit et d'accélérer la réconciliation entre des communautés brouillées, lors de leur visite à KAICIID. "Aujourd'hui, nous sommes confrontés à un problème aigu. Le discours de haine se répand dans la République Centrafricaine. Nous devons lutter contre les messages qui justifient la violence au nom de la religion par le biais de messages de paix de la part de toutes les communautés religieuses », comme l'a affirmé Monseigneur Nzapalainga.
Construire une plateforme multi-religieuse inclusive, qui peut acquérir une large attention du public et de l'influence, est une vision partagée à la fois par l'Archevêque Nzapalainga et l'Imam Layama, «Grâce à cette plateforme des religions, nous pouvons regrouper le soutien au développement international qui parvient désormais individuellement en République Centrafricaine. La station de radio multi-religieuse et la sensibilisation directe à la plateforme permettront de réunir toutes les confessions pour rétablir la confiance et la cohésion de la communauté qui est maintenant sous la menace de voix extrémistes qui incitent à la violence et à la haine ", a déclaré l'Imam Layama.
Ensemble l'Archevêque Nzapalainga et l'Imam Layama ont félicité le partenariat de KAICIID en République Centrafricaine afin d'établir le secrétariat de la Plateforme des religions qui accueillera une station de radio multi-religieuse, des cours et des ateliers. Les émissions de radio de la plateforme, également soutenus par le partenaire de KAICIID, l'ONG Search for Common Ground, sauront contrecarrer le discours de haine et promouvoir la coopération intercommunale et le respect. La radio est un média puissant car entendu par une nation avec une forte tradition orale. Les cours et ateliers de KAICIID, organisés par le biais de la Plateforme, permettront de soutenir le dialogue interreligieux et la collaboration de projet entre les communautés religieuses en RCA.