Tiago Masrour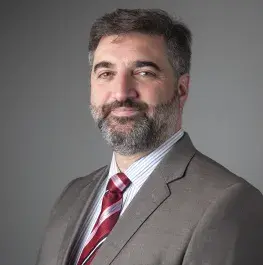 Country: Chile
Languages: English, Spanish, French, Portuguese
Expertise: Computer Engineering, Global Development
Religious affiliation: Baha'i
Director and Treasurer, ADIR
Tiago Masrour was senior project manager for the Bahá'í House of Worship of South America until its completion in 2016, in Santiago, Chile. He is currently dividing his time between business management at an IT firm, promoting spiritual education, particularly among youth, studying online for a masters in global technology and development at Arizona State University and his family.
Masrour has focused on interreligious efforts since his appointment to the Interreligious Council of the Chilean government, between 2015 and 2018, and then helped the founding of the Interreligious Dialogue Association for Human Development of Chile. Over the past decade he has collaborated with diverse religious communities, governmental agencies and civil society to promote the defense of human and religious rights and the advancement of universal peace.
He is interested in learning from others and sharing experiences, discovering inspiring efforts and encouraging young people to be more conscientious and involved.