Imaam Salih Animashaun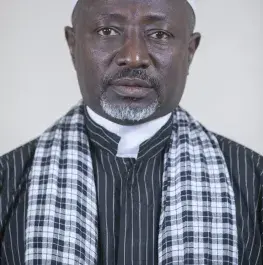 Country: Nigeria
Languages: English, Arabic
Expertise: Education, Project Management
Religious affiliation: Islam
South Eastern Zonal Coordinator, Interfaith Mediation Center
Born on 3rd of March,1965, in Imam's Compound, Agbeni, Ibadan, Oyo State, by Al-hajjah Siddiiqat Awero of popular Ekun family to Al-Hajj Fasasi (El-faazaazi) Ajadi of Animashaun dynasty.
He aAttended the local Islamic and nursery home lessons between thed age of 4-7, then enrolled to Ratibi Moslem Primary school (founded by Animashaun family) at the age of 7-12. He was attending a pure Arabic and Islamic school known as Mahdil arabiyyah (Arabic Institute of Nigeria), at Medina street, Elekuro Area in Ibadan, on weekend basis, at the same time. [VO1] He attended Liberty Secondary Commercial Academy (1979-84), Ahmadu Bello University (ABU) (Sandwich Program), United Christian  University (USA) Macotis Campus (Obinze,Nigeria).
He was the Iimam and chief Imam of Muslim Students SocietysvSociety (MSS) of Liberty Academy and Oyo Area Unit "A" Council "E" respectively. He was serving voluntarily asd an assistant (volunteer) in Council of Muslim Youth Organisations (COMYO) from where he was found capable to serve as coordinator of an Islamic Propagation Centre (IPC) established by same COMYO later known as NACOMYO, in 1986. In 1989, his appointment was taken over by World Assembly of Muslim youth (WAMY) African Secretariat, tilluntil 1996 when he became Deputy Chief Imam of Imo Central Mosque, Shell Camp, Government House Street,Owerri..
In 1997/98 he was trained by Muslim/Christian Dialogue  Forum (Interfaith Mediation Centre,  (IMC) and he became its joint Zonal Coordinator for Ssoutheast (with a Christian partner) until l datetoday. He is also the Zonal Coordinator for Strength in Diversity Development Centre, Southeast.