Fatima Suleiman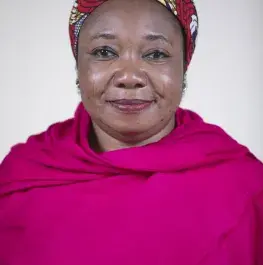 Country: Nigeria
Languages: English
Expertise: Communications, Diplomacy, Law
Religious affiliation: Islam
Executive Director, Islamic Counselling Initiative in Northern Nigeria (ICIN)
Fatima Abdullahi Suleiman is the Executive Director for the Islamic Counseling Initiative in Northern Nigeria (ICIN), which monitors political and conflict trends in Northern and North East Nigeria. Through her work with ICIN, Fatima has led projects such as reducing and preventing hate speech and the Genocide Project.
Fatima holds a bachelor's degree with combined honours in mass communication and English language from the Bayero University of Kano and a master's degree in law and diplomacy. She is currently a PhD student in law and diplomacy at the University of Jos. She is an alumnus of the National Institute of Management at the Nigerian Institute of Public Relations and holds a diploma in mass communication.
She advocates interfaith mediation and women's inclusion in governance and peace processes and serves as a member of the Community Voices for Peace and Pluralism Africa, a forum for women mediators. She is also a member of the Women Peace and Security Network supported by UN Women in 2014.
Through her work, she has been part of several coalitions including the Movement for the Rights of Almajiri, Women Rights Advancement and Protection Alternative, Interfaith Forum, Plateau State, and the Centre for Human Dialogue Women Forum.