Dr. Ashin Acara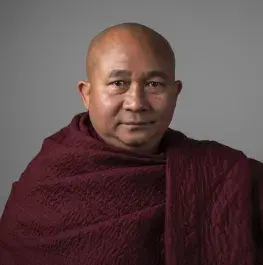 Country: Myanmar (Burma)
Languages: English, Burmese, Pali, Sanskrit
Expertise: Buddhist Studies
Religious affiliation: Buddhism
Professor and Department Head, STATE PARIYATTI SASANA UNVERSITY
Dr Ashin Acara was born on 14 March, 1972 in Dipeyin Township, Upper Myanmar. He earned a BA in English from Monywa University, Monywa, Upper Myanmar, and an MA in Buddhism from the State Pariyatti Sasana University, Mandalay (SPSU, Mdy) Myanmar, and PhD  dergree from International Theravada Buddhist Missionary University (ITBMU) Yangon, Myanmar.
He worked for ITBMU as a tutor of Vinaya (Buddhist Displinary Rules) for five years. He taught Abhidhamma and Pali language as a lecturer of Buddhist and Pali College of Singapore for three years. Since 2012 he has been a head and professor of the Department of English, at SPSU, Mandalay. At this institution he is teaching English to nearly 400 Buddhist monk students every year. In 2012 he founded Rahula Dhamma School in his home town. Since then he has been organising weekly Sunday Dhamma School classes where 200 young Buddhist are joining with him every year. Every year he provides secular and Buddhist education for 50 young Buddhist novices residing at the institute.
He is an author of 10 published books and a public speaker. He has participated in several international conferences on Buddhism, education and social topics.He is flexible and loves peace. He believes that education of flexible people can bring peace to all.