World Youth Day Highlights: KAICIID Engages with Pope Francis and Leads Grassroots Activities
10 August 2023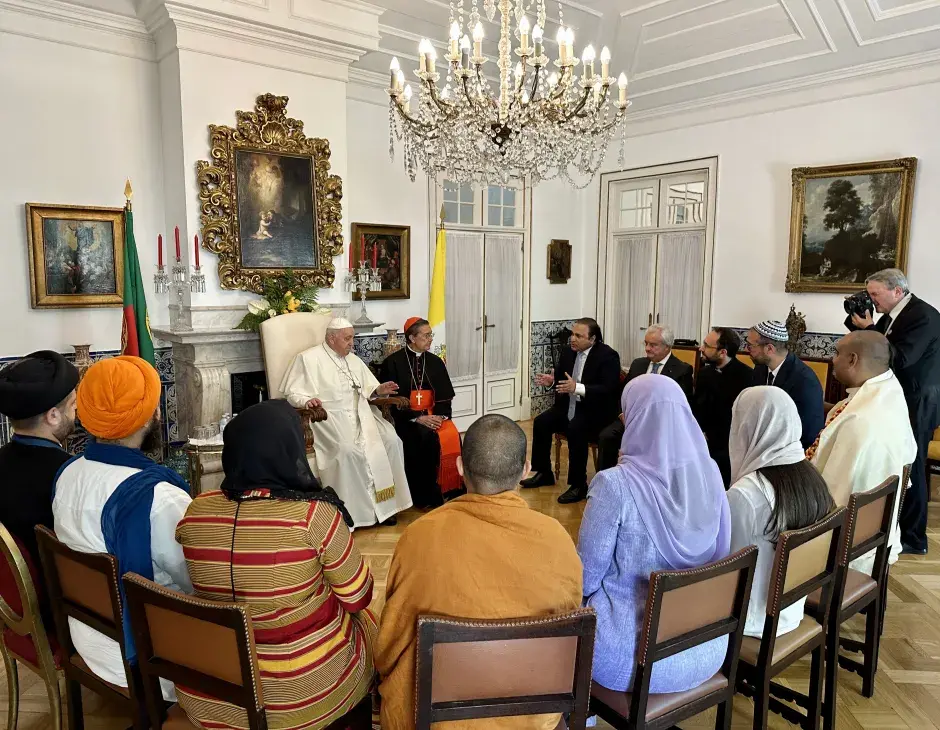 During the recent World Youth Day celebrations in Lisbon, Portugal, Pope Francis met with Zuhair Alharthi, Secretary General, International Dialogue Centre – KAICIID, as well as with graduates of KAICIID's Fellowship Programme. This meeting provided a platform for fruitful discussions on fostering global peace and understanding through interreligious and intercultural dialogue.
"Pope Francis' unwavering support for KAICIID and his belief in our mission was evident. Our mutual commitment to fostering peace and understanding was resounded strongly during our meeting," said Zuhair Alharthi, Secretary General.
The meeting also offered a unique opportunity for the Fellows to engage with Pope Francis about the importance of interreligious and intercultural dialogue and its positive impact on their lives and local communities.
The Fellows, representing major world religions – Buddhism, Christianity, Hinduism, Islam, and Judaism, shared their hands-on experiences and insights, underscoring the transformative power of dialogue in bridging divides and fostering mutual respect.
In a world often fraught with conflict and misunderstanding, Pope Francis lauded the Centre's initiatives. He stressed the Centre's pivotal role in promoting understanding and its relentless efforts to foster an atmosphere conducive to peaceful coexistence. His message was clear: dialogue and understanding are essential tools to bridge differences and build global unity.
This marks the second meeting between Pope Francis and KAICIID in recent months. In a prior meeting on June 6, Zuhair Alharthi met with Pope Francis in the Vatican, Italy, enabling him to express gratitude and recognition for the Vatican's pivotal role in establishing the International Dialogue Centre.
Engaging with the Youth
During World Youth Day week, KAICIID played a prominent role by organizing various youth-centric events. These included a panel discussion titled "Young People and Interreligious Dialogue for a More Understanding World", the premiere of "Justin: A KAICIID Fellow's Journey", and an interactive game station featuring the "Dialogo!" board game.
The "Young People and Interreligious Dialogue for a more Understanding World" panel discussion attracted a diverse audience of more than 100 young attendees and featured five speakers, each representing different religions and continents. They delved into their unique experiences, highlighting ways they promote interreligious bonds through dialogue in their respective communities.
Nearly 250 youths were captivated by the documentary "Justin: A KAICIID Fellow's Journey", which chronicles the transformative journey of 2022 Ugandan Fellow, Justine Auma. Spanning three nations - Nepal, Portugal, and Uganda - the film captures Auma's experiences in trainings, site visits, dialogue sessions, and her pivotal Fellow's initiative in Mbele, Uganda. Her narrative showcases the profound ripple effect of dialogue on individuals and broader communities. After the screening, an insightful Q&A unfolded with Fellow Justine Auma, documentary producer Yves Briceño, and KAICIID Fellows Senior Programme Manager, Dr. Kyfork Aghobjian. The full documentary can be watched here.
Making its debut in Portugal, the "Dialogo!" board game proved to be a captivating and interactive method for fostering mutual understanding. A total of 210 young players representing different religious and cultural backgrounds gathered at our dedicated gaming station and had the chance to establish fresh connections in this light-hearted yet meaningful environment. The game was designed to support youth leaders and peace builders, teaching skills in dialogue, teamwork, speaking, and social emotional learning, and it can be downloaded here.
With World Youth Day concluded, KAICIID's participation highlights its ongoing initiatives in promoting interreligious and intercultural dialogue. With several key events, the organization demonstrated its active role in such international gatherings. The interactions during World Youth Day serve as a reminder of the importance of continuous dialogue in an ever-changing global landscape.