KAICIID and WOSM Extend Memorandum of Understanding Elevating Youth Leadership Initiatives
30 October 2023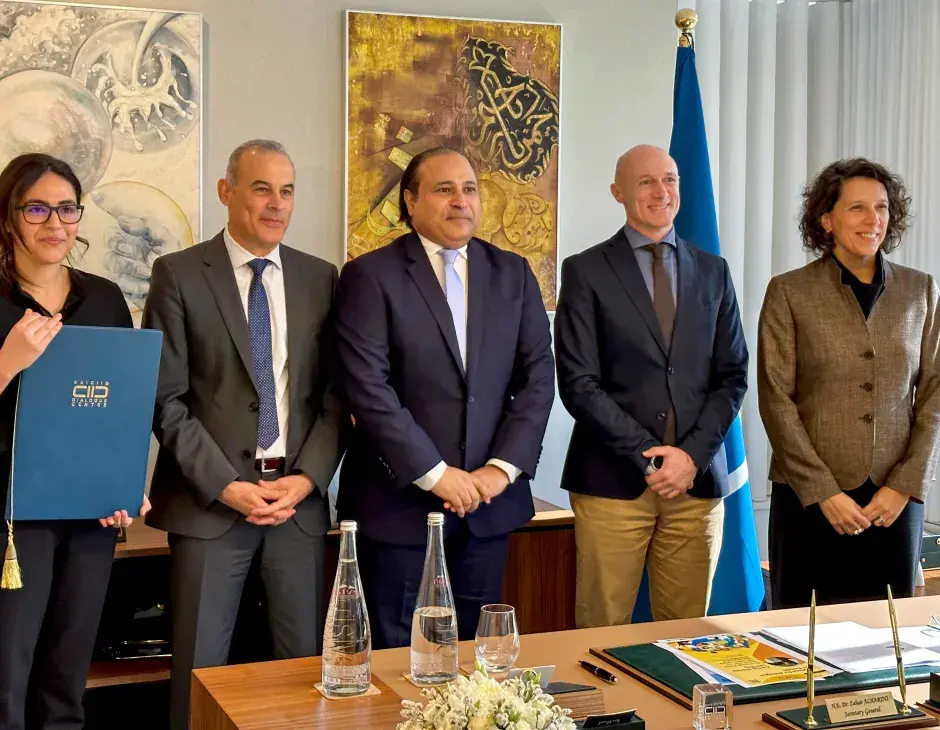 PRESS RELEASE
October 30, 2023, Lisbon, Portugal
The International Dialogue Centre - KAICIID and the World Organization of the Scouts Movement (WOSM) are pleased to announce the extension of their collaboration to further empower youth-led initiatives. The MoU renewal is an opportunity to reaffirm our joint commitment and partnership aimed at promoting dialogue and collaboration among young people worldwide.
This strategic partnership, initiated with the signing of the MoU in November 2013, has evolved over the years, giving rise to numerous joint ventures. Notable among these are the Dialogue for Peace program, Dialogue Badge, and the Baseline Study of Spiritual Development in Scouting, which have collectively impacted over 50,000 youths in 111 countries.
Dr. Zuhair Alharthi, Secretary General, International Dialogue Centre – KAICIID stated, "As we celebrate the 10th anniversary of our collaboration this year, we are honoured to have WOSM as a steadfast partner in advancing youth leadership. Our shared initiatives, such as the Dialogue for Peace project, have reached thousands of young people, equipping them to counter hate speech and foster social cohesion within their communities."  
Mr. Ahmad Alhendawi, Secretary-General of WOSM, "In today's uncertain world, with conflict on the rise driven by war, climate change, and disasters, fostering the values of peace, social cohesion, inter-cultural and inter-religious dialogue have never been more important. Over the last ten years, our strategic partnership has instilled the values, skills, and practices of dialogue in thousands of Scouts and their communities worldwide. On behalf of the whole Scout Movement, we look forward to expanding our programme and advocacy activity together with KAICIID and continuing to work towards a more peaceful, just and tolerant world."
The renewal of the MoU not only reaffirms the commitment of both organizations but also presents an opportunity for exploring new avenues of cooperation, namely initiatives that can contribute to the Sustainable Development Agenda
The signing of the renewed MoU signifies a significant milestone in the continued collaboration between KAICIID and WOSM. It reiterates the shared commitment of both organizations to empower young people with the essential tools and skills required to build peaceful and harmonious societies.
About KAICIID: The International Dialogue Centre - KAICIID is an intergovernmental organization that aims to foster dialogue among followers of different religious traditions and cultures. Its mission is to promote mutual understanding, respect, and peaceful coexistence while countering the spread of hatred and violence.
To learn more, visit https://www.kaiciid.org/
About the World Organization of the Scout Movement: Scouting is the world's leading educational youth movement, engaging millions of young people to be active citizens and create positive change in their communities. The World Scout Movement is made up of more than 57 million Scouts connected together through a membership network of 174 National Scout Organizations.
To learn more, visit www.scout.org 
For media inquiries, please contact:
Yvonne Baraza, Media Relations Officer, International Dialogue Centre – KAICIID: press@kaiciid.org
David Venn, Global Director for Communications, World Organization of the Scout Movement: david.venn@scout.org