KAICIID and Scouts Create Culture of Dialogue at the World Scout Jamboree
25 July 2019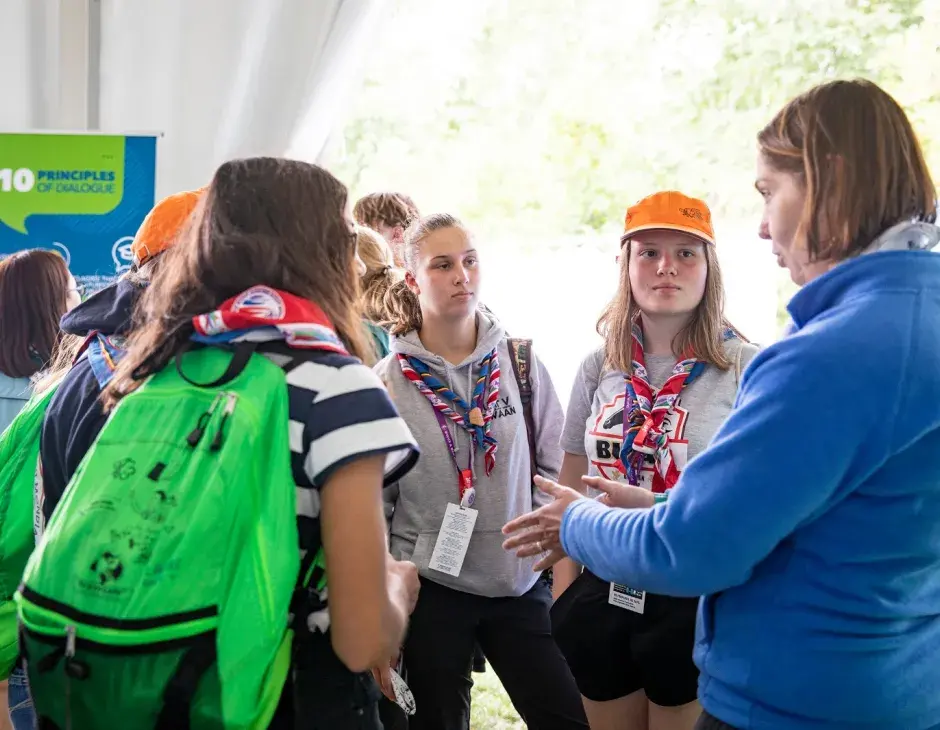 "Dialogue is a small action with a big change."
More than 40,000 Scouts from 150 countries are gathering in West Virginia, USA for this year's 24th World Scout Jamboree under the theme "unlock a new world."
As part of its five years of cooperation with the World Organization of the Scout Movement (WOSM), KAICIID is providing tailored dialogue training under its Dialogue for Peace programme at the Jamboree's Faith and Belief Zone, Better World Exhibition and Global Development Village.
"Our goal at the Jamboree is to introduce as many Scouts to dialogue as possible and to give them an opportunity to get to know their fellow Scouts through dialogue," said Katerina Khaeryn, the KAICIID Youth Programme Manager.
"We're getting people from all over the world – from Singapore, Belgium, the Philippines, Japan, Chile, Poland. It's a wonderful opportunity for us to engage Scouts in dialogue and to give them some skills at the same time. We hope that many young Scouts will share their new dialogical skills and ideas with their friends, families and communities back home after the Jamboree."
Several Scout dialogue facilitators who have been trained by KAICIID through the Dialogue for Peace programme, a joint initiative between KAICIID and WOSM, are facilitating dialogues with young Scouts.
"We believe that dialogue is at the core of effective and efficient communication from different perspectives and it is key to understanding different cultural backgrounds, diversity and finding common ground," said Yasser Sarona, a Rover from the Philippines who was trained last year in Tagaytay City, Philippines.
"We want people to join the movement, be an ambassador and promote the culture of peace and dialogue and together we can build a better world."
KAICIID is holding sessions at the Better World Tent, the Faith and Belief Zone, and the Global Development Village. Scouts attending KAICIID sessions can earn points for their Global Development badge. Also interaction with other Scouts is facilitated by exchanging data through a lanyard and app called Novus, which wirelessly connects them to the rest of the Scouts at the Jamboree.
The 24th World Scout Jamboree
The World Scout Jamboree is an educational event that brings together Scouts from around the world to promote peace and mutual understanding and to develop leadership and life skills. This year's 24th World Scout Jamboree gathers 40,000 participants from 150 countries under the overall theme "Unlock a New World". Hosted by three National Scout Organizations (Scouts Canada, Asociación de Scouts de México and Boy Scouts of America), the 12-day event offers a variety of activities and events to help unlock experiences that develop participants' "physical, intellectual, emotional, social and spiritual life".
The Dialogue for Peace Programme
KAICIID's Dialogue for Peace programme equips participants with the necessary skills and knowledge to develop dialogue-related projects in their communities, and has contributed to the prioritisation of dialogue within WOSM and other organisations. From 2015 to 2018, over 2000 young people from all around the world have participated in the programme.
The Dialogue Badge
The Dialogue Badge offers Scouts three levels of recognition: A "Dialogue Badge" for three age groups of young Scouts, a "Dialogue Facilitator Badge" for the Venture/Rover section and adult leaders, and a "Dialogue Trainer" level which is available for Scouts who wish to make a greater contribution to promoting dialogue in their communities.