KAICIID, United Nations Development Programme (UNDP) Cooperation to Promote Social Cohesion in Arab Region
19 January 2016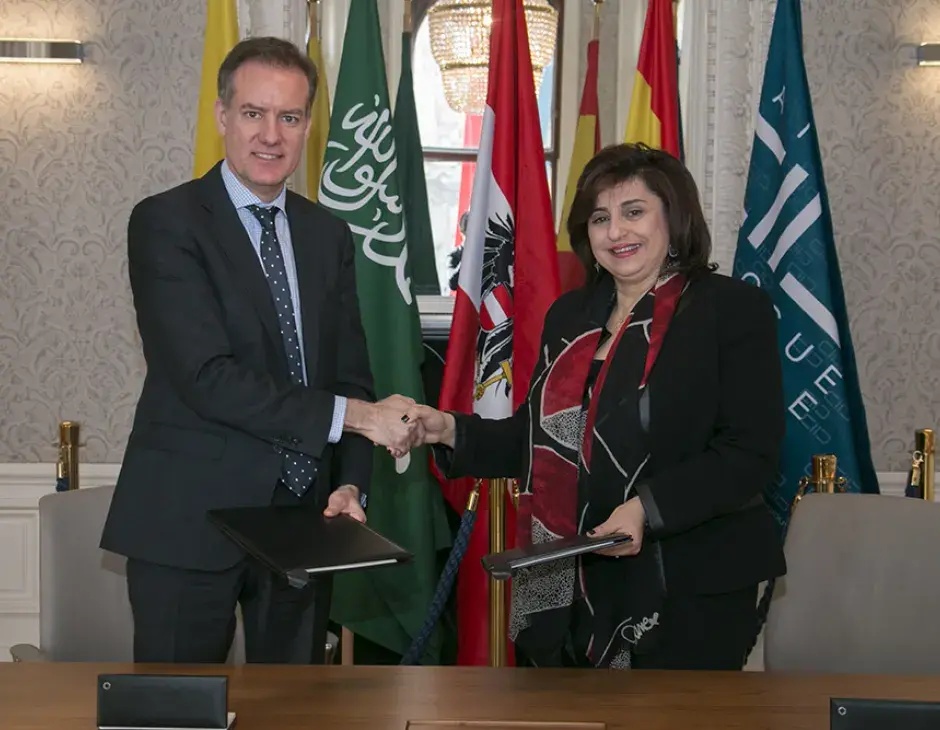 Youth, Women, Refugees, Religious Leaders and Media are key beneficiaries
VIENNA, 19 January 2016: The Vienna-based International Dialogue Centre (KAICIID) and the United Nations Development Programme (UNDP) will cooperate to promote intercommunal peace, particularly in communities hosting large numbers of refugees, and to address vulnerabilities resulting from conflict and crisis in the Arab States region including Iraq and Syria.
To help communities build resilience to conflict, the collaboration will connect and strengthen influencers in communities, such as women, youth, religious leaders and the media. The cooperation will also support the development of education curricula that promote values of peace, acceptance and equality.  KAICIID and the UNDP will also collaborate towards building platforms for dialogue to enhance the constructive role that religious leaders can play in promoting social cohesion.
KAICIID Deputy Secretary General for External Relations, Alvaro Albacete, and Sima Bahous, Assistant Secretary-General, Assistant Administrator and Director of the Regional Bureau for Arab States, UNDP, today signed a Memorandum of Understanding at the KAICIID headquarters in Vienna, Austria, to formalise the cooperation between the two intergovernmental organisations.  
Deputy Secretary General Albacete said: "The Arab region is enduring an unprecedented period of crisis, which threatens to undermine the religious pluralism that have defined these societies for so long. The international community needs to act. Religious leaders have always played an important role in communities: in many parts of the world they are leaders in providing development assistance and promoting social cohesion. We look forward to working with UNDP to help religious leaders, and other leaders in communities, like women and young people, to promote social cohesion."
Assistant Secretary-General Bahous said: "Diversity and co-existence have been hallmarks of the civilization of the Arab States region, and indeed this has been among our greatest strengths. There is an urgent need across our region to reinforce our embrace of diversity, and move towards increased resilience forged on the bedrock of social peace. Working together, UNDP and KAICIID aim to make a major contribution towards this important objective."
In the framework of its "United Against Violence in the Name of Religion" initiative, KAICIID is working with the Regional Bureau for the Arab States, UNDP, on a regional project to map social cohesion in the region, and to evaluate the impact of peacebuilding, resilience and conflict prevention programs. This project, called "Promoting Social Cohesion in the Arab Region (PSCAR)" aims to enhance the understanding and assessment of risk factors and inter-group tensions between communities.
In addition, with the UNDP office in Iraq, KAICIID is working on "Support for Social Cohesion in Iraq (SSCI)", aimed at identifying and empowering agents for social cohesion. In particular religious leaders will be empowered to contribute to building peace in fragile societies.
AboutKAICIID
KAICIID is an intergovernmental organization that promotes dialogue to build peace in conflict areas. It does this by enhancing understanding and cooperation between people of different cultures and followers of different religions. The Centre was founded by Austria, Saudi Arabia and Spain, with the Holy See as Founding Observer. Its Board of Directors comprises prominent representatives from five major world religions (Buddhism, Christianity, Hinduism, Islam, and Judaism). The Board designs and supervises the Centre's programs.
About UNDP
UNDP partners with people at all levels of society to help build nations that can withstand crisis, and drive and sustain the kind of growth that improves the quality of life for everyone. On the ground in more than 170 countries and territories, UNDP is the lead agency of the United Nations in the fight against poverty and inequality, and in support of inclusive and peaceful societies, offering global perspective and local insight to help empower lives and build resilient nations.