European Policy Dialogue Forum (EPDF) Unites Seven Religions, Young People and Policymakers in Rotterdam to Foster Social Inclusion
09 November 2023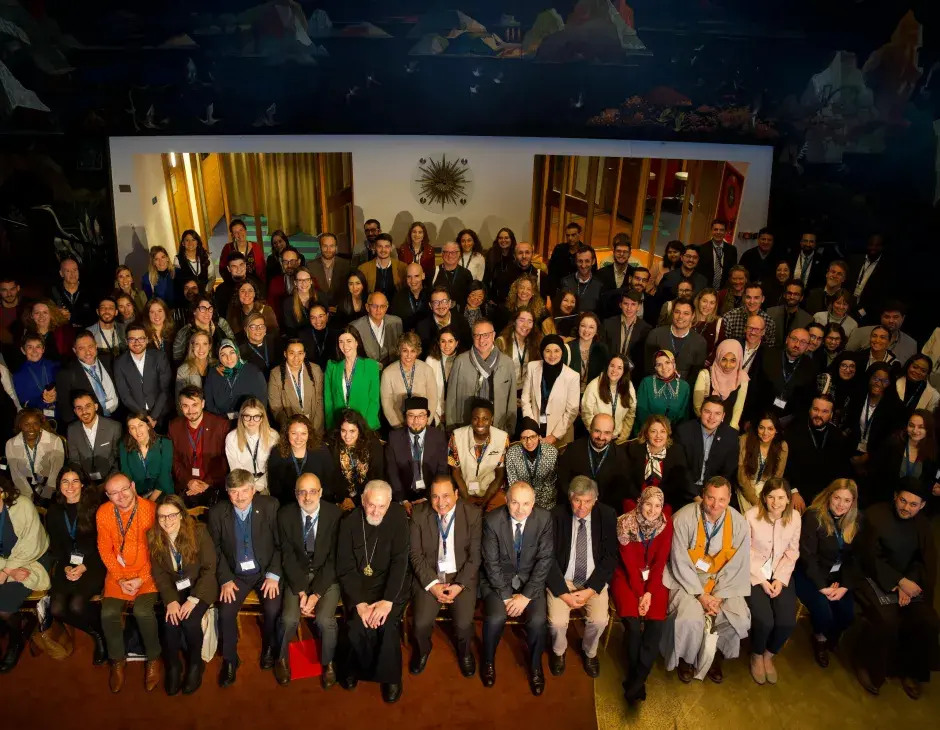 Organized by the International Dialogue Centre - KAICIID, the 5th edition of the European Policy Dialogue Forum (EPDF) is scheduled to take place in Rotterdam from November 13 to 15 this year, marking a pivotal milestone in its mission to promote interreligious and intercultural dialogue and to drive social inclusion and unity.
The EPDF's three-day program consists of plenary sessions, in-depth sessions, and the unveiling of three thought-provoking input papers, which will serve as the heart of the conversations. The Forum is a collaboration with the European Council of Religious Leaders/Religions for Peace Europe (ECRL/RfP) and the KAICIID-supported Network for Dialogue, as well as Multicoloured Religions Rotterdam as a local partner. The Forum also enjoys the support of the Office for Democratic Institutions and Human Rights (ODIHR) of the Organization for Security and Cooperation in Europe (OSCE) and the International Organization for Migration (IOM) in the Netherlands.
Under the theme "Inspire, Connect, Engage," the forum convenes diverse participants from seven different religions, including religious leaders, policymakers, and civil society organizations. Notably, 33% of its attendees will be young people aged 18 to 30, making it the major platform for fostering social inclusion in Europe.
The EPDF recognizes the pressing challenges faced by young people, including conflicts, climate crises, as well as economic instability. Global incidents of hate speech have surged, exacerbating societal divisions. This year's EPDF aims to emphasize the critical role of cities and their planning in actively engaging community members to provide balanced solutions. It will highlight the contributions of young refugees and migrants to strengthen the relationship between different communities.
Dr. Zuhair Alharthi, Secretary General of KAICIID, expressed the forum's significance, stating, "The EPDF is a testament to our commitment to fostering dialogue and understanding among diverse groups. In today's world, addressing social inclusion is more crucial than ever. This forum is a platform for building bridges, creating meaningful conversations, and finding actionable solutions."
António de Almeida Ribeiro, Deputy Secretary-General of KAICIID, added, "I am particularly proud to see the EPDF taking place in Rotterdam, and seeing the themes we discussed earlier this year translated into input papers that ignite the spark and fuel the conversation. This gathering of diverse voices, cultures and especially the younger attendees we have, demonstrates the power of collective efforts in shaping more inclusive and cohesive societies."

 
The 5th EPDF's program is structured around three key themes, each aligned with a thought-provoking input paper. "Words that heal" explores the transformative potential of interreligious and intercultural dialogue in countering hate speech. "Cities fostering belonging" delves into how interfaith and intercultural dialogue can create inclusive urban spaces. Lastly, "leadership in action" seeks to amplify youth's role in decision-making and change, enhancing their trust in secular and religious leadership. These papers aim to lay the foundations for effecting change in European cities and communities.
The 5th EPDF promises to be an influential event that fosters social inclusion and continues to be the major platform where religious actors engage in discussions on topics of social cohesion in Europe.
About The European Policy Dialogue Forum – EPDF
The European Policy Dialogue Forum (EPDF) brings religious actors, policymakers and other experts together to establish and strengthen channels of communication, listen to one another's concerns, identify opportunities to support and cooperate, and develop recommendations. Interreligious and intercultural dialogue are central to addressing Europe's current divisions and strengthening social cohesion by promoting equal rights, human dignity and respect for diversity.
Learn more about the EPDF at  https://www.kaiciid.org/epdf