Network for Dialogue Member Amina Khalid Believes Peace that Begins at Home Can Change the World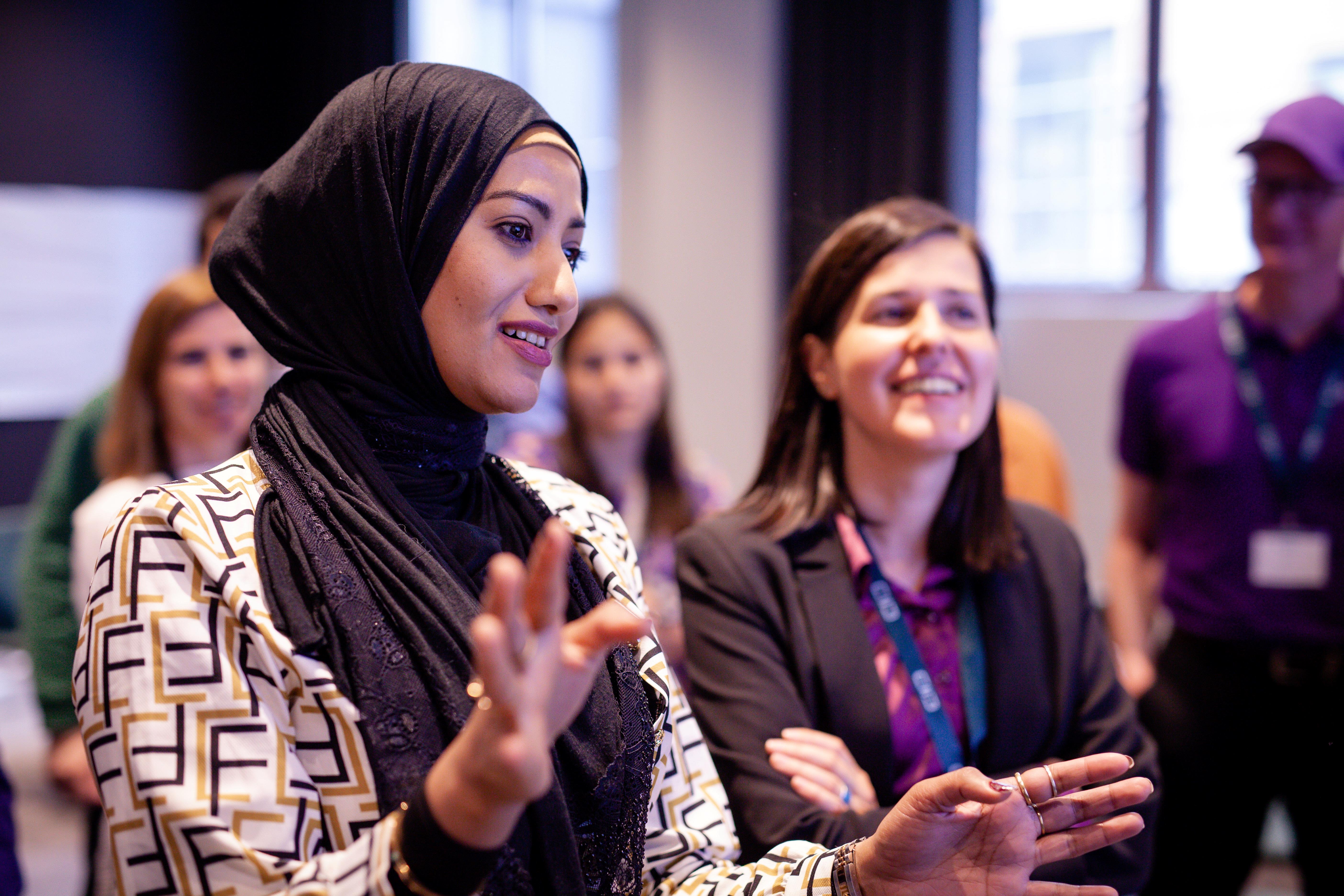 When Amina Khalid's family fled Somalia, her parents did not tell her where they were going or how long they would be gone.
"They told me and my siblings we were going on holiday," Khalid said, "all of us were under the impression that we would return home."
That was not to be the case. At the age of 13, Khalid and her family were forced to escape Somalia due to civil war. Eventually, they arrived in the United Kingdom (UK) with nothing more than the clothes on their backs.
Khalid said, "I became witness to the devastating effect of war and conflict; seeing families separated, bombings bringing homes to dust. Girls kidnapped and raped. Homes looted.
"At a young age, I knew more about war than peace," she said, "I was torn apart and traumatised."
Dreaming of a society where peace could prevail, Khalid went on to study sociology of medicine and social policy, earning a master's in equality and diversity policies from TKTK. With training in dialogue facilitation, mediation, communication and conflict resolution, Khalid has worked with the non-profit Initiatives of Change UK since 2008. She is also the founder of Peace Begins at Home; an inter-generational dialogue training programme created to empower and build bridges between generations and policymakers.
Representing Initiatives of Change UK, Amina Khalid is a member of the KAICIID-supported Network for Dialogue, a pan-European platform for faith-based and secular organizations, practitioners and scholars working in the field of migration and religious studies. She is an example of how Network members use dialogue to develop more effective solutions for social inclusion for migrants and refugees in Europe.
"She has dedicated her life to promote understanding"
Aleksandra Djurić Milovanović, Project Manager of the Network for Dialogue and Senior Research Fellow at the Institute for Balkan Studies, said Khalid has always been motivated to provide support and share her valuable experience in dialogue with other members.
"For the Network it is of greatest importance to have people who not only understand what dialogue means but who live dialogue in their daily life. Amina is such an example," Djurić said, "she has dedicated her work and life to promote understanding, learning about others and supporting interreligious and intercultural dialogue."
Those skills and sensibilities emerged out of her own raw experience. "As a young migrant British Muslim woman of colour, it has not always been easy to find a healthy balance between western culture and that of my own traditional norms and values," she said. That struggle was made even more difficult by the hatred and injustice she experienced as a refugee growing up in Europe.
Khalid discovered, however, that she was not alone. Other migrants shared similar experiences of deep division, disunity, the absence of dialogue, breakdowns in trust and lack of cooperation between refugee families and host communities.
"Coming to Europe, when I met other diaspora community members who left their countries because of civil war or climate change, their stories were similar to mine," she said.
Hearing how others encountered toxic narratives every day, Khalid felt called to find stories to counter stereotypes about refugees and migrants. "I wanted to explore new ways to turn fear into friendship, using my personal experience to fight for justice and human rights through dialogue," she said.
Establishing "Peace Begins at Home" to create spaces for constructive dialogue
Compelled to create spaces where constructive dialogue could take place, Khalid founded "Peace Begins at Home" in 2010. Initially designed for Somali parents and children grappling with the reality of integrating into British society, Peace Begins at Home helped families find ways to discuss sensitive issues constructively where dialogue was previously absent.
As Khalid explained, migrant communities in the UK struggle as the first generation often expects to return home and have different cultural assumptions from their children who have grown up in the host country. When left unaddressed, this clash can cause misunderstanding, fear, and resentment not just between the generations but also with the host community, Khalid said.
Under the auspices of Initiatives of Change's umbrella organisation Somali Initiatives for Dialogue and Democracy (SIDD), Peace Begins at Home offers training workshops that provide space for intergenerational dialogue to build bridges between generations, policymakers, and other local stakeholders. Beyond community division and intergenerational conflict, the workshops have also addressed religious and ideological divides, Islamic extremism, and the sharp edges of the political far-right.
Since the initial pilot phase with the Somali diaspora community in London, the dialogue training has been extended to communities in Turkey, Bangladesh, Malaysia, Syria, and Ireland and conducted over 1,000 workshops in the UK, Switzerland, Sweden, Portugal, Spain, and Germany.  
Network for Dialogue members join forces with the support of KAICIID
With the support of a KAICIID microgrant, Khalid partnered with another Network for Dialogue member — Amanda Figueras from the Spanish organisation Foro Abraham — to conduct intercultural dialogue programmes in London and Madrid neighborhoods.
Djurić said the two Network members saw the opportunity for Jews, Muslims, and others to come together to address extremism in their respective localities. While the contexts were different, Figueras and Khalid felt the conflicts they were seeing were similar.
"That kind of cross-fertilization allowed both communities to learn from one another," Khalid said, "the global connections enhanced the work in the heart of the communities that were effected."
"We have learned that intergenerational conflict is not unique to a particular community," Khalid said, "as the world becomes more complex and the gap between the generations continues to widen, we need a more integrated approach to rebuilding our fractured nations.
"These training workshops can be used and replicated to create safe space for dialogue, acceptance and solidarity, a mechanism to unite based on our common humanity," she said.
It is important to Khalid that her work never lose its local emphasis or focus on personal transformation. Because her own journey gave her an inner purpose for doing this work, she still believes personal change is vital for interreligious, intercultural, and intergenerational dialogue to flourish.
"We are living in moments of real darkness," she said, "but I am reminded that my passion for dialogue and conflict resolution grew from a place of deep pain. As the great poet Rumi once said, 'the wound is where the light enters you.'"
Khalid said, "the work the Network for Dialogue and Initiatives of Change is doing allows for light to break in — giving people a deeper sense of purpose that enables you to work within yourself, in your community, and around the world."